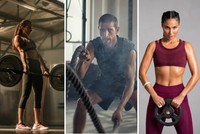 Buyer's Guide to Strength Equipment for a Fit Holiday Season
Merry liftmas, Fitness Town family! Christmas is right around the corner, and you know what that means… loads of food, festivities, and the dreaded holiday weight gain we all write off as "bulking season". 
But you can avoid all that this year by adding something new to your Christmas wishlist: strength training equipment. Shiny new strength training toys will help you stay on track with your fitness goals all winter long so you can ring in the New Year on the right foot. (And remember, a home gym means you don't have to leave your house when it's cold and wet this winter.)
To make your holiday shopping easier this year, we've created the ultimate strength equipment holiday gift guide full of recommendations that would make a perfect present for yourself and your loved ones this Christmas. 
In this guide, we'll
Cover why strength training is crucial for your physical and mental health 

Why strength training is a gift your friends and family will never forget 

Our top equipment recommendations (and special holiday pricing shoutouts)

A strength training starter kit for different fitness levels 
The Physical and Mental Benefits of Strength Training
Strength training–AKA resistance training–is a form of exercise used to increase the size, power, and strength of your muscles. You can use your body weight or tools like resistance bands and dumbbells for resistance training. Whether you're a seasoned pro or just starting your fitness journey, everyone can experience the physical and mental benefits of strength training. 
Physical Benefits of Strength Training
Most people strength train to shape and sculpt their muscles. But the benefits of resistance training go beyond a chiseled physique: 
Increases bone density –

the force from weight training can help build bone mass, which can help prevent bone-related illnesses like osteoporosis. 

Burns calories –

while cardio may burn more calories per session, strength training builds muscle, which burns more calories at

rest.

So not only are you actively burning calories while lifting weights, but you're continuing to burn them long after your workout ends.

Reduces your risk of injury –

resistance training does more than strengthen your muscles, it also helps improve your range of motion and strengthens the ligaments and tendons surrounding your muscles. This combo is key to protecting yourself from injuries, especially if you play sports or if you're a senior athlete. 
Mental Benefits of Strength Training
On top of building strong muscles, strength training also has tons of benefits for your mental health. 
Improves your mood –

have you ever finished a workout and automatically felt lighter, happier, and more energized? Turns out, there's a scientific explanation. Strength training releases endorphins (your "

happy chemicals

"), which can help improve your mood and reduce anxiety. And another study in

JAMA Psychiatry

found that resistance training exercises can even help prevent and treat depression. 
Boosts your self-confidence –

let's be real, when you look good,

you feel good

. Watching your muscles change, burning calories, and losing weight all have a positive effect on your self-image. Not to mention how

powerful

you feel as your muscles get stronger and you start hitting new PRs. 
You can start strength training anytime, anywhere. A few squats while watching TV, a couple of pushups during your lunch break. But bodyweight workouts can only take you so far. Investing in high-quality strength training equipment takes your training to the next level.
 Let's take a look at why strength training is the ultimate gift to give someone during any season. 
The Ultimate Gift: Why Strength Equipment Stands Out
Instead of a new gaming system or a sweater that will end up in the back of the closet (with the tags still on it), how about giving your friends and family a gift that says you truly care about them this year? Give the gift of strength training equipment. 
We know what you're thinking; you don't want to send the wrong message (the one that says they need help getting in shape). But what if instead, you're sending the message that you care about their health and well-being? The gift of strength training equipment can provide the encouragement your friends, family–or even you–need to live a healthier lifestyle.
Plus, with strength training equipment at home, you can avoid the overcrowded commercial gyms that are full of Black Friday specials and New Year resolutioners this time of year. 
And remember, Fitness Town only carries the highest quality pieces of equipment. So not only are you giving a gift that lasts, but every time they use it, they'll be reminded of your thoughtfulness. 
Are you ready to give the gift of strength this season? Check out some of the "must-have" pieces of strength training equipment to add to your Christmas list.
Top Strength Training Equipment to Have On Your 2023 Christmas List This Season
Features: Sleek design that mimics a traditional dumbbell, knurled handles, adjustable handles, and unique locking mechanism
Benefits: These dumbbells offer multiple weight options in a simple set that eliminates clutter and saves floor space in your home gym. Their sleek, balanced design makes exercises comfortable. 
Why it makes the list: Want to have one pair of dumbbells instead of 16? With a quick twist of the handle, you can change the weight anywhere from 5lbs-80lbs in increments of 5lbs. This is perfect for beginners or pros who need a wide weight range to perform exercises like shoulder presses, bicep curls, and more. 
Torque TANK M1 Push Sled (Special Holiday Pricing)
Features: Durable wheels for all surfaces, ergonomic handles, 3 resistance training levels
Benefits: An innovative push sled that you can use on all surfaces – even concrete thanks to the rubber-treaded tires. And you don't need any weight plates to change the difficulty. The frictionless braking system offers 3 different resistance levels.
Why it makes the list: The TANK sled adds functional strength training to your routine. You can improve strength, speed, power, and endurance during your sled workout. Plus, for those who hate cardio, it's a great way to sneak some in with your muscle-building for a total body workout.
Features: Multiple pulley positions, small footprint, a wide range of motion, silent weight stack, and user-friendly adjustments. 
Benefits: The HOIST Mi5 functional trainer offers 22 different pulley positions, accommodating athletes of all heights and allowing you to hit your muscles from every angle. The silent steel stack offers 250 lbs of weight which is perfect for building muscle and suspension training. 
Why it makes the list: If you're looking for the best bang for your buck, you can't beat the HOIST Mi5. This all-in-one machine replaces multiple pieces of gym equipment and offers tons of strength training possibilities, from lat pulldowns to cable crossovers to ab crunches. It's perfect for beginners or if you're looking for the centrepiece to start your home gym. 
Fitness Town Olympic Barbell (Special Holiday Pricing)
Features: 700lb weight capacity, knurled surface, quiet bearings for a smooth turnover
Benefits: The smooth bearings minimize friction during Olympic lifts like Clean & Jerks and Snatches, helping every lift be consistent. The diamond-knurled surface encourages a strong grip during training and reduces slippage when your hands start to sweat. 
Why it makes the list: Every good strength training routine revolves around a reliable barbell. And this one from Fitness Town offers the durability, spin, and weight capacity you need to perform Olympic lifts, powerlifting, and bodybuilding exercises with confidence. 
MX Select MX55-Rapid Change Dumbbells (Special Holiday Pricing)
Features: Rapid weight change adjustments, flat dumbbell head for floor exercises, contoured handles, balanced design
Benefits: Like the NUObells, the MX55s offer multiple weight options in one. 1 pair of dumbbells replaces 10 for a clutter-free home gym. The flat surface on the dumbbell head makes them great for floor exercises like push-ups or renegade rows.
Why it makes the list: If you want one set of dumbbells that can do it all, look no further than the MXSelect MX55s. From 10lbs to 50lbs, you'll have no shortage of weight to perform any exercise, like bench presses, deadlifts, or dumbbell squats. The rapid weight change feature makes them ideal for circuits that require quick adjustments. They seamlessly fit into any workout routine, from beginner to advanced.
Fitness Town Super Bench (Special Holiday Pricing)
Features: 10 quick-set back positions, 5 quick-set seat positions, high weight capacity, durable foam pads
Benefits:  This bench helps you target different muscle groups from different angles with various incline, decline, or flat positions comfortably and safely
Why it makes the list: Like a barbell, a solid bench unlocks limitless strength training possibilities. And this commercial-grade F.I.D bench from Fitness Town offers ultimate adjustability so you can perform a range of exercises like step-ups, Bulgarian split squats, and every type of chest press you can think of. 
Fitness Town Competition Kettlebells (Special Holiday Pricing)
Features: Ergonomic handle design, consistent weight distribution, vibrant color-coded weights, and durable steel construction
Benefits: Kettlebells are fantastic for dynamic, functional movements and can target multiple muscle groups in one exercise.
Why it makes the list:  Oh kettlebells, oh kettlebells, how lovely is your versatility… Whether you're a CrossFit athlete or just enjoy functional strength training, you'll love Fitness Towns competition kettlebells. The smaller handle helps reduce grip fatigue, which is important mid kettlebell swing. And the consistent sizing across weights helps you perfect your technique on movements like kettlebell snatches or C&Js.  
And Don't Forget About Your Strength Training Accessories
The most important part of a good strength training routine is safety. The Schiek belt ensures that you maintain proper posture through a lift and provides core support, which helps you stay safe during heavy lifts. 
Are you taking your recovery as seriously as your strength training? If not, this Christmas might be the perfect time to start. Massage away knots and flush out lactic acid with the GRID foam roller. The different textured planes help you get into all your muscle's nooks and crannies.
Band loops and resistance bands are fantastic tools for dynamic warms (which are essential during fall and winter temps) and they also can help add some intensity to your bodyweight exercises, like squats and push-ups. 
Fitness Town Bumper Plates (Special Holiday Pricing)
Barbells and bumper plates go together like Santa with milk & cookies. The Fitness Town rubber bumper plates are built to endure tough workouts (though we still don't recommend dropping your plates from overhead). 
Guiding Your Purchase: Your Christmas Strength Training Starter Kit
To make your holiday shopping easier this year, we put together the ultimate strength training starter kits for beginner athletes, intermediate lifters, and advanced gym goers. (Don't worry, we made this list and we checked it twice). 
For Beginners
Beginners need foundational equipment that's versatile yet straightforward. 
We recommend: 
Why they're good:
Bands offer low-impact resistance, perfect for muscle activation

Adjustable dumbbells adapt to the progressing strength of a beginner

HOIST Mi5 gives a comprehensive workout without overwhelming newbies

Flat foam rollers are more gentle, which is great for beginners
For Intermediate Athletes
Intermediate athletes are familiar with strength routines and free-weight equipment. They need equipment that allows them to be more creative with exercises and pushing limits.
We recommend: 
Why they're good:
MX55s are versatile for multiple exercise options

Kettlebells add dynamic movement possibilities

F.ID. benches allow for a range of strength exercises

The TANK sled integrates cardio into strength routines

The GRID offers a more pinpoint muscular massage
For Advanced Gym Goers
These seasoned pros need equipment that can withstand daily training and fit seamlessly into their existing strength training routine. If they're making the move from a commercial gym to a home studio, some tried-and-true strength training pieces will be key.
We recommend: 
Why they're good:
NUObells provide resistance selections up to 80lbs for heavy lifting

The Olympic barbell and plates are a staple for compound strength training exercises

The F.I.D Super Bench allows for a range of upper-body and lower-body strength training exercises 

The Schiek Countoured Weight Belt ensures safety during heavy lifts

The Hypervolt Massage Gun offers targeted muscle relief from stubborn knots and built-up scar tissue (which comes from years of lifting)
Embrace a Healthier Holiday: Why Now Is the Perfect Time
Christmas parties, Thanksgiving feasts, and visiting relatives often put a pause on our fitness routines. But instead of waiting until January 1st to press play (along with the rest of the resolutioners), you can kickstart your healthy holiday routine now by stocking your home gym with strength training equipment.
Find everything you need for a healthy holiday season for yourself and your loved ones at Fitness Town. Whether you're shopping using one of our strength training starter kits or you're building a fitness equipment Christmas list for yourself, you'll find tons of top-notch strength training tools and accessories on our website. And if you're not sure where to start on your home gym journey, contact one of our fitness experts today, and we'll guide you through the best equipment for your goals.