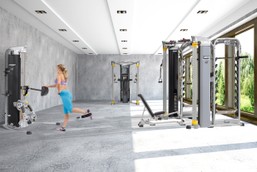 Hoist MI5 vs. Hoist MI6: Which Functional Trainer Is Best for Your Home Gym?
When it comes to building your home gym, there are two general rules of thumb.
1. Maximize every square inch.
2. Invest in multi-functional pieces that offer workout variety.
Adding a functional trainer to your fitness studio checks both boxes. A functional trainer is like having a commercial gym right in your own home. Cable pulley systems offer a safe and effective way to build strength and target various muscle groups. And today, we're here to compare two of Fitness Town's top-selling functional trainers:
The Hoist Mi5 and the award-winning Hoist Mi6.
HOIST Fitness packed these cable machines full of features that will help take your training to new heights. So which is the better investment for your home gym? In this blog, we'll compare 5 different categories–size, build quality, functionality, price, and additional features–so that you can decide which of our top two functional trainers is right for you
Size and Space Requirements:
HOIST Mi5:
Small, but mighty– the HOIST Mi5 sacrifices nothing for its 7'x5'x3' footprint. It's one of the most compact functional trainers on the market, which is perfect for beginners building out their home gym or those with limited square footage. The Mi5 is all business in the front (and nothing in the back)– meaning you can easily store this machine along any wall or snugly in a corner.
HOIST Mi6:
The HOIST Mi6 is a commercial-grade functional trainer but with a footprint that's only slightly larger than the Mi5. Hoist optimized the 7'x5'x4' footprint by giving the Mi6 a distinctive "V" shape and walk-through design so it fits seamlessly in any corner of your home gym. The front-facing pulleys rotate a full 360 degrees, so you can angle this functional trainer cable machine in any direction to fit your space.
Durability and Build Quality:
HOIST Mi5:
The Mi5 is both sleek and functional. The single-weight stack is fully enclosed which enhances safety (no more accidentally pinched appendages), protects it from sweat, and offers clean lines. The weights themselves are Hoist's patented Silent Steel®, where each solid steel plate is individually pressed in industrial plastic bushings. This ensures a glass-smooth pull and gets rid of that annoying metal-on-metal clanking on every rep (which is perfect if your preferred workout hour is 5 am).
HOIST Mi6:
Who knew a functional trainer could look this good? HOIST had your home gym in mind when they designed the Mi6. Like the Mi5, it has a streamlined design that hides unsightly hardware and keeps it protected from sweat and debris. The HOIST Mi6 features two 150lb Silent Steel® stacks, for silky smooth pulls and quiet reps. The fully-enclosed weight stacks complement the walk-through design so you can move around the machine knowing you're safe from falling weights.
Remember: Even award-winning pieces like the Hoist Mi6 need a little love every now and then. If you ever feel like your functional trainers aren't as smooth or silent, contact our team for help. Fitness Town offers Western Canada's largest and most experienced in-house service department.
Functionality and Exercise Variety:
HOIST Mi5:
The reason the Hoist Mi5 is our CEO's favorite is because of its functionality. Whether you're in your prime or in your golden years, this functional trainer cable machine offers limitless workout possibilities. It boasts a single 200lb weight stack with dual arms that you can adjust to 22 different heights and 7 different rotary positions. That totals over 1,000 different cable placement options for your training. And the 4:1 Split Weight Cabling allows you to perform powerful explosive movements which is perfect for conditioning training. Add the HOIST Mi5 Functional Trainer Accessory Kit (including a core stabilizer pad, aluminum bars, ankle straps, and more) and we challenge you to find a workout you can't do on this cable machine!
HOIST Mi6:
When you want a functional trainer with serious weight, the HOIST Mi6 has you covered. It has a whopping 100 lbs over the Mi5, coming standard with 300 lbs of steel plates. Still not enough? You can add an extra 100 lbs to the Mi6 weight stacks for a total of 400 lbs of solid steel. With 28 pulley adjustments per column, you can use each side together or individually, which helps to reduce muscular imbalances. It comes with compatible cable attachments, simply hook on your handles, bars, or straps and you're ready to go. And did we mention the innovative 360-degree rotating columns? This allows for uninterrupted cable motion and seamless cable tracking– so you can hit your muscles from any angle.
Price:
HOIST Mi5:
If you want the best bang for your buck, the Mi5 is where it's at. For your $2,999 investment, you're getting a premium functional trainer that will support you through every stage of your fitness journey– wrapped up in a compact footprint. From strength training to rehabbing a torn muscle, the Mi5 can do it all. Plus, you can always upgrade your experience by adding on the Mi5 Accessory Kit.
HOIST Mi6:
For $3,797, the Hoist Mi6 is a commercial-grade machine without the commercial-grade price tag. While it's slightly more expensive than the Hoist Mi5, you're getting an expanded range of features (almost 2x the weight, more storage, independent movement, and a pull-up bar). The Mi6 is a worthwhile investment for your fitness journey by delivering features that you'd find on a full-size functional trainer at your commercial gym.
Additional Features and Customization:
HOIST Mi5:
The HOIST Mi5 comes standard with everything you need to achieve a total body workout. But if you want to take your training the extra mile, you can customize your experience by adding on the HOIST Mi5 Functional Trainer Accessory Kit. Included is a chest pad to help stabilize your upper body during exercises like tricep pushdowns, or support your lower back during cable crunches. Plus extra cable attachments like a long aluminum bar for lat pulldowns and an ankle strap for kickbacks. There's also a tablet/mobile device holder so you can conveniently watch Youtube videos or use the HOIST Strength app to follow along with strength training tutorials. And the water bottle holder, accessories rack, and foot pads are just the cherry on top!
HOIST Mi6:
The Hoist Mi6 is a Men's Health Awards winner for a reason. This functional trainer brings the full gym experience to your home. It comes with all the attachments you need–handles, ankle straps, aluminum bars– and has storage hooks to safely secure them between sessions. You'll also find two water bottle holders on the Mi6, so you don't have to fight your gym partner for storage space. And unlike the Mi5 whose tablet holder is off to the side of the machine, the Mi6's tablet rack is smack dab in the middle. So you can stream your workouts or watch videos on the Hoist Strength app without craning your neck. And last, but certainly not least, the Mi6 has an attached pull-up bar to round out your training.
Final Thoughts:
With any Fitness Town product, you can feel confident knowing you're getting the best of the best. And whether you choose to add the HOIST Mi5 or the Mi6 to your home gym, you're making the right choice. Both models bring the commercial gym experience to the comfort of home. Where the Mi5 shines with its compact footprint, the Mi6 shines with its double pulleys and robust weight stack.
Shop the Mi5 and Mi6 today or stop by 1 of our 7 Fitness Town stores today to take these functional trainer cable machines for a test run.