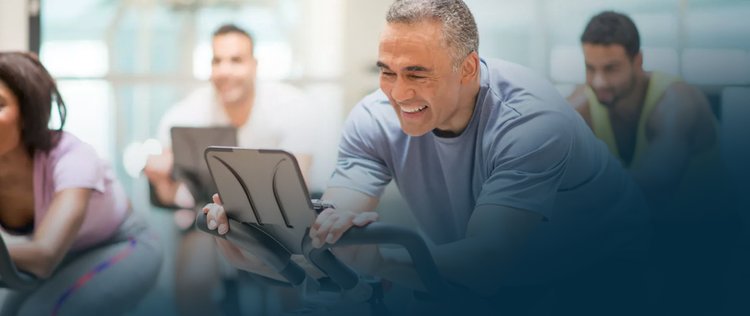 Customer Service
Home Gym Consulting
Guidance, Experience, Selection, & Ongoing Service
It's important to get expert guidance when purchasing home gym and fitness equipment.
Quality, functionality, and durability vary greatly in the fitness equipment industry. Without knowledge and experience, you will probably be disappointed in your investment. You want to avoid poor-quality equipment that can't be serviced, trendy brands that overcharge, and fads and features you don't need.
Our Fitness Equipment Specialists have decades of expertise and experience to help you find the right solution for a fully equipped home gym, small living space, office fitness, outdoor play, or travel. We also consult our local personal trainers, physical therapists, and alike with equipment for their facilities, clinics, and clients.
If you don't know where to start, we'll walk you through a no-pressure consultation. If you're experienced, rely on our team for superior product knowledge and the best selection of quality brands across fitness equipment categories.
If you're near one of our 6 locations in Western Canada, we encourage you to come in, work with us personally, and try before you buy. If you don't, reach out to our specialists via our Chat feature.
A big difference? With Fitness Town, you'll get ongoing service and support from our team. From questions, repairs and maintenance, and upgrades, we're here to keep you moving.
Financing
Pay Over Time With Affirm
0% APR financing available with Affirm on purchases between $300 – $15,000
Pay over 6 at 0% APR
Pay over 12 months at 10-36% APR
Pay over 18 months at 10-36% APR
Just select Affirm at checkout!
What is Affirm?
Affirm is a leading installment payment platform, providing shoppers with buy now, pay later solutions at their favourite retailers, both in-store and online.
By selecting Affirm as a payment method at checkout, customers can enjoy their purchases immediately while spreading their payments over time.
Why Affirm?
Transparent: Affirm tells you upfront the total amount you'll pay. That number will never go up.
Flexible: You choose the payment schedule that works for you.
Fair: Affirm won't charge you late fees or penalties of any kind, ever.
How do I use Affirm?
Select Affirm at checkout
Get set up using your mobile phone number is 60 seconds
Confirm your payment plan to enjoy your purchase today and pay later
Equipment Service & Repairs
When buying fitness equipment, know that it will need to be serviced. Like anything mechanical, maintenance and repairs are inevitable and important to protect the lifetime and enjoyment of your investment.
Fitness Town Service is Western Canada's largest and most experienced in-house Service Department. Have your equipment serviced by the same technicians who services Fitness Town corporate, commercial, and pro fitness facilities like the Richmond Oval, Vancouver Whitecaps training facility, and Lululemon's employee gym.
Service Rates
Fitness Town customers who purchase their equipment at Fitness Town and get 15-50% discounts on call-out and labour rates from Fitness Town Service!
Call Out Fees apply to warranty and non-warranty service calls
Labour coverage is determined by manufacturer warranty
For more information, submit a service request form
PICK-UP AT OUR DISTRIBUTION CENTRE
Online and in-store orders can be picked up by the customer at our Vancouver Distribution Centre located at 1306 S.E. Marine Drive. At this time, we do not offer pick-up at our 6 retail stores for online orders. (Shop in-store or call your local store for store pick-up options.)
How Pick-Up Works
Select "Warehouse Pick-Up" during checkout
You will receive an email confirmation with pick-up details
Read the notification email carefully for important pick-up procedures
Bring your order confirmation and ID to the warehouse for pick-up
The customer is responsible for loading the equipment into their own vehicle
The customer is responsible for bringing a vehicle of the appropriate size
IMPORTANT: Fitness Town is not responsible for the product once the order has been transferred to you, including during loading, transport, unloading at the destination, and/or assembly, etc.
Local Delivery & Installation
Available only to local customers located within 30 km of one of our 6 retail stores (South Vancouver, Kitsilano, North Vancouver, Burnaby, Port Coquitlam, Langley, and Edmonton) who shop in-store or via telephone/email with one of our retail Specialists.
Save your day off, save your back, save your walls, and make sure your equipment is set up and tested in place. All packaging will be disposed of or recycled appropriately.
Local Delivery and installation are strongly recommended for your safety and to protect your warranty on all cardio, large strength equipment, and anything that requires assembly.
Inquire in-store for more details.
CASH AND CARRY (IN STORE ONLY)
When you shop in-store, you may elect 'cash and carry' for any in-stock items. In-Store customers may also elect to pick up at any retail location where an item is in-stock.
IMPORTANT: Fitness Town is not responsible for the product once the order has been transferred to you, including during loading, transport, unloading at the destination, and/or assembly, etc.
Contact & Stores
For questions about an online order, contact ecommerce@fitnesstown.ca
For product questions or home gym consultation, contact us at one of our 6 retail stores or through our Online Chat.
For brand ambassador opportunities, contact marketing@fitnesstown.ca
For Fitness Town Fit Fund product donation requests, please complete our Fit Fund Form.
Frequently Asked Questions
How do I return or exchange my purchase?
Did you buy the wrong gift? Change your mind about your purchase, or just dissatisfied with the product? No problem! Fitness Town offers a 30-day return/exchange policy on all unopened or unused products, returned in new, saleable condition.
Fitness Equipment and accessories purchased at Fitness Town may be returned or exchanged (excluding shipping and handling charges) for 100% refund if returned in its original package, unopened and unused within 30 days from the original date of purchase.
For more information, please read our Return Policy.
Does Fitness Town price match?
Fitness Town strives to provide our customers with the best fitness equipment at competitive prices. To inquire about a price-match opportunity, please Contact Us.
Where is the closest Fitness Town location to me?
Currently, there are 6 Fitness Town locations in Western Canada. To find a location nearest you, please see our Store Locations.
How much does delivery & installation cost?
We have a highly trained and dedicated Delivery and Installation team to move your fitness equipment safely from our warehouse to your home. We also specialize in taking down and moving your equipment to a new location. Costs will vary on product and location. For more information, please Contact Us.
Does Fitness Town offer Financing?
Yes, Fitness Town offers four different financing options to fit your needs. To learn more about these options, please visit our Affirm Financing Plans above.
Does Fitness Town take trade-ins?
Fitness Town offers a trade-in program for cardio and strength equipment in good condition. The program is available to local customers who purchase in-store. Products are subject to inspection prior to qualifying for a trade-in value. Limitations and exclusions apply. Inquire at your local store for details. *Commercial Clients: Contact your commercial Fitness Town rep to discuss trade-in programs specific to Commercial.
Does Fitness Town sell used equipment?
Yes! All used equipment can be found in our Clearance Department or at Fitness Town Vancouver.
How do I return or exchange my online purchase?
Online purchases may be returned or exchanged at Fitness Town Burnaby along with a copy of the original invoice. Refunds will be issued in the same method of payment as the original payment.
For more information, please read our Return Policy.
How much does shipping cost?
Fitness Town offers shipping across Canada, and shipping costs vary. To find out an estimated shipping cost online, add the product(s) you're interested in into your cart. Click the Checkout button. Shipping options are calculated at checkout when you enter your shipping address and information.
Is Fitness Town hiring?
As Fitness Town continues to grow and expand, we are always looking for new fitness consultants. If you or anyone you know has a desire to work for a fast-paced, growing company, has an interest in fitness and has the ability to help people become motivated and excited about fitness, please refer or apply today to join the Fitness Town team! For more information on how to apply, please contact hr@fitnesstown.ca.
Will Fitness Town sponsor me or my event?
All Fit Fund Donation requests must meet the donation criteria for consideration and approval. As Fitness Town receives many requests for assistance on an annual basis, we cannot provide support for all the requests that are submitted to us. At times, we must decline participation in a great program/event because we have already committed our budget. To submit your request, please fill out our Fit Fund Request Form.
Does Fitness Town offer service?
Yes, our fitness equipment experts are here to meet your product servicing needs. If you have a product that needs servicing, please read our Equipment Service and Repairs section above.
How do I redeem my Customer Care Plan?
To redeem your CCP, please e-mail service@fitnesstown.ca with the following information. Please note that all items outlined below must be included to start a valid claim.
First & Last Name
Picture/Scan of your invoice
Picture the base serial #
Invoice #
Phone number
The Fitness Town location of purchase
Additional Questions?
If you don't see an answer to your question, please visit Our Policies or other pages on our site. Alternatively, you can always Contact Us for more information.