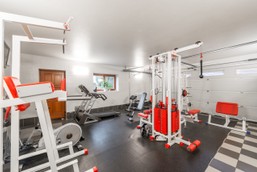 The Ultimate Garage Gym Guide: Your Solution to Home Gym Space Constraints
During the pandemic, home gyms took the world by storm. But even with fitness centres reopening worldwide, the home gym train shows no signs of slowing down. 
A GoodFirms survey of fitness professionals and enthusiasts found that 44% of people bought fitness equipment post-pandemic. And more importantly, 56% of those people say they plan to keep using it to maintain their home fitness routine.
If you're ready to start building your home gym but you suffer from space constraints, we might have the answer to your problem: build yourself a garage gym.
In this article, we'll discuss how garage gyms solve your square footage issue, along with:
The benefits of a garage gym vs. a home gym

Key factors like space requirements and equipment quality

5 innovative fitness equipment recommendations to add to your garage gym
Why Build a Garage Gym vs. a Home Gym?
When you're ready to start designing your home gym, the first question you ask yourself is, "Where will I set up my fitness equipment?" You might not have the luxury of a spare bedroom or a basement, but if you have a garage (or even half of a garage), it could be the perfect solution to your space problem. 
Aside from having the capacity to store your gym equipment, garage gyms are a great alternative to indoor home gyms because they:
Separate home life and workout time:

The gym is a great way to decompress from a busy work (

from home

) day or for "me-time" after a day with the kids. But when your gym is in the room next to your office, you might not feel that sense of separation that comes from leaving your house and driving to your gym. With a garage gym, you can get out of the house for your workout

without

losing precious minutes in a traffic-consumed commute.  

Are better for noise control:

If you're a 5 a.m. workout warrior, it can be hard to strength train or run on the treadmill with your family, sleeping one room over. But out in the garage, you can change weight plates or run a 5K without worrying about disturbing their beauty sleep. 

Are built for durability

: Your garage floors are likely more equipped to handle heavy equipment like a squat rack than your wood floors indoors. Plus, if you're an Olympic weightlifter or a CrossFit athlete who's used to dropping weights, they're also better suited to take the hit of a loaded barbell. (

After all, they're meant to support the weight of a car).
Your Garage Gym Should Be Aesthetically Pleasing
In your garage gym design, the equipment selection and layout aren't the only important factors. The aesthetic appeal of your space can play an important role in your workout experience and motivation levels. Things like clutter [1] and paint color [2] can have an impact on your stress levels and mood and make or break a good sweat sesh. 
Your garage gym is a blank canvas. You can paint and decorate without worrying about ruining the feng shui inside your home. Start from the ground up: 
Protect your gym floors with durable and cushioning rubber mats. They will help protect your plates when weightlifting, add a layer of comfort during floor workouts and add a clean look to the space. Interlocking tiles, like the

TITAN Rubber Flooring from North West Rubber

, connect like puzzle pieces for quick and easy installation. 

Decorate your walls with posters and memorabilia from your favorite sports figures for extra motivation. And if you have a specific goal you want to accomplish, like

running a marathon

or competing in the CrossFit games, throw up some banners to remind you of what you're working toward.

Finish off your space with the right lighting. Make sure there's enough light for you to exercise safely. But to make your space unique, neon signs can add a personal touch. 
Space Requirements & Storage Solutions
A clever layout for your equipment combined with smart storage solutions can turn your plain old garage into a fully functional fitness studio. 
The first step is planning which pieces of equipment you want to outfit your garage gym with. For example, a squat rack takes up more space than a spin bike. And multifunctional pieces of gym equipment, like dumbbells or a F.I.D bench that gives you 3 benches in 1, will help you save on square footage. 
Smart storage solutions will not only give you more floor space for workouts but will also help keep you organized. Utilize wall or ceiling bins for miscellaneous items, and invest in gym storage like weight trees and dumbbell storage racks for fitness equipment. 
Build Quality & Durability
Beyond aesthetics, it's important to consider materials & durability when building a garage gym. Unlike indoor home gyms, garages aren't always insulated, which means equipment can be more prone to rust and corrosion.
When picking pieces for your garage gym, look for equipment that's made from materials like steel or finished with powder coating. They'll be easier to clean and will stand up better against the elements. 
For preventative maintenance and to keep your equipment as new as the day you bought it, contact the Fitness Town maintenance team. We offer Western Canada's largest and most experienced in-house service department for gym equipment. (And for any equipment purchased from Fitness Town, you get a 15-50% discount on our service rates!)
Innovative Equipment at Fitness Town: Top 5 Pieces to Enhance Your Garage Gym
Setting up a garage gym is more than just carving out a workout space; it's about integrating the right equipment that optimizes your routine and meets your fitness goals. Here 5 pieces of equipment from Fitness Town that will elevate your garage gym game:
The cornerstone of a good garage gym is a heavy-duty power rack. The Fitness Town Power rack is a solid, compact solution for strength training. Not only is it the foundation for your squat, bench, and shoulder press PRs, but it also serves as an anchor point for other equipment and attachments, like resistance bands or suspension trainers.
Garage gyms give you a great excuse to get outside for your workout. Unlike traditional push sleds, the TANK M1 sled features all-terrain wheels that roll smoothly over concrete. The resistance depends on how hard you push, so it's the perfect way to add HIIT and strength training to your routine. 
Nuobells offer the same range of weights as a full set of dumbbells but in a compact design. They're perfect for saving space without giving up your dumbbell-only workouts. And it's not just about functionality; their sleek, modern look adds an aesthetic appeal to your garage gym.
Olympians and professional athletes worldwide swear by this rowing machine. This commercial-grade rower requires minimal maintenance, disassembles for easy storage, and is air-powered, so no outlet is required to achieve a full-body workout.
Looking for a one-and-done machine that will give you a full-body workout for a fraction of the floor space? The HOIST Mi1 is a home gym system with everything you need to target your back, chest, shoulder, and legs. Plus, it's compatible with the HOIST V Ride Leg Press for the ultimate leg workout. 
Final Thoughts: Garage Gyms Are a Game-Changer
There are tons of benefits to building a home gym: privacy, personalization, and convenience, to name a few. But just because you don't have spare space inside your home doesn't mean you have to miss out on creating your very own fitness studio sanctuary. A garage home gym is the perfect opportunity to create a gym that's tailored to your standards and fitness goals. 
For more innovative fitness products that are suitable for outdoor and garage gym use, check out our blog. Or shop online or in-store with a fitness expert who will help you pick the right equipment for your gains cave. 
References: 
[1] Saxbe, Darby E, and Rena Repetti. "No Place Like Home: Home Tours Correlate with Daily … – Sage Journals." Sage Journals , 23 Nov. 2009, journals.sagepub.com/doi/epdf/10.1177/0146167209352864. 
[2] Samina T. Yousuf Azeemi, Hafiz M Rafiq, Iram Ismail, Syeda Rabab Kazmi, Ameena Azeemi, The mechanistic basis of chromotherapy: Current knowledge and future perspectives, Complementary Therapies in Medicine, Volume 46,2019, Pages 217-222, ISSN 0965-2299,
https://doi.org/10.1016/j.ctim.2019.08.025.
Image Credit: Max Rahubovskiy from Pexels