HOIST® Fitness Mi1 Home Gym - 150lb
This compact multi-gym is a great option for beginners and people who are looking to spice up their exercise routine at home. 150 lb silent steel weight stack. Suitable for performing chest, shoulder, abdominal & core exercises.
Item # Mi1
$3,499.99
Shipping Calculated at checkout
Description
Looking to get the functionality of a gym in the comfort of your home? The HOIST® Fitness MI1 Home Gym can be your faithful ally to achieve your fitness goals thanks to its diverse array of exercise variations. Get a full body workout with its range of accessories that are so easy to add and adjust. Don't have enough space for a full home gym? No problem, the MI1 is very compact and has everything you need to work up a sweat without buying a bunch of equipment.
Features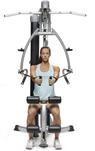 2:1 Split Weight Cabling
This ratio allows the user to perform a wide range of exercises
 Work out with 100% of the chosen resistance

Leg Extension - Standing Leg Curl
The telescoping roller pad adjusts, providing proper positioning for standing leg curls and leg extensions.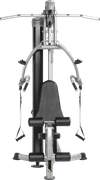 Interchangeable Press Arm Attachments
Enables you to perform pressing exercises with strap handles or articulating handles.
You can control both the angle and the arc of the exercise path
Suitable for performing chest, shoulder, abdominal & core exercises

Easy Glide Inserts
Help to make adjustments quick and smooth
Eliminate metal-to-metal contact
Eliminate friction

150 lb Silent Steel Weight Stack
Upgradable to 200 lbs
Each plate has pressed-in industrial plastic bushings
Each plate is machined to exact specifications
Smooth operation
No metal-to-metal contact and no sound

BRAND OVERVIEW
Fitness Town chose HOIST because they design equipment that allows our customers to bring the commercial gym experience home, providing the feel and features you love for smaller spaces. We are an exclusive distributor of HOIST in the Greater Vancouver area and are proud to be Canada's #1 Commercial Distributor of HOIST products in 2018. We are proud to partner with a brand that stands behind its products with a 10-year warranty on almost all their premium strength products and the LeMond series exercise bikes. HOIST makes it a priority to provide distinctive equipment that emphasizes natural body motion to produce maximum results.




Buyer's Guide
Why you should bring Strength Equipment home?
Strength Equipment brings gym training home, offering weighted push and pull exercises in a broad range of motion
A common myth is that strength equipment is for young people, body builders, or people serious about sculpting their bodies through muscle growth. Though strength training can be used for those purposes, it's primarily designed to support the body's functional abilities
Moving weight (pushing, pulling, lifting, etc.) plays a critical role in maintaining our body's functional abilities (bone density, mobility, balance, strength, endurance, etc.) and optimal body composition (fat vs. muscle)
Increasing muscle mass will increase your total daily energy used (calories) which contributes to fat loss. In other words, it's strength and not just cardio that helps you lose fat.
The Strength Equipment category of fitness equipment does require some square footage, though we carry a broad range of configurations and sizes that will surprise you with their ability to offer a full-body strength routine in a more compact space. It is considered by some to be less intimidating and possibly safer or more controlled than using free-weights
If Strength Equipment isn't going to fit in your space, it's important to look at Free Weights and Accessories that provide push and pull resistance.
Buying a Home Gym
Fitness Town has curated a range of quality home gyms that pass various tests from our team of experts. After decades in the fitness industry, we've developed a good understanding of your needs, regardless of age or fitness level. We consider everything like industry standards, diverse physical statures, and training requirements and goals. When you buy a product from Fitness Town, you can feel confident knowing that it lives up to our high standards. All that's left is finding the perfect match for you.
Here are some things to consider when comparing our multi-gyms:
What are the different types of multi-gyms? Covering the most important question first. It's helpful if you understand the types of home gyms on the market to determine which one is right for you.

Single station multi-gyms require the least amount of space and are therefore the most popular. These single stations hold a single weight stack and consist of a system of pulleys and cables that connect to the weight plate stack.
Dual station multi-gyms are bigger than single stations and are designed to accommodate multiple users simultaneously. Unlike single station gyms, they come equipped with two weight plate stacks, and though they require more space, they do provide more exercise options.

Leverage machines are different than the previous two multi-gyms because they are plate-loaded and do not come with weight plate stacks. This plate-loaded machine imitates the feel of free-weight movements and allows you to maximize the amount of weight you're lifting while helping you maintain proper form.
The footprint: Consider your space when purchasing your multi-gym. They come in different sizes and footprints and often fit easily into a corner of the room. Keep in mind that these are considered all-in-one machines and you're really getting multiple pieces of equipment in one, so the space it takes up is well worth it.
How many people will use it? If you plan on sharing your machine or working out at the same time as your training partner, the single station multi-gym might not be the best option. Choose a machine that accommodates 2 to 4 users at a time.
What kind of flooring do you have? Consider where you will be setting up your multi-gym. You'll want to make sure that the flooring is appropriate for the station and that it can support the extra weight (double-check before you assemble upstairs). Carpet will cave under the weight of a multi-gym, but if you can't avoid it, try adding a heavy-duty rubber mat to even out the base.
Noise level: If you cohabitate or like to train before the sun is up, consider the noise level of your machine. If you choose a multi-gym that uses weight plate stacks, check out the units with vinyl weights or "no-clank" plates for your training.
What is the resistance method? If you want to outfit your home gym with a plate-loaded machine, you'll want to make sure you have enough weight plates to help you reach your fitness goals. Check out Fitness Town's selection of Olympic plates to compliment your purchase. Otherwise, a home gym with a weight stack will better fit your needs.
Will your home gym cover leg day? You don't want to skip leg day. Build a strong foundation and find a multi-gym that allows you to hit your quads, hamstrings, and glutes all from one machine.
Ceiling Height: The average home gym machine is anywhere between 7 to 8' tall and 8 to 9' long. Make sure you give yourself enough clearance to fit the machine and to perform pull-ups if your trainer comes with an attached bar. If your home gym allows you to crank out leg extensions or leg press, double-check the space surrounding your machine.
Weight limit: Manufacturers post maximum weight limits to keep you safe. It's important that your home gym is stable when you exercise. Review the weight limit of your machine to minimize the risk of injury. Also, check out the weight of the machine to make sure your second-floor home gym room can accommodate the unit.
Safety: If you train alone and you're chasing a new personal record, multi-gyms will help you lift heavier weights while limiting the risk of injury. Multi-gyms are one of the safest ways to train because their weight stacks are separated from you by an enclosure and the attached pulleys allow you to safely "drop" the weight if you ever fail a rep. Fixed machines also keep you in proper positioning throughout the exercise, helping you maintain your form.

Expert Guidance To Help You Choose
Fitness equipment is highly personal and studies show that the right fit has a big impact on your consistency, enjoyment, and success. The Fitness Town Difference is our commitment to fitting you with equipment that will go the distance. We want you to build an environment for fitness that removes barriers and makes it easier for you to move more, at any age and every stage. Let us help you discover what moves you.