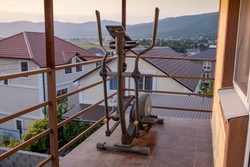 Can Gym Equipment Be Left Outside?
When you decide to build a home gym, the first step is finding an area that can accommodate your new equipment. Your spare room might be your first choice, but what if you don't want to give up that space?
As you start looking into alternative solutions, you ask yourself, "Can I leave my gym equipment outside?"
Maybe you have an open garage, a covered patio, or a fenced backyard that would be perfect for your fitness centre.
Short answer? It's possible. Some gym equipment can withstand all types of weather because of the material it's made from. While others will need the proper precautions in place to handle the elements.
In this article, we'll take a look at
The pros and cons of leaving fitness equipment outside
Maintenance tips to increase the longevity of your outdoor gym equipment
Strength, cardio, and functional fitness pieces that you can enjoy outdoors
So that by the end, you can answer for yourself if your gym equipment can be left outside.
Pros of Leaving Gym Equipment Outside
There's More Space
It's important to have a dedicated space where you can work towards your health and fitness goals. Wherever you set up your home gym acts as a "visual reminder" of what you're trying to achieve. But if you can't afford to give up any free space inside your home or apartment, storing gym equipment outdoors is a great option.
Carving out a corner in your garage, on your patio, or even in your yard allows you to build and expand your home gym, without sacrificing precious square footage. And leaving equipment outside also means you have more space for functional exercises, like Olympic lifting, overhead presses, and walking lunges.
Increased Convenience
Lacking space for an indoor home gym can also mean you are constantly moving equipment from room to room when it's time to work out. While this takes minimal effort for pieces with transportation-friendly designs, like the Keiser Mi3 Spin Bike, heavy or bulky equipment that's not as easy to move can discourage you from exercising.
Leaving your gym equipment outdoors means everything is set up and ready to use when it's time to train. This added convenience allows you to save all your energy for where it counts: getting your sweat on.
Encourages Outdoor Exercise
When you set up your gym equipment in the great outdoors, you get a change of scenery, a breath of fresh air, and loads of other health benefits. Not only do you get all the physical benefits of indoor exercise (improved blood flow, cardiovascular and muscular endurance), but research shows that exercising outdoors can also boost your mood and provide significant mental health improvements. [1]
Plus, you get a healthy dose of
Vitamin D
from the sun's rays which improve bone health and release serotonin, your body's "happy chemical". [2]
Cons of Leaving Gym Equipment Outside
Damage to Equipment
One of the biggest concerns about leaving gym equipment outside is if it will get damaged. Without proper cover and care, it's a possibility.
The weather can wreak havoc on uncovered and poorly maintained fitness equipment. Rain, snow, and humidity can cause iron, steel, and mechanical components to rust and corrode. And plastic or rubber equipment left in the harsh sun can become brittle and crack over time. Keep in mind that even if you keep your home gym covered, like under a patio or carport, a windy day can cause rain to splatter on your equipment and result in damage.
Seasonal Changes
Even though outdoor fitness has many benefits, it might not be possible in every season. Winter and spring in Vancouver are notoriously rainy. In fact, this city gets so much rain that it's earned the nickname "Raincouver".
This incessant rain can cause damage to gym equipment that's left outside, especially strength training and cardio machines. To increase the longevity of your pieces, consider an alternative storage location during months with heavy rainfall.
Increased Maintenance Requirements
Another drawback of leaving your gym equipment outside is the extra time you have to spend on maintenance. Indoors, the only thing you have to protect your equipment from is sweat. Outdoors, even on days it doesn't rain, the humidity in the air or the dew on the ground can cause certain materials to rust without proper care.
Types of Gym Equipment That Can Be Used Outside
With planning, you can enjoy almost every piece of gym equipment outside. Even if it's not built to withstand nature, transportation features like wheels and folding designs make it easy to work out wherever you want.
Below is a list of cardio, strength, and functional training pieces that are suitable for indoor and outdoor fitness.
Cardio Equipment
Hoist® Lemond® Series Elite Cycle Bike: The compact design and transportation wheels make it easy to enjoy outside and return to a covered area.
LifeSpan E5i Elliptical Trainer: The E5i runs off self-generated power – so you don't need to be near an outlet for a great workout. Two transportation wheels allow you to train anywhere.

Concept2 RowErg Rowing Machine:

The powder-coated frame and stainless-steel track hold up against sweat and light moisture. Just be sure to wipe it down when you're done! The Concept 2 is light, portable, and disassembles into two pieces for easy outdoor storage.
Strength Training Equipment
MX55 Adjustable Dumbbells: Like having 10 dumbbells in one – no need to take trips to switch out weights! The MX55 dumbbell set is great for indoor and outdoor use.
Fitness Town Independent Squat Stands: Their small footprint allows you to set up anywhere, indoors or outdoors, to perform squats and bench presses.
Hoist HF-4145 Folding Multi-Bench: Featuring an integrated hand grip and transportation wheels, you can simply wheel this bench around for your workout. Afterward, it folds up flat so you can safely store it away from the elements.
Functional Training Equipment
TRX® Tactical Force Kit: A military-grade suspension kit that can take on the toughest environment. Loops around a sturdy structure, like a tree, for functional exercises.
Fitness Town Alpha Sandbag: This thing is battle-tested. Designed with high-quality canvas, the Alpha Sandbag is durable enough to withstand the elements.
Fitness Town Free Standing XXL Heavy Bag: The heavy-duty construction means maximum durability. This thing can take a beating (literally) and is great for indoor and outdoor training. The narrow base makes it easy to maneuver into storage between training sessions.
Maintaining Gym Equipment That's Left Outside
Fitness equipment that is left outside will need regular maintenance to function properly. This includes cleaning, oiling, and removing rust whenever it's present on free-weight pieces, and special lubrication and cleaning of mechanical equipment, like treadmills and rowers. Fitness Town carries products designed to help you prolong the life of your equipment, like the WaterRower Cleaning Kit and LifeSpan Fitness Treadmill Belt Lubricant.
But even when equipment is meticulously maintained, it will eventually need serviced or repaired to return it to "like-new" condition. Fitness Town offers Western Canada's largest and most experienced in-house service department for your equipment maintenance needs. Fill out our service request form here if your gym equipment needs a little love – we'll put you in touch with one of our expert technicians. And remember, any piece of equipment purchased from Fitness Town is eligible for a 15-50% discount on our service rates!
Final Thoughts: Choose What Works For You
Deciding to build your home gym is a big decision. You spend months picking out the right equipment, reading through buyer's guides, and designing a dedicated exercise space. It's only natural that you would want to protect your purchase. Indoor or outdoor, the best home gym is the one that helps you reach your fitness goals. So, if you decide an outdoor studio is right for you, remember that there are measures you can take to preserve your gym equipment and prevent excessive wear.
If you're considering an outdoor home gym, but you still have concerns, give us a call at 1-855-417-1111. We'll walk you through a no-pressure consultation and help you find the right pieces for your goals.