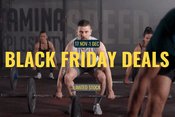 Shape Up for Less: Exclusive Black Friday Discounts on Premium Fitness Essentials
Black Friday is around the corner, and it is time to pull out the wishlist, revisit the bookmarks on our web browsers and scour the internet & shopping malls for the best deals. Black Friday falls at a time of the year when the holiday season is about to get in full swing. Although the origins of Black Friday sales may have started from a questionable nomenclature by the Philadelphia police in the 1950s, it still is one of the most significant shopping events of the year.
One of the core values and mission of Fitness Town is to enable people to move more and adopt a healthier lifestyle. Incorporating fitness into our daily lives and building environments that help us move more can boost our health and well-being. To ensure that we enable folks at every age and stage of their fitness journey, we are launching amazing fitness deals this Black Friday. Whether you are a fitness enthusiast or a bargain hunter, we've got the best black Friday deals on top-notch premium fitness equipment. Bookmark this page and come back on Nov 17th for the best Black Friday fitness deals of 2023. Here is what you need to know about Fitness Town's Black Friday Sale this year:
Sale Starts: Nov 17th.
Sale Ends: Dec 1st  
Product Categories on Sale: Cardio, Strength, Free Weights, Accessories & Conditioning.
Discounts: We have a range of discounts on a wide variety of products. The lowest discount on a product is $3, and the maximum discount is $697 off the retail price. 
We have a great lineup of products that will go on sale on Nov 17th. To give you a sneak peak, here are some of the top products that will go on sale on Nov 17th:
# MX85 – Rapid Change Dumbbell System
An ideal addition to any home gym, this space-efficient and time-saving design allows you to swap out your 10-pair dumbbell set. With its innovative selector dial, you can make swift and precise adjustments, ensuring a safe and efficient workout experience.
# MX55 – Rapid Change Dumbbell System
An essential addition to your at-home or office workout regimen, this cutting-edge fitness equipment stands out as the ultimate choice. With top-notch quality and lightning-fast weight adjustment capabilities, these adjustable dumbbells provide a weight range spanning from 10 to 55 lbs.
# CLM 835 Climber – P30 console
Elevate your fitness experience with the Precor CLM 835 Climber and P30 console, a blend of innovation and performance. Take your home gym to new heights as you embark on a journey towards a healthier, stronger self. With 31-speed levels ranging from 30 to 180 steps per minute in 5-step increments, this climber is ideal for both beginners and seasoned fitness enthusiasts.
Designed to minimize the impact on your joints, the Precor EFX 222 Elliptical stands out as an optimal selection for individuals across all fitness levels. Infuse diversity into your workout routine with various pre-programmed exercises tailored to various fitness objectives. Whether focusing on fat-burning or engaging in interval training, the EFX 222 provides versatility, ensuring your fitness regimen remains thrilling and effective.
# HOIST® LeMond® Series Elite Cycle Bike
Experience the future of cycling with a cutting-edge exercise bike that prioritizes comfort and minimal maintenance. With its customizable cycling resistance, interactive display monitor, and versatile 4-way micro-fit system, this bike ensures an unparalleled cycling journey.
# HOIST® LeMond® RevMaster Pro Cycling Bike
Embrace innovation, comfort, and lasting quality in the commercial-grade indoor cycling bike crafted by professional cyclist Greg LeMond. With an enhanced design replicating the authentic road bike experience, enjoy seamless cycling right in the comfort of your home.
# RumbleRoller® 31″ Textured Roller
The RumbleRoller 31″ Textured Roller is your go-to solution for alleviating muscle soreness and tightness and expediting recovery. Crafted with a unique design featuring firm, raised bumps, this roller emulates the techniques of a proficient masseuse, offering the advantages of a therapeutic deep-tissue massage within the comfort of your own home.
The Power Plate Mini Plus offers a compact remedy for muscle soreness, making it an essential addition for athletes, desk-bound professionals, and individuals of all lifestyles. Utilizing cutting-edge vibration technology, this portable device penetrates deep into your muscles, facilitating tension release and enhancing blood circulation.
Crafted for Peloton Bikes, this mat safeguards your flooring and prevents the bike from shifting on hard surfaces during use. Additionally, it's effortless to clean and can be easily rolled up for storage when not in use.
 # 48″ Slastix® Dual Clip Resistance Band
Harness the potential of dynamic resistance training using the Slastix Dual Clip Resistance Bands. These bands are meticulously designed with safety and endurance as top priorities, ensuring an exceptional workout. The dual clips offer a secure attachment to various bases or can be connected, allowing for versatile training options.
# Fit Spin Pro-Magnetic Bluetooth® Spin Bike 
Enhance your spinning routine with Fitness Town's professional-grade indoor cycling bike. The Fit Spin Pro-Magnetic Spin Bike with Bluetooth delivers a gym-quality cycling experience right in the convenience of your own home.
Experience the convenience of a low-maintenance indoor spin bike featuring a substantial 40lb flywheel and a highly resilient chain drive system, all within the cozy confines of your home, providing an authentic road bike sensation.
#Lifespan RW1000 Indoor Folding Rower
Experience superior functionality and convenience with the LifeSpan Home Rower. Its adjustable tension and LCD monitor ensure maximum workout efficiency, while the compact design allows easy storage. The smart monitor tracks essential metrics like time, strokes per minute, and calories burned, providing a comprehensive workout overview.
The Black Tusk Air Rower delivers a dynamic and seamless rowing session using state-of-the-art air resistance technology. The intensity of resistance adjusts in direct correlation to your exertion, ensuring its suitability for individuals across various fitness levels. 
With its convenient and space-saving design, the Black Tusk Foldable Water Rower offers adaptability and versatility, enabling you to partake in one of the most efficient full-body workouts with minimal impact: rowing.
# Black Tusk Folding Adj. Bench F. I. D.
This adaptable bench is suitable for athletes of all sizes and accommodates a wide range of bench training, from beginners to intermediates. It offers an extended selection of incline and decline seating positions and is equipped with comfortable padding to ensure a secure and pleasant workout experience.
There are lots of other products that will go on sale this Black Friday. Bookmark this page as we update and add more products to the above list. You can also avail the Black Friday discounts at our six retail stores in Metro Vancouver.