Black Tusk Air Rower
The Black Tusk Air Rower utilizes cutting-edge air resistance technology to provide a dynamic and smooth rowing experience. The harder you pull, the more resistance you feel, making it suitable for users of all fitness levels.
Item # FH4312
$498.00
$999.00
Shipping Calculated at checkout
Description
Rowing is one of the most effective full-body exercises, since it engages multiple muscle groups, including legs, back, core, and arms, providing a comprehensive fitness workout. It is also an excellent way to improve your cardiovascular fitness, enhancing heart and lung health. As a low-impact exercise, rowing is easy on the joints, making it suitable for individuals of all ages and fitness levels, including those recovering from injuries. Regular rowing also strengthens the back and core muscles, promoting better posture, and can be a meditative and stress-reducing activity, helping you clear your mind and focus on your fitness goals.
Features
Comfortable and Ergonomic Design
The ergonomically designed seat and handle provide maximum comfort during your rowing sessions, reducing the risk of discomfort or injury. Adjustable footrests accommodate different user heights for a personalized experience. Quick release lock allows the rower to break into two pieces for easy storage.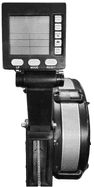 Performance Monitor
Keep track of your progress with the integrated performance monitor. It provides real-time data on your workout intensity, distance, time, and calories burned, helping you stay motivated and on track.

Smooth Operation
The air resistance system operates smoothly for a rowing motion which replicates the feel of rowing on the water, giving you a truly immersive experience.
IN YOUR HOME OR OFFICE
Space Saving
Can be separated into two pieces.
Easier storage when not in use.
SPECIFICATIONS & WARRANTY INFORMATION
Material and Finishing
Black alloy steel
Installation
Assembly required
Warranty
This product is not covered by manufacturer warranty.
Service & Repairs
This product is a discontinued model and is not eligible for Fitness Town service and repair. All sales are final.
Buyer's Guide
Why you should bring Cardio Equipment home?
4-season / 24HR training safely – No limitations or concerns due to weather or time-of-day
 Reduced or controlled impact for injured, recovering, or aging bodies
Steady/safe/controlled terrain for injured, recovering, or aging bodies
Health benefits of cardio exercise equipment include: improved heart/cardiovascular health, lower blood pressure, helps to regulate blood sugar, can reduce asthma symptoms, can reduce chronic pain, can aid in sleep, increases daily caloric burn to reduce fat, can strengthen the immune system, shown to boost your mood, contributes to a reduced risk of falls.
Buying a Rowing Machine
Fitness Town has curated a range of quality rowers that pass various tests from our team of experts. After decades in the fitness industry, we've developed a good understanding of your needs, regardless of age or fitness level. We consider everything like industry standards, diverse physical statures, and training requirements and goals. When you buy a product from Fitness Town, you can feel confident knowing that it lives up to our high standards. All that's left is finding the perfect match for you.
Here are some things to consider when comparing our rowing machines:
What are the different types of rowers? There are four categories of rowers. Understanding the different characteristics and types of resistance is important in determining which one is right for you.
Air resistance is the most common type of rower in home gyms and commercial health clubs. The resistance level of this rower is determined by the user's output. More intensity=more resistance. Air rowers generally require minimal maintenance and produce a smooth stroke, but keep in mind the fan blades can be a bit noisy.
Hydraulic Piston rowers are considered "budget rowers". They are the lowest-priced of all models, the most compact, and the easiest to store away between use. Hydraulic pistons create resistance that is adjustable with levels or clamps. This type of resistance is relatively quiet, but users will find the stroke isn't as smooth and requires regular maintenance. Nevertheless, you can still achieve a great overall cardio workout with this rower.
Magnetic resistance is the quietest and smoothest option on the market. The resistance level is adjustable through mechanical sliders or by digital console controls and overall requires minimal maintenance. They are also usually smaller than air rowers and water rowers, making them a great option for home use.
Finally, water rowers. Water rowers provide the most authentic "open water" rowing experience. A water flywheel tank and paddles create a drag that acts as resistance. Like air rowers, the faster you row, the more resistance you achieve. Overall, they require virtually zero maintenance. If you want to row away your stress, the relaxing whooshing of the water on this one is extra soothing.
Are you going to share your rower? The number of people in your house and how often you plan to use your rower will all impact the wear and tear on your machine. We carry high-end commercial-grade models that can withstand heavy use. Also, consider the different resistance strengths of the users in your home (unlimited might be the way to go if everyone's at different levels).
What are your training goals? Someone just starting their fitness journey will have different needs for their rower than a CrossFit competitor, and that is perfectly okay. We just want to make sure we help you pick the best rower for your goals. If you are planning to exercise a few times a week at a low intensity, a value-priced rower might be perfect for you. If you plan on performing HIIT or circuit training on your rower, you will want to opt for a commercial-grade model that can keep up with your training and requires minimal maintenance.
Are you training for a CrossFit competition or another fitness event? Most CrossFit and fitness competitions use air rowers during their events. It's beneficial to practice on a machine that is most like the one you would use during the live event.
Are you looking for an on-the-water simulation? If you row on the water, it's important for you to choose a machine that offers a life-like rowing motion and variable resistance that resembles a boat in the water. Off-season rowers should check out our selection of air or water resistance rowing machines for the closest match you can find on dry land.
Your weight: Manufacturers post maximum weight limits to keep you safe. It's important that your rower is stable and can accommodate your weight. If the rower wobbles or shifts back and forth during your ride, this not only puts excessive wear and tear on your machine but is also a safety hazard. Check the weight limit on the rower and if you are at the top end, consider a rower with a higher limit for your safety.
Will it fit your space? Rowers are one of the easiest pieces of cardio equipment to fit into your existing space. Some wooden models are designed to blend seamlessly into your home décor, while others can either be stored upright or apart in two pieces to optimize your space.
Are you living in close quarters? Different resistance methods create different noise levels. If you cohabitate or enjoy watching tv while you row, you might want to consider a magnetic or water rower that produces minimal noise.
Will it fit your height? If you're tall and need extra leg room or if you struggle with back or knee issues, consider a rower that has a higher entry point. An add-on riser is also a great option to add some height to your rowing machine.
Cool features: Finally, cool features. Unlike treadmills, rowers are manual workouts. So, while these features are not necessary to complete your cardio workout, they are what we'd call "nice-to-haves". The considerations above are important features to narrow down your options. Other factors like a display screen, workout programs, Bluetooth, and heart rate connectivity are not essential, but they will help you nail down the perfect rower to fit you and your goals. Just remember, your rowing machine purchase doesn't need to be swayed by a cool connected fitness app or program. Nowadays, you can use these apps with any rower, so focus on finding the one that's the right quality and price for you.

Expert Guidance To Help You Choose
Fitness equipment is highly personal and studies show that the right fit has a big impact on your consistency, enjoyment, and success. The Fitness Town Difference is our commitment to fitting you with equipment that will go the distance. We want you to build an environment for fitness that removes barriers and makes it easier for you to move more, at any age and every stage. Let us help you discover what moves you.