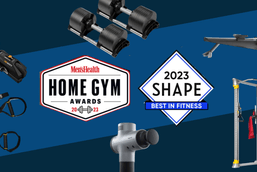 Building Your Home Gym: A Guide to Fitness Town's 2023 Winning Products
There are tons of home gym equipment options available on the market today. But it's important to know that all products aren't created equally.
When it comes to building a home gym, the equipment you choose can make or break the outcome. Finding the right workout equipment has a big impact on your consistency, level of enjoyment, and success. And poor quality pieces are not only a safety hazard but can negatively impact your workout experience and make it difficult to achieve your health and fitness goals.
The demand for at-home fitness remains strong. And as you invest in your home gym, it's essential to pick high-quality products that are safe, long-lasting, and effective. As a leading supplier of fitness equipment, Fitness Town offers a range of award-winning products that will help you achieve your fitness goals – no matter where you are on your journey.
In this guide, we'll cover the following:
What to keep in mind when investing in your home gym equipment
Why it's important to choose products based on quality vs price
Ten award-winning products you can find at Fitness Town (winners of the Men's Health and Shape Home Gym Awards)
What to Consider When Buying Home Gym Equipment
With so many equipment options on that market, the thought of building your own home gym can feel overwhelming. From budget to space availability, here are some factors you should keep top of mind that will help you get the most out of your workout equipment.
Your Fitness Goals: One of the first questions you should ask yourself is, "What type of exercise do I like to do?" The answer to this question will help you identify your equipment and space needs for your fitness studio. A Yogi's setup will look different than a powerlifter.
Your Environment: After identifying your fitness goals, you should have a clear idea of how much space you'll need or the area in your home you'd like to work out in. Creating an environment where you enjoy working out makes it easier to get a few reps in and will benefit you in the long run. Depending on how you choose to exercise, some of the larger cardio equipment comes with great space-saving features, like this vertically stored rowing machine and folding treadmill. Keep in mind that some forms of exercise will need more room, like a CrossFit athlete performing overhead Olympic lifts.
Equipment Budget: It's no secret that outfitting a home gym can be pricey. And while Fitness Town carries workout equipment for every budget, we will always encourage you to splurge on high-quality pieces for your home studio. Your investment in premium equipment guarantees maximum durability and effectiveness and helps move you toward your long-term fitness goals.
Safety Features: Cheap equipment won't prioritize safety features. The last thing you want is your exercise equipment breaking in the middle of your strength training session. Opt for equipment with appropriate safety features like non-slip grips or safety locks.
Gym Equipment Warranties & Customer Support: Be sure to review the warranty and customer support information for your fitness equipment before purchasing. At Fitness Town, we're committed to ensuring your satisfaction with your product. For every purchase, we offer ongoing service and support. From questions to repairs and maintenance for your product, we've got you covered.
Top 10 Award-Winning Products for Your Home Gym
Fitness Town carries the best of the best home gym equipment. And our confidence comes from having a team of fitness equipment specialists trained in selecting brands and products of the highest quality, functionality, and durability. To prove it, check out these 10 award-winning fitness products that are proudly sold by Fitness Town.
Nüobell – 2021 Men's Health Award Winner
Dumbbells are essential for any home gym. And with the Nüobell adjustable dumbbells, you only need one set. Ultra-durable and easily adjusted from 5-80 pounds.
Hoist MI6 Functional Trainer – 2020 Men's Health Award Winner
The ultimate all-in-one home gym system. Its compact design is space-saving, and 28 different pulley positions allow you to hit your muscles from any angle.
Hydrow Rower – 2022 Men's Health Award Winner
A patented electromagnetic drag and live outdoor reality™ makes it feel like you're rowing on the river. Experience a comfortable, quiet, low-impact cardio workout.
TRX® PRO4 Suspension Training System – 2023 Shape Fitness Award Winner
This suspension training system allows you to turn any room into a fitness studio. Perfect for full-body workouts and beginners because you rely on your body weight for resistance.
Torque Fitness Tank M1 Push Sled – 2023 Men's Health Award Winner
It's called the TANK for a reason. Its revolutionary resistance system provides an unmatched full-body workout experience. And the rubber-treaded tire works seamlessly on any surface.
Lebert Parallette Bars – 2022 Men's Health Award Winner
A callisthenics classic. These bars are perfect for anything from pushups to gymnastics.
Assault Fitness Air Rower Elite – 2022 Men's Health Award Winner
Assault is a leader in elite cardio equipment. The commercial-grade steel frame and powerful fan resistance on this machine provide an unmatched home rowing experience.
Concept2 Ski Erg (In-Store Only) – 2023 Shape Fitness Award Winner
One of the most effective cardio machines and perfect for those with lower-body limitations. Its space-saving design makes it a great addition to any home gym.
AssaultRunner Pro (In-Store Only) – 2022 Men's Health Award Winner
This self-powered treadmill works your muscles in a way standard treads can't. The AssaultRunner is great for mastering your stride and pushing yourself during high-intensity interval training sessions.
Hyperice Hypervolt 2 – 2022 Men's Health Award Winner
Recovery is just as important as training. That's why we carry recovery tools like the Hypervolt Massage Gun to relieve soreness and stiffness and improve mobility.
Workout at Home Your Way
Deciding to build your own home gym can be a big decision. And when you fill it with high-quality equipment, it can also be a big investment. With so many equipment options available on the market, it can be difficult to know if you're making the right decision. That's why at Fitness Town, we only carry best-in-class brands that offer the quality, durability, and functionality you expect.
Everyone's fitness journey looks different, and we want to support you every step of the way. If you need help getting started or deciding on a product, contact a Fitness Town expert. We'll help you find the piece that's right for you and your fitness needs.
References: 
https://www.shape.com/best-in-fitness-2023-large-home-gym-equipment-6834593 
https://www.shape.com/best-in-fitness-2023-small-home-gym-equipment-6834606
https://www.menshealth.com/fitness/a38726717/home-gym-awards-2022/
https://www.menshealth.com/fitness/a42296831/mens-health-home-gym-awards-2023/