HOIST® Fitness Mi6 Functional Trainer
The Hoist Mi6 home gym provides a complete range of functional training exercises designed to obtain maximum results to achieve your specific goals, all the while maximizing the space in your home with its compact design
Item # Mi6
$4,899.00
Shipping Calculated at checkout
Description
Born from the award winning V6, the Mi6 offers a unique streamlined design that conceals all of the unit's hardware, including the easy, one-handed adjustment mechanisms for the unit's 28 pulley positions mounted on industry-first 360º rotating columns. This innovation allows for uninterrupted cable motion with perfect cable tracking – a must for advanced functional training movements. No wonder it was awarded with best Home Gym in 2020 by Men's Health.
Features

28 Pulley Adjustment Points
There are 28 pulley adjustment points per column which allow for both sides to be used independently or together so you're never short on workout options.

Compact walk-through design
Its compact walk-through design requires minimal floor space and is engineered to easily fit into a corner of your home gym or commercial space.  Pulley columns combine full 360-degree rotation, a unique patent-pending Integrated Adjustment System and Quick-Release Adaptors to provide smooth and easy one-handed adjustments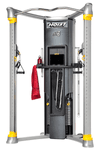 Integrated Accessory Rack
The Hoist Mi6 has an Integrated recessed accessory rack that carries two bottle holders so two people can train independently at once. It also has towel hooks for convenient storage of accessories and personal items.

Adjustable Tablet Housing
The streamlined design of the Hoist Mi6 includes an adjustable tablet housing conveniently positioned in the middle of the functional trainer to easily stream and watch workouts.
Feature Overflow
Split Weight Cabling™ delivers 50% resistance to the pulleys for increased cable travel (114" with strap handles)
Each solid steel individual plate receives pressed-in industrial plastic bushings and then is machined to exacting specifications to ensure glass-smooth operation plus eliminating any metal to metal contact or sound
Fully enclosed weight stacks offer clean lines, additional safety, and noise reduction
Multi-position chin-up bar with diamond pattern for improved grip
Comes standard with 300 lbs of total weight (150 lbs per side) and can be upgraded to 400 lbs
Product Overview
IDEAL USE
Ideal For
Ideal for users with a max weight of 300 lbs for the pull-up bar. Ideal for small space (total footprint is 3'X4.5')
Limitations
Not recommended for users over 300 lbs for the pull-up bar.
IN YOUR HOME OR OFFICE
Assembled Dimensions
Width: 54.00" (137 cm) Height: 83.00" (211 cm) Length: 37.75" (96 cm) Weight: 610.5 lbs. (277 kg)
Footprint
Width: 54.00" (137 cm) Length: 37.75" (96 cm)
Space Saving Feature / Space Requirements
A space that measures 8' x 9' is necessary for clearance space and to perform all the exercise options the Hoist Mi6 functional trainer offers.
Portability
Not portable, it weighs 610 lbs.
Shipping Dimensions
Product Width: 54.00" (137 cm) Product Height: 83.00" (211 cm) Product Length: 37.75" (96 cm) Machine Weight: 610.5 lbs.
FEATURES
Number of Stations
2, Functional Trainer
Tech Features
Tablet Holder
Device Holder
Yes, it has an adjustable tablet housing.
Trays/Holders
Yes, it has two bottle holders and towel hooks.
Available upgrades, add-ons, attachments
Mi6 Functional Trainer Accessory Kit Includes: ● Two (2) Three-Square Ring Adjustable Strap Handles ● Dual-Attachment Long Strap for weight-assisted pull-ups and other exercises ● Dual attachment aluminum long bar enables the use of both pulleys simultaneously ● Padded Ankle / thigh strap for comfortable leg exercises. Available upgrades: ● Hoist 50lbs Weight Stack Upgrade - Single
EQUIPMENT OWNERSHIP
Installation
Assemble and set up is required.
Warranty
Frame/Welded Components - Lifetime Grips, Paint & Chrome - 10 Years Electronic Components, Belts, Cable, Upholstery - 10 Years Pulleys, Bearings, Brushings - 10 Years
Maintenance Requirements
t's important to have a regular routine of preventative maintenance so that you avoid the cost and delay of having to unnecessarily place your machine out of order and expedite parts to your facility. You can find the machine specific maintenance schedule on the maintenance schedule sticker on each machine.
Service & Repairs
Fitness Town Service offers experienced maintenance and repairs for this product
Detailed Specifications
Product Width
54.00" (137 cm)
Product Height
83.00" (211 cm)
Product Length
37.75" (96 cm)
Machine Weight
610.5 lbs. (277 kg)

BRAND OVERVIEW
Fitness Town chose HOIST because they design equipment that allows our customers to bring the commercial gym experience home, providing the feel and features you love for smaller spaces. We are an exclusive distributor of HOIST in the Greater Vancouver area and are proud to be Canada's #1 Commercial Distributor of HOIST products in 2018. We are proud to partner with a brand that stands behind its products with a 10-year warranty on almost all their premium strength products and the LeMond series exercise bikes. HOIST makes it a priority to provide distinctive equipment that emphasizes natural body motion to produce maximum results.


Buyer's Guide
Why you should bring Strength Equipment home?
Strength Equipment brings gym training home, offering weighted push and pull exercises in a broad range of motion
A common myth is that strength equipment is for young people, body builders, or people serious about sculpting their bodies through muscle growth. Though strength training can be used for those purposes, it's primarily designed to support the body's functional abilities
Moving weight (pushing, pulling, lifting, etc.) plays a critical role in maintaining our body's functional abilities (bone density, mobility, balance, strength, endurance, etc.) and optimal body composition (fat vs. muscle)
Increasing muscle mass will increase your total daily energy used (calories) which contributes to fat loss. In other words, it's strength and not just cardio that helps you lose fat.
The Strength Equipment category of fitness equipment does require some square footage, though we carry a broad range of configurations and sizes that will surprise you with their ability to offer a full-body strength routine in a more compact space. It is considered by some to be less intimidating and possibly safer or more controlled than using free-weights
If Strength Equipment isn't going to fit in your space, it's important to look at Free Weights and Accessories that provide push and pull resistance.
Buying a Functional Trainer
Fitness Town has curated a range of quality functional trainers that pass various tests from our team of experts. After decades in the fitness industry, we've developed a good understanding of your needs, regardless of age or fitness level. We consider everything like industry standards, diverse physical statures, and training requirements and goals. When you buy a product from Fitness Town, you can feel confident knowing that it lives up to our high standards. All that's left is finding the perfect match for you.
Here are some things to consider when comparing our functional trainers:
The footprint: Consider your space when purchasing a functional trainer. They come in different sizes and footprints and often fit easily into a corner of the room. Keep in mind that you're really getting multiple pieces of equipment in one machine, so the space it takes up is well worth it. We offer streamlined, compact machines designed to fit seamlessly in your home gym.
Your environment: If you cohabitate or you're an early morning lifter, you'll want a machine that helps reduce excess noise. Check out our functional trainers that feature Silent Steel weight stacks that not only provide a smooth pull but also eliminate that troubling metal-on-metal contact sound.
How many stacks does it have? You'll want to make sure your trainer has two weight stacks or a pulley system with two cable arms that allow each side of your body to function independently. This is important so that you don't develop any imbalances. It also increases the number of exercises you can perform, like a chest cable fly.
Adjustments: The number of incremental adjustments that can be made on a machine will impact the types of exercises you can perform. A pulley system that can easily be adjusted up and down between exercises is helpful, especially if you're performing supersets. We offer functional trainers that can be adjusted with one hand thanks to quick-release adaptors.
Ceiling Height: The average functional trainer is about 85" tall, which won't fit if your ceilings are only 7' high. Make sure you give yourself enough clearance to fit the machine and to perform pull-ups if your trainer comes with an attached bar. About 16" of free space at the top should be enough.
Do you need storage? If you're all about organization and keeping your home gym neat and tidy, consider a functional trainer that comes with storage for all your cable attachments.
Your training goals: A functional trainer will fit anyone's training goals. They are perfect for full-body workouts, progressive overload, isolation exercises, and they're rehab-friendly. You can train your upper body and lower body on one machine, so no matter how you work out the functional trainer will accommodate you.
Versatility: Following your training goals, think about any extras you'd want your machine to come with. Along with a pulley system, consider if you'd need a trainer with a smith machine bar, pull-up bar, or power cage. They don't call them "functional" trainers for nothing!
Safety: If you train alone, safety will be on the top of your mind. Especially if you're chasing heavy weights. Functional trainers are one of the safest ways to train because the weight stacks are separated from you by an enclosure and the attached pulleys allow you to safely "drop" the weight if you ever fail a rep. This allows you to perform progressive overload with less risk of injury.
SHOW US YOURS
Show us your home or office fitness environment. Inspire others to fit opportunities for movement into their space. Follow, like, pin, and tag us.

Expert Guidance To Help You Choose
Fitness equipment is highly personal and studies show that the right fit has a big impact on your consistency, enjoyment, and success. The Fitness Town Difference is our commitment to fitting you with equipment that will go the distance. We want you to build an environment for fitness that removes barriers and makes it easier for you to move more, at any age and every stage. Let us help you discover what moves you.