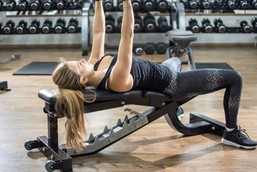 A Comprehensive Guide to Weight Benches: Which One's Right for Your Home Gym?
There's a reason weight benches are a staple in every home gym. They're easily one of the most versatile pieces of equipment on the market. But who knew there were so many different variations?
During your search through the sea of weight benches, you might have wondered, "Which bench is the best?" (And what does FID stand for, anyway?)
In our comprehensive weight bench guide, we'll help you answer both of these questions by:
Breaking down the different types of weight benches (aka "workout benches")
Listing the pros and cons of each
Identifying who will benefit from each bench type
And offering product recommendations
Understanding the Different Types of Weight Benches
Flat Benches
While some people call the flat bench basic, we call it a classic.
What is it: The flat bench is the most standard version of weightlifting benches. As indicated by its name, the flat bench doesn't incline or decline. Instead, it features a flat platform, or pad, that sits on a sturdy set of legs. It's a "no frills", affordable weightlifting bench that gets the job done.
Pros: Because of the flat bench's simple structure, it's often the most affordable weightlifting bench. It's considered the go-to for flat bench presses and chest fly exercises. And its flat, solid structure is also great for leg exercises like step-ups and split squats. (They also double as a good seat to rest on between sets!)
Cons: The main disadvantage of the flat bench is the lack of adjustability, which limits chest exercise variations.
Who should use it: The flat bench is a staple for any home gym. If you're looking for a no-nonsense weightlifting tool to support you during heavy bench presses, accessory exercises, step-ups, or bodyweight movements – this one's for you.
Product Recommendations: Hoist HF-5163 Flat Utility Bench: Lightweight, space-saving, and highly durable. Protective coating on the feet helps stabilize the bench during heavy sets and prevents scratches on your gym floors.
Adjustable Benches or FID Benches
FID stands for Flat, Incline, and Decline – all the angles this bench adjusts to.
What is it: Adjustable benches are a popular pick among home gym owners. The flat, incline, and decline positions effectively give you 3 benches in 1 – which is why they're often referred to as 3-in-1 benches. FID benches feature two primary adjustment methods: 1) ladder-style adjustments and pop-pin adjustments. Pop-pin adjustable benches allow you to lock in the angle with a pin-in-slot feature. Where a ladder-style adjustable bench sits securely in various notched grooves.
Pros: The #1 advantage to adding an adjustable bench to your arsenal is the workout versatility. With a FID bench, you have several pieces of equipment in 1. This saves you space and money when outfitting your home gym. With an adjustable bench, you can perform the same workouts as you would on a flat bench, plus incline and decline chest presses, upright shoulder presses, and various ab exercises.
Cons: Adjustable benches are going to be more expensive than traditional flat benches.
Who should use it: Anyone looking for a versatile bench where they can perform various chest and shoulder strength training exercises will benefit from an adjustable bench. It's also a great choice for anyone building their home gym from scratch because you get multiple benches in one, saving you space and money.
Product Recommendations: Hoist HF-5165 7-Position F.I.D Bench: 7 adjustable back positions and 3 adjustable seat positions accommodate anybody and any workout. Integrated hand grip and wheels make it easy to maneuver and position for different exercises.
MX Select Adjustable Training Bench: A compact design that features an extra-long back pad for tall athletes, 6 adjustable backrest positions, and 2 adjustable seat positions. Antimicrobial upholstery prevents deterioration and protects against bacteria, mold, and mildew.
Fitness Town Multi-Step Bench Combo: Talk about versatility! This "adjustable bench" also functions as a portable aerobic step. Allowing you to comfortably perform step exercises, and free weight strength training exercises with one tool.
Olympic Benches
You'll find Olympic benches at most commercial gyms.
What is it: The Olympic weight bench is an elite-level training bench designed for serious lifting. It's a competition-grade workout bench crafted from heavy-duty steel and extra-thick padding for maximum support and comfort during heavy lifts. It has a high weight threshold that can handle hundreds of pounds and high-repetition exercises. Olympic benches can be flat or adjustable and often feature built-in racks to hold your barbell and store Olympic plates.
Pros: The Olympic weight bench is one of the sturdiest and most solid designs you can find. They offer the most security when putting up heavy weights. And Olympic benches with built-in racks help you get in the proper benching position while doubling as a storage solution for your plates and barbell. Saving you space and money on additional equipment storage.
Cons: The rock-solid design and built-in rack on Olympic benches mean they are going to be heavier, bulkier, and more expensive than other weight benches.
Who should use it: Powerlifters, strongman competitors, bodybuilders, and anyone looking to lift serious weight should consider the Olympic bench for their home gym. The commercial-grade construction offers the sturdiest platform for bench pressing – which you'll want when you have hundreds of pounds overhead.
Product Recommendations: Hoist CF-3170 Flat Olympic Bench: With commercial-grade construction and a max load of 1,000 lbs, this Olympic weight bench is ideal for heavy upper-body strength training. The angled frame allows you to get into the optimal benching position and doubles as a storage rack for your Olympic weight plates and barbell.
Folding Benches
The perfect combination of practicality and performance.
What is it: Folding benches are available in both flat or adjustable (FID) configurations and are one of the best options for at-home training. They are more lightweight and compact than fixed benches, and easily fold up with the pop of a pin. Some folding benches break down completely flat, while others feature foot covers for upright storage.
Pros: Folding benches score points for their portability and storability. They offer the versatility of a standard weight bench, with a smaller footprint. Their compact folding design offers more floor space in your home gym for fixed equipment.
Cons: The benefit of folding benches is that they're lightweight, compact, and portable. The downside to this is that they often have lower weight ratings than other commercial-grade weight benches. This means they won't be your first choice if your goal is to chase heavy bench press PRs.
Who should use it: If you have limited available space for a home gym, but still want a reliable workout bench, a folding bench is the perfect solution. Because they're highly portable and often fold up flat, they're great for apartment living or indoor/outdoor training when you want a change of scenery.
Product Recommendations: Hoist HF-4145 Folding Multi Bench: A high-quality steel frame, protective foot coating, 5 adjustable backrest positions, and it folds up flat? This weight bench gives you all the bells and whistles – and it can be easily stored under your bed between training sessions.
Abdominal Benches
Helping you target your abs from any angle.
What is it: As their name suggests, abdominal benches help you target your abs. Their many adjustment angles help you achieve optimal form during bodyweight or weighted exercises. They also feature padded foot rollers to lock your feet into place during sets.
Pros: Abdominal benches usually have a smaller footprint than other weightlifting benches. Their features, like foot rollers and the attached handle, are ideal for comfortable ab exercises.
Cons: If you're looking for exercise versatility, these workout benches aren't the best option. Because their design is primarily for ab exercises, they won't offer the same type of support during strength training that you would find on other weightlifting benches.
Who should use it: Ab benches are great if you suffer from back pain and want to improve your overall core strength. These benches allow for a focused ab workout without putting strain on the lower back. They're also generally smaller than standard weightlifting benches, which is great if you have limited space in your home gym.
Product Recommendations:Hoist 5264 Adjustable Ab Bench: 10 adjustable positions allow you to hit your abs from any angle. Anti-skid plastic feet mean no scuffs, no wobbling, and maximum support during your set.
Factors to Consider When Choosing a Weight Bench
Material and Durability
The material and construction are two of the most important factors to consider when choosing a weight bench. Look for workout benches that have steel frames at least 2" thick and high-density foam padding that is comfortable, but durable. If you're a powerlifter or Olympic weightlifter who will put their weight bench through the wringer, look for one that's commercial-grade and can withstand heavy use.
Size and Space Requirements
Consider how much space you have available to store your bench. If you're short on space and need to tuck your equipment away between workouts, consider a folding bench. If you have more room, like a converted garage gym, you can afford to house a heavy-duty flat or adjustable weight bench.
Weight Capacity
Weight benches have weight limits to keep you safe during training. It's important to choose a bench that won't shift or wobble while you work out. If you know you're going to be hitting some heavy bench PRs, make sure the workout bench you choose can handle your weight and the extra weight you'll be lifting.
Your Training Goals
Identify how you will most often use your weight bench. Are you training for aesthetics and want something that offers different angles to hit your muscles? Go for an adjustable FID bench. Are you a powerlifter primarily training heavy bench presses? Look for an ultra-durable flat bench or an Olympic bench that will make your lift-off easier. Use your training goals to help you find the right bench for your home gym.
Final Thoughts: Which Weight Bench Is Right for You?
Building your home gym is about finding the right equipment for you and your fitness goals. So keep this in mind when deciding which weight bench to add to it. Your training style, available space, and goals will all help you find the best choice.
From classic staples like the flat bench to exercise-specific ab benches, every workout bench serves a unique purpose. And if you still need help narrowing down what purpose you want your weight bench to serve, stop by one of our 6 Fitness Town locations. We have tons on display you can put to the test, and weight bench experts standing by to answer your questions.