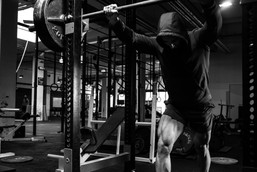 The Squat Rack Guide: How to Choose the Right One for Your Home Gym
At the heart of every gym, there's a powerhouse piece of equipment that caters to all your strength training needs: the squat rack. It offers workout versatility, promotes safe solo training, and gives you the confidence to push your limits and achieve your fitness goals. 
But even though a squat rack is a tried-and-true strength-building tool, deciding on the right one to add to your home gym isn't always an easy decision – financially and functionally. 
In this guide, we'll cover the key considerations to keep in mind when choosing a squat rack for your home gym, plus highlight
The benefits of adding a squat rack to your space

Fitness Town's top 5 squat rack recommendations 
What Is a Squat Rack?
A "squat rack" is an umbrella term to describe a metal rack or cage used to support barbell weight training. Underneath that umbrella, there are several different types of squat racks, with the 3 most popular variations being
Power racks

or

power cages
Half racks

(what most people think of when they hear "squat rack")

And

squat stands
The standard squat rack design features two vertical posts connected at the bottom and top (usually with a pull-up bar). The posts will have laser-drilled holes or rack-out tiers to accommodate various athlete heights and strength training exercises. While they were originally created to help athletes hoist heavier weights onto their backs, today, squat racks come packed with many features. Let's look at the top three benefits of using a squat rack. 
What Are the 3 Key Benefits of a Squat Rack?
Workout Versatility
While squats are the bread and butter, a squat rack allows you to perform a wide variety of strength training exercises. This means you can target different muscle groups and achieve a full-body workout using one piece of equipment. Some of our favorite exercises to do with a squat rack include
Bench presses

Overhead shoulder press

Barbell lunges

And rack pulls (

if your squat rack has safety arms

)
Safety
When lifting heavy weights, safety should be your #1 priority. Adding a squat rack to your gym allows you to confidently lift heavy from the comfort of your home. 
Squat racks crafted from solid steel are ultra-durable and won't buckle under heavy weights and pressure. Plus, additional features like safety arms and straps act as a personal spotter when you're lifting alone and will safely "catch" the weight if you have to bail on a lift. 
Adjustability Through Accessories
We love multi-functional fitness tools. On its own, a squat rack provides tons of workout variety. But when you combine accessories like a dip bar, cable pulley system, or a weight bench, the sky's the limit. And who knows, with your fully customized squat or power rack, you might finally have everything you need to cancel your gym membership. 
What Should You Consider When Choosing a Squat Rack?
Footprint
The first thing you need to determine when choosing a rack is if it will fit in your home gym. Look for a rack with a footprint that will fit your floor space and your ceiling height. Especially if it has an attached pull-up bar. You'll need at least 20" between the bar and the ceiling to have enough head clearance to perform a proper pull-up. 
Build Quality 
A high-quality build is crucial if you plan to use a squat rack to support super-heavy barbell training or weighted bodyweight exercises. Heavy-duty steel and precision welding are important factors to look for when it comes to construction.  
Safety Features
Anyone who wants to lift heavy weights alone should look for a rack with safety arms or safety straps. These are your "safety net" to catch your barbell on a failed lift. They help protect you from injuries and enable you to push your limits with confidence. 
Fitness Goals
At the end of the day, the right rack for you is the one that aligns with your fitness goals. If you are a powerlifter who plans to push PRs, choosing a power rack with built-in safety catches and a high weight rating is the way to go. But if you don't have enough space for a full-size power rack, squat stands with a small footprint fit the bill.
The Top 5 Squat Racks at Fitness Town
The Torque Arsenal rack doesn't sacrifice durability for its small, compact footprint. Its 7' frame features heavy-duty 3"x3" 11-gauge steel uprights (the gold standard for squat racks) to withstand your heavy bench and squat sessions. Plus, it comes with an attached pull-up bar for upper-body exercises or anchoring suspension training systems. 
Who it's for: This is the perfect starter squat rack. If you're an athlete looking for a sturdy rack that offers workout variety but with a smaller footprint than a full cage, the Arsenal rack is for you.
The HOIST HF-5970 is everything you could want in a squat rack wrapped up in a sleek, modern, and aesthetic frame. It features 8 rack-out tiers in place of J-cups, so you don't have to waste time lining up holes to change exercises. Plus, it has an attached pull-up bar, integrated barbell storage, and weight plate holders. (It's called the multi-purpose rack for a reason!)
Who it's for: If you want a squat rack that fits seamlessly into your studio space, then look no further. This HOIST rack has a slim profile that's easy to maneuver around, features barbell and plate storage, and boasts a heavy 600 lb weight rating.
The Torque X-Gym Low Rack combines the space-saving benefits of squat stands with the stability of a full-size squat rack. Like the Torque Arsenal, it's built from heavy-duty 3"x3" 11-gauge steel uprights and has laser-drilled holes to accommodate various heights and attachments. The best part? If you ever want to build your low rack into a full-size rack, you can upgrade with all the bells and whistles in Torque's X-Gym Line. 
Who it's for: This one's a no-brainer if you have low ceilings. But it's also perfect if you're just starting your fitness journey and you're looking for a rack that can grow with you. 
The Fitness Town Power Rack brings the commercial gym to your home. Unlike a half rack or squat stands, it features 4 upright arms all crafted out of heavy-duty 11-gauge steel for maximum stability and safety. Plus it comes with an attached pull-up bar, a detachable dip bar and pairs with other home gym accessories like your weightlifting bench. You'll get the convenience of a full-body workout from a single piece of equipment. 
Who it's for: If you train alone and want the support of sturdy safety arms, the Fitness Town Power Rack makes a great training partner. It's also ideal if you want an all-in-one squat rack that you can upgrade with various attachments to achieve a full-body workout. 
Living up to its name, this heavy-duty squat stand offers extreme durability and a high load capacity for intense workouts. Featuring a 1,000+ lb weight rating and safety spotter arms, the Fitness Town Squat Stands are built for heavy weightlifting. And with a max height of 72" tall, this squat stand will fit into almost any room of your home. 
Who it's for: If your home gym is in a basement or a room with low ceilings, this squat stand is a great fit for you. Its heavy max load also makes it ideal for powerlifters and athletes looking for a no-nonsense squat stand to chase PRs.
Choosing the Right Squat Rack From Fitness Town
Investing in a squat rack is one of the biggest decisions you'll make when building your home gym. But a multi-functional piece of equipment that promotes safe lifting and offers full-body workouts is a game changer. Finding the right one comes down to your fitness goals, your training style, and of course, your available space. 
Whether your goal is to become a professional powerlifter or to simply start your weightlifting journey, we have a squat rack to fit your needs. Explore our top 5 squat rack recommendations above, or check out our selection of premium squat racks here.
Blog Image by Alexander Redl from Unsplash