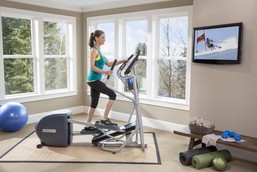 Home Gym vs Gym Membership: Which Is the Better Investment?
If we know one thing, it's that exercise is not one-size-fits-all. How we work out is constantly changing – from step aerobics in the 1990s to the rise of home gym ownership in the 2020s.
A recent study found that 73% of Canadians prefer to exercise on their own vs in a commercial gym or a group setting. And if this is you, there's one question on your mind: "Are the benefits of building a home gym worth cancelling my gym membership?"
Having gym equipment at home allows you to build healthy habits into your everyday routine. Plus, it makes finding time to exercise easier – which is what 75% of Canadians say is the biggest thing holding them back from being active.
But we recognize that the decision to cancel your gym membership and build a home gym isn't cut and dry. So if you're still on the fence about being a home gym owner vs a commercial gym member, read on as we dive into the pros and cons of each option. By the end, you'll have a complete breakdown that will help you decide which is better for your fitness journey.
Pros of Building a Home Gym
At-home workouts offer privacy, accessibility, and freedom you won't find at a commercial gym. Let's dive into the pros of investing in a home gym build:
Convenience and Accessibility
A home gym is open for you 24 hours a day, 7 days a week. Sure, there are 24-hour commercial gyms. But every second counts when you have to sneak in a workout between your kids' nap time or during your 30-minute lunch break. And having a full-fledged fitness facility in your home at your disposal is undeniably advantageous.
No Travel Time
Even a 15-minute commute to your nearest local gym can add up. 15 minutes per day, 5 days a week is over 2 hours a week lost in travel time. That's time you could spend visiting with your family, walking your dog, or decompressing after a long day at work. Not to mention the money you save by using less gasoline.
No Gym Fees
One of the most obvious, but underrated benefits of investing in a home gym is you're no longer paying a monthly gym membership fee. The average gym membership fees cost anywhere between $480-$720/year. Even if you finance your home gym and have a monthly payment, at least you're investing in an asset that you can enjoy for years.
Control Over Equipment and Environment – You Don't Have to Share
No one wants to share gym equipment with other sweaty gymgoers. Or have to awkwardly ask, "How many sets do you have left?" when the equipment you want is in use. When you build your own home gym, you are 100% in control. You can work out at any pace, pick the equipment you want in your gym, and choose whether to wipe down your bench when you're done. (Okay, we'd still recommend doing that last one, for longevity.)
Cons of Building a Home Gym
If you're someone who thrives in a fast-paced gym environment, training at home can take some getting used to. Keep in mind, there are solutions to most of the problems home gym owners face, but here are a few potential drawbacks to consider.
High Initial Investment
The most common argument against building a home gym is that there are high upfront costs, which make home gym ownership unattainable. And while some equipment with tons of features or integrated technology will be more expensive, there are tons of ways you can build a budget-friendly home gym. Start out with home gym essentials and build as you go, or consider financing your fitness equipment. Fitness Town offers financing options through Affirm to help spread out your investment.
Lack of Social Interaction and Accountability
Working out at home by yourself can get lonely. And if you're someone who needs a gym partner or the high energy found in group fitness classes for motivation, then this is something to consider when building a home gym. But remember, there is plenty of equipment that offers Bluetooth connectivity so you can join fitness classes and still work out with your friends.
Distractions at Home
When you work out at home, it's easy to get distracted by all the things competing for your attention. Checking your email, doing a load of laundry, or catching the end of the game can be tempting. When it's time to train, you have to transition from work mode to workout mode so you can focus on achieving your health goals.
Pros of Getting a Gym Membership
If you want your fitness served with a side of luxury amenities, loads of commercial-grade equipment, and a motivating community – then opting for a gym membership might be for you.
Here are some perks that come with your monthly membership dues:
Access to Amenities
Depending on the type of gym you join, you could have access to a variety of amenities. Many mid-range and high-end facilities give you access to things like a basketball court, swimming pool, sauna, smoothie bar, and more with your membership. Consider your fitness goals and if these additional amenities will help you achieve them.
Community
Training at a commercial gym offers you community and camaraderie that you might not find at home. Especially at tight-knit gyms, like CrossFit boxes or boutique clubs. Joining a gym is a great way to meet friends and gain accountability if you're someone who needs a communal environment for some extra motivation.
Variety of Equipment
When you join a gym, you have instant access to a wide variety of equipment and workout machines. Most commercial gyms have the space to offer multiple cardio machines, pin-loaded and plate-loaded equipment, squat racks, and platforms. While you can purchase most commercial-grade equipment for your home gym, you get access to all this equipment on day one of your gym membership.
Cons of Getting a Gym Membership
While there are several benefits of signing up for a gym membership, there are some potential dealbreakers to be aware of:
Gym Fees Can Add Up
Annual gym membership fees for a low to mid-level gym in Canada are between $360-$500. This is about the same as what it would cost to build a basic home gym. If access to extra amenities isn't a necessity, spending these annual funds on fitness equipment is likely a better investment. And keep in mind, when you sign up for a gym membership, you have to pay your monthly dues regardless of how often you visit. So anytime you skip, it's a sunk cost.
Limited Access to Equipment During Peak Hours
On weekdays, a commercial gym at 5 pm closely resembles Disney World during spring break. Having a gym membership doesn't guarantee you access to your favourite equipment or a spot in your weekly fitness class. Having to wait around for equipment or pivot to different exercises eats up precious time that you could be spending on training.
Commute Time and Inconvenience
With so many things fighting for your time every day, commuting to the gym after a long day at work usually isn't at the top of the list. Tack on the gas spent or getting stuck on the highway during rush hour and travelling to train sounds less and less appealing.
Set Business Hours
If you're a weekend warrior or part of the 5 am club, you have to train at very specific times. And if you don't have a 24-hour gym near you, your options for training are very limited. Also, keep in mind that most gyms close during holidays – which means no pre-Thanksgiving turkey lift for you.
Home Gym vs. Gym Membership Cost Analysis
We know the #1 thing you want to know is "Does cancelling my gym membership to invest in a home gym save me money in the long run?"
Let's take a look at a few different scenarios to find the cost breakdown for building your home gym vs paying for a gym membership.
For these scenarios, we'll assume:
A basic home gym costs $250
A basic gym membership costs $25/month
An elaborate home gym costs $5000
And a high-end gym membership costs $200/month
| | | | |
| --- | --- | --- | --- |
| Time Period: End of 1 Year | Home Gym Investment | Monthly Gym Membership Expense | Money Saved on a Home Gym vs Gym Membership |
| Basic | $250 | $25 x 12 Mo. = $300 | +$50 |
| Elaborate/High-End | $5000 | $200 x 12 Mo. = $2,400 | -$2,600 |
| | | | |
| --- | --- | --- | --- |
| Time Period: End of 5 Year | Home Gym Investment | Monthly Gym Membership Expense | Money Saved on a Home Gym vs Gym Membership |
| Basic | $250 | $25 x 60 Mo. = $1,500 | +$1,200 |
| Elaborate/High-End | $5000 | $200 x 60 Mo. = $12,000 | +$7,000 |
This scenario will vary depending on what gym you join and the equipment you purchase. But with the average monthly gym membership dues coming in around $40/mo, this chart shows you can expect to save a chunk of change in the long run if you decide to build your own training center.
Factors to Consider When Choosing Between Building a Home Gym and Getting a Gym Membership
Personal Fitness Goals
We've come a long way from VHS workouts and at-home aerobic step classes.
You can accomplish a number of fitness feats in a home gym. Use your goals to determine if the equipment you need to reach your health milestones is easily accessible for home workouts, or if you need a full-service commercial gym to help you achieve your goals.
Space Availability
Home gyms can come in all shapes and sizes.
But your fitness goals will determine how much space you need, or if your activity is better served at a commercial facility. For example, if you're an Olympic weightlifter, you'll need enough room for a platform, a squat rack or squat stands, and space to safely throw weights. If you lack the square footage, then joining a weightlifting gym might make more sense.
Budget
Purchasing home gym equipment and paying monthly membership dues are both investments in your health. And if the only thing holding you back from building your home gym is the upfront cost, remember that financing is available as a way to break the investment into a manageable monthly expense, like a gym membership.
Time Availability
Time is our most valuable resource. And if eliminating your commute and having 24/7 access to a personal fitness facility in your home is what will help you spend time efficiently, then it's the right choice for you. But if fewer distractions at home help you work out more effectively, exploring a gym membership might be the best use of your time.
Building a Basic Home Gym: Start With Key Equipment
You don't have to decide between your child's college fund and building a home gym. There are plenty of ways you can build a fully-functional fitness facility with a few key pieces of gym equipment. Below we'll give you our "must-haves" for anyone deciding to dive into home gym ownership.
1. Dumbbells
If you have a pair of dumbbells, you basically have a full-fledged home gym. Dumbbells offer endless workout possibilities and are great for full-body workouts. Plus, they're one of the easiest pieces of equipment to store – especially if you pick up a pair of adjustable dumbbells.
2. Pull-Up Bar
A pull-up bar offers workout versatility – which is exactly what you want when you're beginning to build your home gym. Performing pull-ups strengthens your entire upper body and a pull-up bar is also a great place to hook functional equipment, like a TRX Suspension Trainer.
3. Cardio Equipment: Treadmill, Rower, or Bike
Cardiovascular training is essential for building endurance and keeping your heart healthy. Pick a piece of equipment that you enjoy using to break a sweat. If running's not your thing, that's okay – go for a rower or cycle bike instead.
4. Bench
Benches are another versatile tool to add to your home gym arsenal. There are so many different styles of weight benches, but we'd recommend an adjustable or FID bench for your starter kit. This way, you essentially get 3 weight benches wrapped up into 1.
5. Pilates Mat
Depending on where you set up your home gym, the floors can be pretty unforgiving (and hard concrete is not great on the spine). This simple, yet effective piece of equipment is great for protecting your joints during stretches, abs, yoga, and other recovery exercises.
Home Gym vs Gym Membership: Choose the One That Will Help You Reach Your Health Goals
At the end of the day, the best choice is the one that helps you reach your health and fitness goals. We're big fans of the accessibility, convenience, and freedom owning your own home gym offers. But we know joining a gym with access to amenities and a variety of equipment has its perks too.
If you need help deciding which option is best for you, or if you've decided to take on the title of "Home Gym Owner", get in touch with a Fitness Town expert at customersupport@fitnesstown.ca. Let's chat about your goals, what you enjoy doing, and what kind of environment you want to set up, and we can help guide you to decide what equipment is best for your goals.