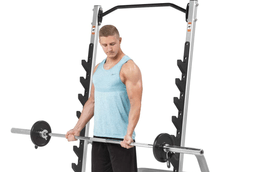 The HOIST HF-5970 Squat Rack: Your Solution for Space-Efficient Strength Training
Are you looking for a squat rack that fits seamlessly in your home gym – both aesthetically and functionally? A rack that doesn't compromise on durability or skimp on features in favor of a compact footprint? 
Then look no further than the HOIST HF-5970 Multi-Purpose Squat Rack. For 40 years, HOIST has been crafting commercial-grade fitness equipment that elevates your strength training routine. The HF-5970 Half Rack is no exception. 
In this blog, we'll break down what makes this multi-purpose squat rack a must-have for your home gym and give you 5 exercises you can do to achieve a full-body workout.
Key Features That Enhance Your Workout Experience
A squat rack's list of features is like a job candidate's resume; what makes it stand out as the best choice? Whether the job is to provide a sturdy squat foundation, offer workout versatility, or create a storage solution, the HOIST Multi-Purpose Squat Rack delivers on all fronts. Let's take a look at some of the key features of the HF-5970:
8 Rack-Out Tiers:

Instead of J-hooks, this HOIST rack offers 8 fixed rack-out tiers. This saves you time when switching between exercises – no more unracking and aligning J-hooks before your next lift! The polyurethane-coated tiers accommodate various exercises and lifter heights while protecting your barbell from unsightly scratches. 

Attached Pull-Up Bar:

Come for the squats; stay for the upper body strength training versatility. The built-in pull-up bar on this multi-purpose squat rack allows you to easily incorporate exercises like pull-ups, chin-ups, or

suspension training

workouts into your routine.

Integrated Weight Storage System:

Say goodbye to a cluttered gym floor and hello to the HF-5970's integrated plate storage solution. This squat rack features 2 polyurethane-coated pegs to keep plates off the ground and protect them from scratches. Plus, it makes it easier to change weights between sets when you don't have to go searching for plates.
Space-Efficient Design
Traditional power racks and power cages have a boxy, bulky rectangular frame that requires a lot of floor space. The Hoist Multi-Purpose Squat Rack features a slim, sleek frame with walk-through oval tubing. This minimalist design fits seamlessly into your home gym and is easy to navigate around when transitioning between exercises and equipment. With a compact 54″L x 70″W x 81.5″H footprint, the HF-5970 is perfect for small spaces like apartment gyms, basements, or the corner of your garage.
Building your dream home gym often comes with the challenge of optimizing limited space. If you've ever had to load a dishwasher after a big Thanksgiving dinner, it can feel a lot like that. It's important to pick pieces that are not only functional but offer plenty of space for workouts and add-ons as you grow on your fitness journey.
Uncompromising Quality and Durability
If there's one thing we always preach, it's quality. And when it comes to a squat rack that's going to support several hundred pounds of weight plates, you want to make sure it's super high-quality. 
HOIST–a fitness manufacturer out of San Diego, CA–designs the HF-5970. One of the reasons we love to carry HOIST equipment is because of their history (4 decades worth) of producing premium strength training products. If your squat rack has the HOIST logo, you know you're getting a commercial-grade piece of equipment that's built to last. 
This multi-purpose squat rack is constructed from heavy-duty steel and offers a 600lb weight rating to provide a safe platform for your exercises. And the polyurethane coating adds a polished look to the metal frame while providing protection against scratches and scuffs–to your plates and to your rack. Plus, to help during those early morning training sessions, the PU coating helps minimize noise when reracking barbells and weights.
5 Exercises for a Full-Body Workout on Your HOIST HF-5970
Squats
The HF-5970 Rack offers a stable and safe platform to perform its signature exercise: the squat. The 8-rack-out tiers offer you and your workout partner plenty of heights to comfortably set up under the barbell and work on your quads, hammies, and glutes.
Bench Press
Grab your weight bench and set up under this HOIST squat rack for a good ole' fashioned bench press session. The different rack-out heights allow you to hit your chest from different angles without having to adjust J-hooks (just your F.I.D. bench). Plus, having extra tiers act as a safety measure if you're benching alone and need to rerack the barbell before you reach lockout. 
Military Shoulder Press
Switch up your shoulder press by going military style. Unlike a seated press, this is a standing exercise. It's perfect for building those boulder shoulders because it uses stabilizer muscles and your traps and even recruits your core. Even if you're over 6', the tall tiers will help you get situated under the barbell.
Deadlifts
Deadlifts are the ultimate posterior chain exercise. They work everything from your traps to your calves. But changing the weights during a heavy deadlift sesh can be a pain. The HF-5970's high weight capacity and low rack tiers are the perfect combo for holding your rack to add plates between sets.
Pull-Ups
Take advantage of the built-in pull-up bar to strengthen your back, biceps, and core. Or use it as an anchor point to attach a suspension training system or resistance bands to perform assisted pull-ups. No matter what exercise you do, this HOIST rack provides a stable platform for your upper body workouts.
Final Thoughts on the HOIST HF-5970 Multi-Purpose Squat Rack
When deciding on which squat rack to add to your home gym, it's important to consider factors like functionality, footprint, and quality. The HOIST HF-5970's attached pull-up rack, 8 levels of rack-out tiers, and minimalist design are hard to beat.
Add on HOIST's 40-year commitment to creating quality products, and that makes it a slam dunk in our book. If you're ready to add this rack to your home studio, check it out here or stop by one of our 6 Fitness Town locations to give it a test run.