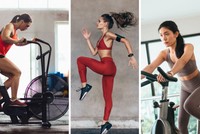 Buyer's Guide to Cardio Equipment for a Fit Holiday Season
Christmas is calling. Cold weather, turkey dinners, and holiday parties are coming, which means maintaining an active lifestyle is more important than ever. Stay on top of those Christmas cookies this year by adding something new to the top of your wish list: cardio equipment. 
In this guide, we're helping you get equipped with the right tools that will have you–and your loved ones– start your fitness off on the right foot in the new year. 
We'll also cover
Why cardiovascular exercise is essential for your physical and mental health

Why cardio equipment makes a great Christmas gift 

Our top cardio equipment picks (

look for holiday pricing highlights

)

A curated list of cardio machines for athletes of all fitness levels
The Physical and Mental Benefits of Cardiovascular Exercise
Cardio–short for cardiovascular activity– is any activity that increases your heart and respiratory rates. The stress you put on your heart during your cardio workout is essentially a form of resistance training that helps your heart become stronger. There are two forms of cardio exercise: 
Aerobic

– which is done over extended periods of time (like running a mile) 

Anaerobic

– which is done in short bursts (like running sprints)
Cardio training includes activities like running, walking, swimming, biking, rowing, and even dancing! (Remember, if it elevates your heart rate and challenges your lungs, it can be cardio). 
Physical Benefits of Cardiovascular Training
Improves your heart health –

Engaging in cardio exercises strengthens your heart, allowing it to pump blood more efficiently throughout your body. This can help reduce your risk of heart disease and help maintain a healthy blood pressure level.

Helps with your weight loss goals –

Cardiovascular activities are great for burning calories, aiding in weight management, and fat loss. They play an important role in creating a calorie deficit (

calories burned are greater than calories consumed

), which is essential for weight loss.
Improves lung function –

Regular cardio exercises can help increase your lung capacity and improve the efficiency of your respiratory system. This helps oxygen travel more easily to your muscles and organs. And muscles that receive more oxygen perform better.
Mental Benefits of Cardiovascular Training
Helps improve your sleep –

Research suggests that performing at least 30 minutes of moderate aerobic exercise can improve your quality of sleep.[

1

] Just make sure you don't exercise too close to bedtime, or it can have the opposite effect!

Improves your mental health –

Just like strength training, cardio releases endorphins (like serotonin) in your brain that can improve your mood and help reduce anxiety and depression. A quick 30-minute cardio session can leave you feeling lighter and happier.
Reduces brain fog

– You know that fuzzy feeling in your head when you can't seem to focus on anything? That's brain fog. Cardio can help reduce it and improve brain function. Even a quick walk around the block can improve blood flow to your brain, and maintain your hippocampus function (which has been shown to benefit patients with early-stage Alzheimer's)[

2

]. 
Holiday Gift Giving: Why Cardio Equipment Should Be at the Top of the List
Now that you know the incredible physical and mental benefits of cardiovascular training, how could a PS5 possibly compare with a piece of cardio equipment this Christmas? After all, nothing quite says "I care about you" like a treadmill that promotes brain health or a spin bike that helps you avoid heart disease. 
Plus, nothing beats the convenience of having a home gym during the holidays. With a new cardio machine this Christmas, you get to avoid the crowded commercial gyms that are full of Black Friday deals and those trying to run off the Thanksgiving turkey. (We don't know about you, but being packed in the gym like a bunch of sweaty sardines is not on our to-do list this Christmas). 
With cardio equipment readily available at home, you, your friends, and your family can easily stay on track with your fitness goals, maintain your health – and possibly even find joy in a new workout routine. There's still plenty of time to fit in one last fall and winter marathon this year, and a treadmill in your home gym helps you prep away from the cold and wet winter weather!
Ready to shop for cardio equipment this Christmas? Check out some of our favourite pieces and award winners below.
Top Cardiovascular Training Equipment to Have On Your 2023 Christmas List This Season
Keiser M3i Indoor Bike with MConnect (Special Holiday Pricing)
Features: Innovative "V-shaped" frame, rear flywheel, smooth magnetic resistance, display with Bluetooth connectivity
Benefits: 
Adjustable V-shape frame accommodates any athlete size

Rear flywheel powered by magnetic resistance is smooth, quiet, and protected from corrosive sweat

Variable resistance gets your legs, glutes, and heart pumping
Why it makes the list: Do you want the feeling of cycling outdoors this Christmas without worrying about cold winter weather? The Keiser M3i offers one of the most authentic road bike feels of any cycle bike. The Poly-V belt creates smooth, quiet, and virtually maintenance-free resistance, with varying levels of difficulty for beginners to pros. 
LifeSpan Fitness TR5500iM Folding Treadmill (Special Holiday Pricing)
Features: Commercial-grade build, space-saving folding design, powerful 4HP continuous motor for intense workouts, vivid 10" built-in display
Benefits: 
Delivers a gym-quality workout experience in the comfort of your home

Saves space with its easy folding capability

The cushioned belt supports high-intensity workouts and steady-state cardio
Why it makes the list: With the TR5500iM, you get commercial-grade quality without compromising on space. With over 50 built-in workouts, you (or your loved ones) will never get bored and beginners will have plenty of programs to follow. Plus, 8 compression shocks mean fewer painful foot strikes and a quieter workout (so you can even sneak in an early Christmas morning run). 
Features: Infinite resistance levels, versatile for all fitness levels, durable steel frame, LCD tracking monitor
Benefits: 
Adapts to your fitness level and intensity

Engages your upper body and lower body for a full workout

Built to withstand rigorous workouts
Why it makes the list: This isn't your standard exercise bike. The Assault air bike is a powerhouse. Wind resistance offers unlimited resistance levels; the harder you pedal, the harder the workout. And attached handles help you engage your upper body with your legs (or take away your legs, and you're left with an amazing upper body workout). It's perfect for CrossFit athletes or anyone looking for a one-and-done cardio machine. 
Hydrow Rower (Special Holiday Pricing)
Features: Interactive rowing experience, 22-inch touchscreen, magnetic resistance, sleek and ergonomic design
Benefits: 
Provides a full-body workout with a focus on cardiovascular health

Smooth and silent resistance for workouts at any hour

Patented electromagnetic drag and live outdoor reality technology give you the feeling of being out on the water as you row.
Why it makes the list: An interactive rowing experience that feels like rowing a boat on the open water, that's what you get with the Hydrow rower. The immersive 22-inch touchscreen display offers Bluetooth connectivity so you can track your strokes, heart rate, and other important metrics. Plus, you can follow along with rowing and fitness classes which is perfect for beginner athletes who need guidance. 
LifeSpan Fitness TR1200i Folding Treadmill (Special Holiday Pricing)
Features: Compact folding design, user-friendly interface, eight compression shock absorbers
Benefits: 
Easy to store in small spaces

Provides a reliable and steady workout

Suitable for beginners and those looking for a straightforward cardio solution
Why it makes the list: The TR1200i tread offers the perfect balance of performance and convenience. Its compact design doesn't sacrifice quality, providing a stable and effective workout for users of all levels. If you're just starting your fitness journey, this treadmill is the perfect choice for your walking, jogging, or running needs. 
WaterRower – Natural Rowing Machine (S4 Monitor)
Features: Water resistance for a realistic rowing experience, sustainable wood design, S4 monitor for accurate workout tracking
Benefits: 
Soothing whoosh of water on every pull

It blends seamlessly with your home decor and furniture (takes up the same amount of space as a dining room chair!)

The wooden design absorbs sound for a quieter rowing workout
Why it makes the list: Experience the soothing sounds of whooshing water on every pull during your rowing workout on the WaterRower. The water flywheel creates unlimited resistance and is virtually maintenance-free. The functional wooden furniture design is beautiful and blends with your existing decor. The added benefit of the S4 Monitor is that it ensures you can track your progress with precision.
LifeSpan Fitness E5i Elliptical Trainer
Features: Self-generated power (doesn't need to be plugged in), interactive console with 21 programs, 20 levels of resistance
Benefits: 
Ideal for injury recovery or older athletes

Supports a natural and pain-free range of motion

Offers a versatile cardio workout with adjustable resistance and handles to engage your upper body
Why it makes the list: Stay active and protect your joints with the E5i Elliptical Trainer from LifeSpan Fitness. Its low-impact design ensures a comfortable workout experience, while the range of resistance levels caters to users of all fitness levels. Whether you're recovering from an injury or looking for a gentle workout option, the E5i has you covered.
No Room for a Cardio Machine? Check Out These Options
Fitness Town 11' Bearing Jump Rope
No space? No problem. Jumping rope can burn over 100 calories in just 10 minutes. The bearings on the Fitness Town jump rope offer smooth turnover for more rotations per minute. (And more jumps = more calories burned!)
LifeSpan TR1200-DT3 Under Desk Treadmill
A treadmill that fits under your desk? Yes, please! Sneak in your steps during your work day with this under-desk treadmill. It's quiet enough that your coworkers won't even know you're burning calories!
Challenge your body and your brain with an agility ladder. It helps you improve your coordination while increasing your cardiovascular capacity. It also makes the perfect gift for the athlete in your life! (Like your soccer-star niece or football-playing nephew).
Find Your Perfect Fit: Your Christmas Cardio Equipment Starter Kit
The holidays are stressful enough. So, to take one thing off your plate, we created cardio equipment starter kits you can use to shop for cardio machines for the beginner, intermediate, and advanced athletes in your life. 
For the Beginners
We recommend: 
Why they're good: 
The LifeSpan TR1200i is compact, user-friendly, and perfect for walking or running

The Hydrow Rower offers guided workouts, ensuring beginners get the hang of proper rowing technique

The LifeSpan E5i Elliptical is a low-impact cardio option that strengthens your heart and body without putting pressure on your joints

Jumping rope requires minimal space and is a simple yet effective form of cardio
For Intermediate Athletes
We recommend: 
Why they're good: 
The Assault Air Bike offers infinite resistance options and is good for athletes looking to push their aerobic capacity

The WaterRower offers variable resistance, the harder you row the more intense the workout

The LifeSpan TR1200i Folding Tread is versatile and reliable, perfect for intermediate athletes who are increasing their running sessions

The 360 Agility Ladder requires coordination and agility and improves speed and anaerobic fitness
For Advanced Gym Goers
We recommend: 
Why they're good:
The LifeSpan TR5500iM tread is a commercial-grade option that offers the power, speed, and performance that an advanced runner or marathoner needs

The Keiser M3i Indoor Bike offers an authentic road bike feel, which is perfect for seasoned cyclists or any athlete looking for a smooth and challenging ride.

The Assault Air Bike is versatile and offers resistance levels that can challenge even the most advanced athlete.

The LifeSpan TR1200-DT3 Under-Desk treadmill is perfect if you're looking to stay active even during working hours.
Have a Merry Fitmas and a Happy Healthy New Year
The holiday season is full of joy, celebrations, and festive feasts. And it can also be the perfect time to start your journey toward a happier, healthier you. Instead of waiting until January 1st to work toward your fitness goals, kick off the Christmas season with brand-new cardio equipment for yourself and your loved ones. 
Find everything you need for a fit and fabulous holiday season and New Year at Fitness Town. Whether you're shopping for your friends and family with our curated cardio starter kits or you're shopping for cardio machines for your home studio, you'll find tons of high-quality pieces on our website. Need help picking the pieces that are right for you? Stop by one of our 6 locations to test equipment or chat with a fitness expert who's trained to help you find the best cardio machine.
[1] Reid, Kathryn J., et al. "Aerobic Exercise Improves Self-Reported Sleep and Quality of Life in Older Adults with Insomnia." Sleep Medicine, vol. 11, no. 9, Oct. 2010, pp. 934–40. ScienceDirect, https://doi.org/10.1016/j.sleep.2010.04.014.
[2] Morris JK, Vidoni ED, Johnson DK, Van Sciver A, Mahnken JD, Honea RA, Wilkins HM, Brooks WM, Billinger SA, Swerdlow RH, Burns JM. Aerobic exercise for Alzheimer's disease: A randomized controlled pilot trial. PLoS One. 2017 Feb 10;12(2):e0170547. doi: 10.1371/journal.pone.0170547. PMID: 28187125; PMCID: PMC5302785.