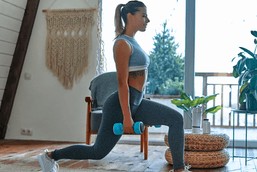 Fall Fitness: A Guide to Transition Your Workout Routine for Cooler Weather
The fall season can put a damper on your fitness routine. Chilly weather, unpredictable rain showers, and early sunsets don't have you itching to get outside and train like the summer months, which can leave you farther from your fitness goals. In fact, studies show that gaining weight during the fall and winter is actually pretty common, and seasonal changes combined with holiday feasts and less physical activity are the culprits.[1] [2]
So, how do you avoid falling off the fitness train this fall season? By transitioning your workouts indoors. When you exercise inside, you'll be able to maintain a consistent fitness routine, regardless of the cold, dark, and wet weather conditions outdoors. 
In this guide, we'll
Cover the benefits of bringing your training indoors this fall

Offer our top 5 fall fitness equipment recommendations to help you stay on track

Highlight a few key fall nutrition and hydration tips
The Benefits of Transitioning to Indoor Workouts
While it can be sad to say goodbye to the summer months, there are several advantages to bringing your workouts back indoors as the seasons shift.  
Avoiding the harsh outdoor elements 
As the temperatures drop and the days grow shorter, outdoor workouts become more challenging. Even the most consistent summer training routines can't outrun the unpredictable autumn weather. 
Transitioning your workouts indoors offers an escape from the elements and creates a controlled environment for your training. Indoors, you don't have to worry about excessive warmups in cold temps, soggy socks (Raincover strikes again), or reflective gear for training after dark. Inside, you can focus solely on your performance, rain or shine.
Consistency
One of the biggest downfalls of a regular workout routine is inconsistency. How many times have you had plans to run a couple of km outdoors but postponed because of an unexpected downpour or sudden cold front? During the fall, that number likely skyrockets.  
When you transition your training indoors, your workouts are no longer at the mercy of Mother Nature. This means there are fewer excuses you can use to avoid exercise and more opportunities to develop healthy habits that help you hit your fitness goals.
Safety
Beyond the motivational reasons to work out indoors this season, there's a fundamental concern with outdoor workouts during the fall and winter months – safety. Late September to early October marks the start of Vancouver's rainy season (peak fall). And while waterlogged socks and shoes are inconveniences, wet pavement, puddles, and muddle trails can pose a real risk to your safety. Plus, early sunsets mean less visibility during your after-work runs, which can be dangerous if your route is on a busy road. 
Remove all the risks and reap all the rewards when you move your workouts indoors. Create a home gym haven that's filled with all the tools you need to safely work toward your fitness goals during the fall months. 

Need suggestions on what equipment you should add to your home gym to help you train during the cold, rainy months? Below, we offer our top 5 equipment picks that will help you build a consistent workout routine this fall. 
5 Pieces of Fitness Equipment to Help You Stay Consistent This Fall
Vancouver is home to some of the best fall marathons in all of Canada. However, maintaining a consistent marathon training schedule can be tough during the wettest time of the year. Investing in a high-quality treadmill offers the luxury of training in any condition. And if you're a beginner who wants to train for your first 5k, the LifeSpan TR1200i is the perfect entry-level tread.
If you're a cyclist looking for a true road bike sensation, the Keiser M3i is for you. Its signature V shape and smooth magnetic resistance are as close as you can get to the real thing without having to worry about slipping on wet pavement. Plus, the M Connect display allows you to connect to your favorite apps, like Zwfit and Strava, so you can keep tracking your rides and compete against your friends while indoors. 
Without versatility, it's easy to get bored with your indoor workouts. To avoid that this fall, consider picking up one of the most versatile training tools on the market. The MXSelect MX 55s replace 10 pairs of dumbbells in a single set. So it's a piece of cake to achieve a full-body workout with these dumbbells. Need some exercise inspiration? Check out our list of dumbbell-only workouts here.  
Speaking of workout versatility, Kettlebells are the Kings. On top of standard exercises like squats, rows, and deadlifts, they're also fantastic for functional training. Movements like kettlebell swings and kettlebell snatches are dynamic movements that add a little spice to your indoor training. 
Don't forget about your recovery! Between your cardio and strength training sessions, offer your body a chance to rest through stretching or low-impact yoga workouts. A plush yoga mat, like this one from Fitness Town, ensures your joints have a cushioned and comfortable surface during movements.  
Adjusting Nutrition and Hydration for Fall
As the seasons shift, so do your nutritional needs. Here are some ways you can tweak your nutrition and hydration to align with your training and health goals this fall. 
Stay Hydrated Even in Cooler Temperatures
One of the biggest misconceptions about fall training is that you can consume less water. After all, if you're sweating less, shouldn't that mean you need to hydrate less, too? Nope! Dehydration can easily sneak up on you during your workout when the weather isn't as warm. Try to consume between 17-20 oz of water 2-3 hours before training and 7-10 oz every 10-30 minutes during your workout. And don't forget to consume some electrolytes to replenish any salt you lose through sweat. 
Incorporate Seasonal Veggies Into Your Diet
There's more to the fall menu than turkey, stuffing, and pies. In fact, the fall season has some of the healthiest and nutrient-dense vegetables that make the perfect addition to your meal plan. Some of our seasonal favorites are 
Pumpkin: Chock full of vitamins like vitamins C, E, iron, potassium, and fibre

Butternut Squash: The pumpkin's cousin, butternut squash, is loaded with beta-carotene, which converts to vitamin A in the body

Sweet Potato: Along with B vitamins, Vitamin C, magnesium, and iron, sweet potatoes are "complex carbs" that digest slower and keep you full for longer
Consider warming up for your workout with a seasonal pre-workout meal, like this healthy butternut squash soup. It's low-fat and packed full of nutrients that will help power up your training. 
Boosting Immunity Through Nutrition:
Fall marks the beginning of cold and flu season. Give your immune system a fighting chance by eating foods that are rich in antioxidants that help defend your body against bugs. Here are some of our fall favorites: 
Apples: Ever heard the saying, "An apple a day keeps the doctor away"? Well, that could be because apples are packed with nutrients like vitamin C (an antioxidant that can help boost your immune system)

Pecans: Regardless of how you pronounce it, pecans are a fall superfood. They're powered by zinc, magnesium, and vitamin B6, to name a few of their vitamins and minerals.

Kale: You can't forget your leafy greens! Kale contains high levels of vitamin C, K, and beta-carotene (

like squash)

that help build your immune system.
Stay Fit This Fall With Fitness Town
You might not be able to control the drop in temperatures and the leaves changing. But you can maintain full control over your fitness routine this fall. 
The change in seasons is an invitation to rediscover your strengths, redefine your routines, and refresh your motivations. Rather than viewing the cold as an obstacle, let's turn it into an opportunity. With the right tools, attitude, and knowledge, the fall can be a pivotal chapter in your year-long fitness journey. 
As you prepare for this transition, stop by 1 of our 6 Vancouver stores or shop online to explore our collection of indoor fitness equipment designed to keep you active and motivated to stay fit this fall.
References:
[1] Garriga A, Sempere-Rubio N, Molina-Prados MJ, Faubel R. Impact of Seasonality on Physical Activity: A Systematic Review. Int J Environ Res Public Health. 2021 Dec 21;19(1):2. doi: 10.3390/ijerph19010002. PMID: 35010262; PMCID: PMC8751121.
[2] Fahey MC, Klesges RC, Kocak M, Talcott GW, Krukowski RA. Seasonal fluctuations in weight and self-weighing behavior among adults in a behavioral weight loss intervention. Eat Weight Disord. 2020 Aug;25(4):921-928. doi: 10.1007/s40519-019-00707-7. Epub 2019 May 15. PMID: 31093925; PMCID: PMC6856417.