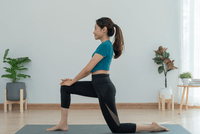 Embracing Hygge Wellness: Cozy Self-Care for Fall-Fitness Equipment
There's just something about the fall season that's extra peaceful and cozy. Chunky knit sweaters, pumpkin spice lattes, and a good book by the fire all have a way of making you feel warm and fuzzy inside. But what is it exactly that makes this season so comforting? 
The secret lies in a single Danish word: hygge. But to the Danes, hygge is more than a word; it's a way of life that prioritizes comfort, contentment, and self-care.
 In this blog, you'll learn 
What hygge is (

and how to say it

)

The benefits of living a hyggelig life

And practical tips to build a hygge-inspired wellness routine to improve your mindfulness and connection in every season
What Is Hygge?
Hygge, pronounced 'HOO-gah', is a Nordic word that dates back to the 1800s.  And while there's no direct English translation, it essentially means a feeling of cozy contentment and well-being achieved through everyday experiences. In Danish culture, they use this word as both a noun and an adjective, meaning you can have hygge, or things can be hyggelig (hyggelike). In other words, hygge is life. 
And the Danes might be on to something. Despite suffering from brutally long and cold winters, Denmark consistently ranks in the top 3 happiest countries worldwide according to the World Happiness Report (yes, it's a real thing). Maybe hygge is the secret to happiness, after all? 
So, what constitutes as "hygge"?
Anything comfy and cozy. Chunky knit blankets, flannel pyjamas, watching Christmas movies with hot cocoa by the fire. (

You get the picture

)

Togetherness and connection. Quality time spent with your loved ones or a small group of friends.

Enjoying life's simple pleasures. Eating a piece of chocolate after a home-cooked meal or listening to birds chirp during the spring. 

Wellness. Your well-being is a central part of hygge. Practicing self-care, focusing on recovery, and improving your mental and physical health. 
While it's easy to embrace feelings of coziness in the fall when the leaves change and the temperature drops, you can experience hygge in every season. Taking a meditative walk through the park or enjoying a summer picnic are perfect hyggelig activities for the warmer months. 
The Benefits of Hygge
Improves Mental Health
If the gray skies and cold weather during the fall and winter months leave you feeling depressed, you're not alone. Nearly 15% of Canadians will experience this in their lifetime, and it's due to a form of depression known as Seasonal Affective Disorder (SAD). Hygge-fying your home can help fight these negative feelings. Creating a cozy living space and sharing experiences with your close friends can help you feel less anxious and encourage a sense of emotional well-being and safety. (And we don't know about you, but it's hard being sad when you're surrounded by loved ones, sipping hot chocolate, and watching Home Alone). 
Strengthens Relationships
Humans aren't meant to be alone. We thrive on social interaction and genuine connections. And the same way hygge spaces help you feel safe and secure, having hygge relationships can also promote a sense of safety and belonging. Encouraging intimate gatherings, heart-to-heart conversations, and shared experiences creates a nurturing space where relationships can flourish. Plan a potluck, host a game night, or arrange a date night to promote a sense of togetherness.
Promotes Relaxation
We live in a fast-paced world. And with work meetings, your kids' extracurricular activities, and chores piling up at home, it can feel overwhelming. That's where hygge comes in. 
This Danish philosophy encourages you to be mindful and prioritize self-care. Hyggelig activities force you to slow down, live in the moment, and enjoy activities that support relaxation, comfort, and mental well-being. Like a good sweat session, followed by a home-cooked post-workout meal and a soothing bubble bath. 

Below are 5 hyggelig activities you can add to your wellness routine to practice self-care and promote relaxation and recovery this fall. 
How to Build a Hygge-Inspired Wellness Routine:
1. Prioritize Recovery:
Self-care is central to hygge. And taking care of your body by adding focused recovery sessions to your wellness routine is a great form of self-care. After a tough workout, soak sore muscles in warm Epsom salt baths. Or for more targeted relief, use specialized recovery tools like the TriggerPoint Foam Roller or Hyperice Massage Gun to release pesky knots and melt away tension.
2. Create a Hygge Home Gym:
If you want to create an enticing space where you look forward to exercising, you need to add some hygge to it. Lighting, texture, and decor are all big principles of the Danish practice. Instead of harsh fluorescent lights, incorporate soft, warm lights in your space. Add cushioned tiles to the floor to help comfort your joints and make the space cozier. And in true hygge style, consider adding wooden elements to your home gym, like the WaterRower Rowing Machine whose wooden design is both aesthetically pleasing and practical. 
3. Practice Yoga Flows:
 Like yoga, hygge is deeply rooted in self-connection and calming the mind. Creating a cozy atmosphere through candlelight and soothing music is the perfect setting for a yoga session. A cushioned yoga mat, like this one from Fitness Town, ensures you're comfortable during flows. 
4. Take a Walk:
Walking is an underrated form of low-impact cardio. And it's hard to beat an outdoor walk surrounded by the soothing sounds of nature. But Vancouver's weather during the fall can be extremely unpredictable, with unexpected rain showers and cold fronts. So when Mother Nature isn't on your side this season, a treadmill like the LifeSpan TR1200i helps you enjoy a mind-clearing walk in the cozy confines of your home. 
5. Warm Drinks:
 A warm drink is like a hug in a mug. And nothing says comfy and cozy like a hot apple cider or a pumpkin spice latte. After training, warm up your post-workout recovery drink, hygge-style. Our favourite is hot cocoa with low-fat milk — the protein and carb content are great for muscle recovery.
6. Mindful Eating:
Comfort food is very hyggelig. This fall, swap your usual meal prep for comforting, nutritious meals, like warm soup or hearty stew, that nourish the body and soul. Eat slowly and intentionally, savouring every bite. Plus, sitting down for your meal and chewing your food slowly is better for your digestion! 
Beyond Fall: Embrace Hygge Year-Round
Now you don't have to wait until the 'ber months to feel the peace, comfort, and coziness of fall festivities. Hygge allows you to experience the benefits of this Nordic lifestyle all year round. So, while you've got some fall inspiration, lean into the cozy contentment and build a hygge-inspired wellness routine. This will prepare you to prioritize relaxation and self-care in every season. 

And if you need more relaxation and recovery tools for your hygge home gym or your self-care Sundays, check out our curated collection here.