HOIST® V HI-LO Cable Column
Adjustable single pulley attachment for Hoist Fitness V4 Elite. It is ideal for beginners and serious gym enthusiasts. Sleek and attractive, minimal floor space, efficient switching from one exercise to the next.
Item # HV-HILO
$1,299.99
Shipping Calculated at checkout
Description
Compatible with all Hoist V Home Gyms, the V Hi-Lo Pulley is created with the user in mind. Featuring 35 distinct pulley positions, thanks to the counterbalance pulley combined with an integrated adjuster system for an easy one-handed adjustment, this weight machine allows you to do everything from a chest press to leg curls. Its design requires minimum floor space, giving you the flexibility to customize your home gym while achieving your fitness goals!
Features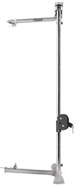 35 Separate Pulley Positions
Make dynamic real-world movements with half the selected weight as the 35 separate pulley positions provide a wide range of functional and traditional strength training exercises for the whole body. Hoist Hi-Lo wide-groove pulleys give you an extended exercise range of motion and excellent cable durability for easier incremental strength gains. The movement is smooth, and the cable can be easily replaced.

Integrated Adjuster System
The integrated adjuster system combined with the counterbalance pulley features one-handed smooth adjustments making it easier for you to move from one exercise to another.
Feature Overflow
Stable supporting frame made of steel tubes.
Product Overview
IDEAL USE
Ideal For
Multi gyms Hoist V3 Select and V4 Elite.
Limitations
* this is not a full gym
IN YOUR HOME OR OFFICE
Space Saving Feature / Space Requirements
N/A
FEATURES
Compatibility with other equipment/ products
Compatible with all Hoist V Select Series Home Gyms.
Material & Finishing
Stainless steel and rubber
EQUIPMENT OWNERSHIP
Warranty
1 year - upholstery, grips, paint, and chrome; 1 year - electronic components; 5years - pulleys, bearings, or bushings; lifetime warranty: the frame and welded components
Maintenance Requirements
After every workout: wipe down with a damp cloth all upholstered pads. On regular bases: Ensure that all hardware is properly tensioned by going through a re-tightening sequence. Immediately: Replace belts and cables when there are first signs of wear or damage Equipment should not be used until the belts or cables have been replaced.
Service & Repairs
Fitness Town Service offers experienced maintenance and repairs for this product
Detailed Specifications
Product Width
61.50" (156 cm)
Product Height
83.75" (213 cm)
Product Length
71.75" (182 cm)
Machine Weight
544 lbs. (247 kg)

BRAND OVERVIEW
Fitness Town chose HOIST because they design equipment that allows our customers to bring the commercial gym experience home, providing the feel and features you love for smaller spaces. We are an exclusive distributor of HOIST in the Greater Vancouver area and are proud to be Canada's #1 Commercial Distributor of HOIST products in 2018. We are proud to partner with a brand that stands behind its products with a 10-year warranty on almost all their premium strength products and the LeMond series exercise bikes. HOIST makes it a priority to provide distinctive equipment that emphasizes natural body motion to produce maximum results.




Buyer's Guide
Why you should bring Strength Equipment home?
Strength Equipment brings gym training home, offering weighted push and pull exercises in a broad range of motion
A common myth is that strength equipment is for young people, body builders, or people serious about sculpting their bodies through muscle growth. Though strength training can be used for those purposes, it's primarily designed to support the body's functional abilities
Moving weight (pushing, pulling, lifting, etc.) plays a critical role in maintaining our body's functional abilities (bone density, mobility, balance, strength, endurance, etc.) and optimal body composition (fat vs. muscle)
Increasing muscle mass will increase your total daily energy used (calories) which contributes to fat loss. In other words, it's strength and not just cardio that helps you lose fat.
The Strength Equipment category of fitness equipment does require some square footage, though we carry a broad range of configurations and sizes that will surprise you with their ability to offer a full-body strength routine in a more compact space. It is considered by some to be less intimidating and possibly safer or more controlled than using free-weights
If Strength Equipment isn't going to fit in your space, it's important to look at Free Weights and Accessories that provide push and pull resistance.

Expert Guidance To Help You Choose
Fitness equipment is highly personal and studies show that the right fit has a big impact on your consistency, enjoyment, and success. The Fitness Town Difference is our commitment to fitting you with equipment that will go the distance. We want you to build an environment for fitness that removes barriers and makes it easier for you to move more, at any age and every stage. Let us help you discover what moves you.