HOIST® MiSmith Dual Action Smith
The Hoist MiSmith's highly functional features include an ultra-light lifting system, frictionless & natural movement, commercial-grade components and variable fitness routines that deliver maximum results.
Item # Mi-SMITH-PL
$4,999.99
Shipping Calculated at checkout
Description
First-class multi-gym equipment offering various training options and innovative Ultra-Light Lifting System™ feature that makes it stand out. As walk-through compact-sized equipment, it can hold up high weight capacities and support your lifting with its linear bearings and shafting that provides frictionless guided motion. The Hoist MiSmith Dual Action Smith is ergonomically designed to fit into small spaces. It combines simultaneous horizontal and vertical bar lifting movement that's safe and effective. Enjoy full functionality, maximum power and efficiency for your workouts.
Features
Ultra-Light Lifting System™ 
This patented feature of the Hoist MiSmith Dual Action Smith helps reduce bar weight by 30 lbs. This feature is especially important for newbie users and can also immensely benefit high-impact weight lifters carrying extra-large-sized weights. This innovative lifting also provides a wider range of frictionless exercise options that allows you to take your fitness training to the next level. Its mechanical features are engineered for smooth operation to offer a complete, effective, durable and versatile user experience.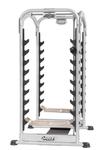 Polyurethane Covered Rack
To ensure silent and hassle-free racking and unracking, this solid equipment come fitted with polyurethane rack outs that make your weight lifting more efficient. The Hoist MiSmith Dual Action Smith provides exceptional value for every workout, whether you're using it for bench press or shoulder press. The polyurethane plated hook protects against accidental falls and secures the weight bar in place. It's smooth in design and does not make any noise or resistance during racking or unracking.

Commercial Quality Construction
The Hoist MiSmith Dual Action Smith is solidly built with heavy-duty steel in a walk-through design that allows you to approach the bar from either direction. It's very sturdy with zero construction flaws to give you full confidence in its quality and durability. Get physically fit right from the comfort of your home and take advantage of the MiSmith ergonomic design that fits into any small space in your home. It's very easy to operate and significantly supports your weight lifting efforts in every way.

Compact Space-efficient Design
This space-efficient multi-gym is ideal for home and fitness studios as it offers supportive fitness solutions that users new to weight lifting would find helpful. With an assembly dimension of 83″ W (210.82 cm) X 49″ L (124.46 cm), the Hoist MiSmith Dual Action Smith is perfect for any type of indoor space, whether big or small. It combines helpful weight lifting features and safety components that make your training less stressful.

Adjustable Safety Tiers
To further support your training, the Hoist MiSmith Dual Action Smith comes fitted with two safety tiers, each on both sides of the handlebar rack. These safety tiers rest solidly on the handlebar hooks to prevent you from dropping the weights when you lose the strength to lift it all the way up. The tiers also help lock the weights in place when not in use, further preventing the weight from falling over. It's easily detachable and can be used effectively during high or low-impact workouts.
Product Overview
IDEAL USE
Ideal For
Unisex adults, New, and experienced fitness trainers, Low and high impact exercises
IN YOUR HOME OR OFFICE
Assembled Dimensions
Product Width: 83.00" (210.82 cm) Product Height: 82.54" (209.66 cm) Product Length: 49" (124.46 cm)
Weight
386 lbs. (175.09 kg)
Space Saving Feature / Space Requirements
Compact Design
Portability
Lightweight Design
FEATURES
Adjustability / Adjustable Positions
None
Material & Finishing
Heavy-duty steel construction Polyurethane covered rack
Available upgrades, add-ons, attachments
None
EQUIPMENT OWNERSHIP
Installation
Fitness town services offers/does not offer installation for this product.
Warranty
RESIDENTIAL WARRANTY Body/Frame: Lifetime Warranty for the product's lifetime and applies to defects from the manufacturer only. Structural Moving Parts: 10 Years Applies to defects from manufacturer only. Finish/Paint, Cables, Upholstery and Accessories: 10 Years Applies to defects from manufacturer only. COMMERCIAL WARRANTY Body/Frame: 10 Years Structural Moving Parts: 5 Years Bearings, Bushings, Pulleys: 3 Years Finish/Paint, Cables, Upholstery and Accessories: 1 Year Applies to defects from manufacturer only
Maintenance Requirements
Inspect joints and clean regularly
Service & Repairs
Fitness town services offers/does not offer experienced maintenance and repairs for this product.

BRAND OVERVIEW
Fitness Town chose HOIST because they design equipment that allows our customers to bring the commercial gym experience home, providing the feel and features you love for smaller spaces. We are an exclusive distributor of HOIST in the Greater Vancouver area and are proud to be Canada's #1 Commercial Distributor of HOIST products in 2018. We are proud to partner with a brand that stands behind its products with a 10-year warranty on almost all their premium strength products and the LeMond series exercise bikes. HOIST makes it a priority to provide distinctive equipment that emphasizes natural body motion to produce maximum results.




Buyer's Guide
Why you should bring Strength Equipment home?
Strength Equipment brings gym training home, offering weighted push and pull exercises in a broad range of motion
A common myth is that strength equipment is for young people, body builders, or people serious about sculpting their bodies through muscle growth. Though strength training can be used for those purposes, it's primarily designed to support the body's functional abilities
Moving weight (pushing, pulling, lifting, etc.) plays a critical role in maintaining our body's functional abilities (bone density, mobility, balance, strength, endurance, etc.) and optimal body composition (fat vs. muscle)
Increasing muscle mass will increase your total daily energy used (calories) which contributes to fat loss. In other words, it's strength and not just cardio that helps you lose fat.
The Strength Equipment category of fitness equipment does require some square footage, though we carry a broad range of configurations and sizes that will surprise you with their ability to offer a full-body strength routine in a more compact space. It is considered by some to be less intimidating and possibly safer or more controlled than using free-weights
If Strength Equipment isn't going to fit in your space, it's important to look at Free Weights and Accessories that provide push and pull resistance.
Buying a Rack or Cage
Fitness Town has curated a range of quality racks & cages that pass various tests from our team of experts. After decades in the fitness industry, we've developed a good understanding of your needs, regardless of age or fitness level. We consider everything like industry standards, diverse physical statures, and training requirements and goals. When you buy a product from Fitness Town, you can feel confident knowing that it lives up to our high standards. All that's left is finding the perfect match for you.
Here are some things to consider when comparing our racks & cages:
Your environment: Don't rule out a power rack just because you don't have a ton of room. Fitness Town carries squat racks with a small footprint that will easily fit into a corner of your home gym. Keep in mind that a full cage/rack will take up the most room, followed by a half-rack, and squat stands take up the least amount of room. You'll also want to take your ceiling height into account as you choose your unit, you don't want to be hitting your head as you're doing pull-ups.
Do you need storage? With maximizing your home gym floor space in mind, consider a power rack or cage that offers weight plate and barbell storage. Not only will it keep your gym floor nice and tidy, but it will also help you maintain the integrity of your barbell and Olympic plates.
Versatility: You'll want to pick a squat rack with a frame that supports a variety of exercises and any add-on attachments you might purchase in the future. It's important to find a rack that offers versatility to grow with you through your fitness journey, so consider an option that comes equipped with a pull-up bar or add-on accessories like a dip bar or landmine attachment.
Safety: If you will be training alone, or you're working towards hitting a new PR, you'll want to find a rack that comes equipped with spotter arms. These arms will act as a safety net to catch the barbell if you fail a lift – saving you and your floors from injury. Also, consider the material of the rack. Keep in mind that the thicker the gauge of steel, the sturdier the rack will be. Anywhere between 11–14-gauge steel is ideal for home gym use.
Weight limit: Manufacturers post maximum weight limits to keep you safe. It's important to choose a rack or cage that can support the weight of your fully-loaded barbell. Make sure you choose a rack with a weight limit that can grow with you as you get stronger in your lifts.
Your height: If you're tall, you'll want to consider a rack taller than 85". But if you're on the shorter side, this might be perfect for you. Consider how many people and statures will be sharing your power rack. We carry several racks that offer adjustable J-hooks or varied starting heights to accommodate lifters of all sizes.
What are your training goals? Keep your goals in mind as you choose your power rack or cage. If you plan to power lift, make sure you choose a heavy-duty rack that can support the load. Also, consider the variety of exercises you want to perform. If you want to jump between squats and bench presses, make sure you choose a rack that is easily adjustable or multi-purpose.

Expert Guidance To Help You Choose
Fitness equipment is highly personal and studies show that the right fit has a big impact on your consistency, enjoyment, and success. The Fitness Town Difference is our commitment to fitting you with equipment that will go the distance. We want you to build an environment for fitness that removes barriers and makes it easier for you to move more, at any age and every stage. Let us help you discover what moves you.