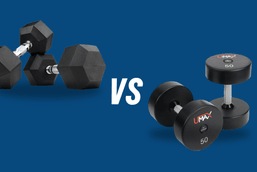 Hex vs Round Dumbbells: Which Is Better for Your Home Gym?
Dumbbells are a home gym staple. You can get in a full-body workout with a dumbbell, a small space, and some creativity. But who knew there were so many dumbbell shapes, weights, and sizes? Pound for pound, a dumbbell is a dumbbell, right?
The dumbbell aficionados here at Fitness Town would disagree.
The two most popular dumbbell types are the hex dumbbell and the round dumbbell. But which is better and which one should you invest in for your fitness space?
In this article, we'll explain
The key differences between the two types of dumbbells
The pros and cons for each shape
And give you some key points to consider
So that by the end, you can answer that question for yourself.
Hex Dumbbells vs Round Dumbbells: What's the Difference?
When it comes to strength training equipment, dumbbells are a home gym must-have. Only a few other pieces of equipment offer the same level of workout versatility as the dumbbell.
But as you know by now, not all dumbbells are alike. And while they come in various shapes and sizes, the two most popular are still (you guessed it), rubber hex and round dumbbells. Before answering the question of which dumbbell is right for you, let's look at the differences in the design and construction of these two home gym staples.
Hex Dumbbells: Pros and Cons
Hex dumbbells get their name from their unique six-sided shape. They are usually made out of iron and then the ends are covered in a durable rubber coating.
Rubber hex dumbbells garner praise because their distinctive hexagonal shape features flat sides. This helps solve two major problems:
No more runaway weights between sets
You can perform exercises that wouldn't otherwise be possible with round dumbbells, like renegade rows.
Hex dumbbells are also typically lighter than round dumbbells, and increase in smaller weight increments. These smaller jumps, as little as 2.5 lb increments, are helpful when trying to reach a new PR or for exercises that require lighter weight for form precision.
We also thought you'd like to know that hex dumbbells are generally more accessible and affordable. This is great when you're looking for top-notch home gym equipment that won't break the bank.
But we'd be remiss if we didn't mention one drawback that comes with outfitting your space with rubber hex dumbbells. Because of their trademark 6-sided shape, the heavier these dumbbells are, it's harder to store them without a vertical or tiered dumbbell rack.
And while most rubber dumbbells have a funky smell, Fitness Town's hex dumbbells are specifically sourced to be odor-free. You don't have to waste any time airing them out, they're ready for you on day one to get to work.
Pros of Hex Dumbbells:
Flat face keeps dumbbells in place during sets
Can perform floor exercises like renegade rows and push-ups
More affordable than round dumbbells
Come in lighter weights and have smaller incremental weight increases
Cons of Hex Dumbbells:
Can become big and bulky as they get heavier
While Fitness Town's dumbbells are odor-free, other brands may have a rubber odor that takes a few days to fade
Round Dumbbells: Pros and Cons
Round dumbbells, often called "pro-style dumbbells" are what you'll find at most commercial gyms and studios.
The biggest difference between hex and rubber dumbbells is the round heads on each end. Round dumbbells also come in various sizes and materials, though most commonly made from iron with a rubber or urethane coating on the ends. Urethane is extremely durable against wear and tear, which is why you'll commonly find them in commercial gyms where there's heavy use. (Point for round dumbbells).
Another perk of round dumbbells is that the diameter of the head is generally the same, despite its weight. So it's easy to store larger amounts of dumbbells and most commercial storage racks can hold around 15 pairs.
A clear drawback of round dumbbells is that you're constantly chasing after them. The round ends will cause them to roll, especially if your training floor is uneven. And you can forget about performing floor exercises like rows or push-ups with these dumbbells.
The round head is not stable and can lead to injury.
Pros of Round Dumbbells:
More durable than hex dumbbells (urethane coating)
Consistent sizing makes them easier to store
Can come in heavier weights than hex dumbbells
Cons of Round Dumbbells:
More expensive
The round head will cause them to roll away
Unstable for floor exercises
Considerations When Choosing a Dumbbell Shape
With the pros and cons of each dumbbell in mind, you may already be leaning towards one shape over the other. But if you're still square in the middle and can't decide if hex or round is right for you, these next few considerations might tip the scale.
What Workouts are you using Dumbbells For?
Your workout style and exercise routine will impact your dumbbell decision.
As we mentioned, the flat faces on hex dumbbells are beneficial for keeping them in place. This is especially helpful if you're a CrossFit athlete or enjoy functional fitness workouts. Not only does this style of training require that your dumbbells can support you on the floor (dumbbell burpees, Man Makers), but will often require you to move from set to set as quickly as possible. And who wants to spend precious seconds chasing after their dumbbell?
On the other hand, if you're a bodybuilder or powerlifting athlete, you'll likely prefer round dumbbells. The uniform round head and shorter handles are often reported as feeling more stable and placing less stress on the wrist during overhead lifts, like shoulder and bench presses.
At the end of the day, both dumbbells are sufficient for strength training. But if you want to specialize your workouts, like for CrossFit or bodybuilding, you may want to pay closer attention to how you outfit your home gym.

What Is Your Budget for Dumbbells?
Outfitting a home gym or studio can be pricey. And it can be tempting to spring for the cheapest pieces of equipment. But the good news is, there are dumbbells that give you the best "bang for your buck": hex dumbbells.
Hex dumbbells are iron coated in rubber, and since rubber is cheaper than urethane, they'll generally be less expensive than round dumbbells while still offering high durability. Also, rubber hex dumbbells come in smaller increments and are priced by the pound, allowing you to pick up lighter pairs for less money.
But if money isn't a factor in your decision, round dumbbells might be right for you. The urethane coating makes them ultra-durable, which is often why you see them in commercial gyms. They can withstand excessive wear-and-tear.
Where Will You Store Your Dumbbells?
Home gyms are sacred spaces. And sometimes, that space can be small. Whether you have a full-size commercial gym or a small spot in your living room to lift, your space will impact which dumbbells are right for you.
When hex dumbbells get over 30-40lbs, the heads can become big and bulky and hard to store. Whereas the heads of round rubber or urethane dumbbells don't change significantly as the weight increases.
Luckily, there are plenty of storage rack options for both dumbbell shapes. Not only do storage racks help keep your dumbbells organized, but they also keep them safe from unnecessary damage when they're just lying around. Pro tip: if you're limited on floor space, look for vertical racks! The smaller footprint offers you more room to focus on your workout.
Choose the Dumbbell That Helps You Reach Your Health Goals
Ultimately, the choice between hex and round dumbbells comes down to personal preference and your individual workout style. While you can't go wrong with either, each offers its own unique benefits. Hex dumbbells offer benefits like stability and affordability, while round dumbbells have traditional appeal and extreme durability.
Consider your workout goals, preferences, and budget when making a decision on which type of dumbbell to use. And if you're still hitting a wall while trying to decide which is a must-have for your home gym, contact our fitness experts at 1-855-417-1111 or customersupport@fitnesstown.ca. No matter which you choose, consistent and proper use of either dumbbell type will help you along your fitness journey.