HOIST® HF-5460 8 Pair Vertical Hex Dumbbell Rack
Precision built dumbbell rack with superb components and a unique space saving design suitable for even the tiniest spaces.
Item # HF-5460
$549.99
Shipping Calculated at checkout
Description
Looking for the ideal rack to house your dumbbells? The Hoist 5460 8 Pair Vertical Dumbbell Rack is everything you need and more! This premium quality dumbbell rack with a robust framework and sufficient capacity for your home gym will ensure all your dumbbells are safely stored and organized so that you and others can lift them safely. Its polypropolene-covered racks reduce noise and protect weights and its non-metallic foot covers will protect floors from getting damaged.
Features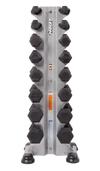 Feature Overflow
Holds eight pairs of hex style dumbbells

Space efficient vertical design

Polypropolene covered rack reduce noise and protect weights

Upgraded modern frame with oval tubing

Non-metallic foot covers protect flooring
Product Overview
IDEAL USE
Limitations
Cannot hold more than eight pairs of Hex dumbbells
IN YOUR HOME OR OFFICE
Assembled Dimensions
LxWxH: 19.30" (49 cm) x 17.30" (44 cm) x 51.70" (131 cm)
Footprint
19.30" (49 cm) x 17.30" (44 cm) x 51.70" (131 cm)
Space Saving Feature / Space Requirements
19.30" (49 cm) x 17.30" (44 cm) x 51.70" (131 cm)
FEATURES
Weight or range of weight options
Product Weight: 51 lbs (23 kg) Max Storage: 520 lbs (236 kg)
Material and Finishing
Metal
Other Functional Gear Specs
N/A
EQUIPMENT OWNERSHIP
Warranty
Frame: Lifetime Moving Parts: 10 Years Paint, Cables & Upholstery: 10 Years
Maintenance Requirements
Wipe occasionally with a damp cloth
Service & Repairs
Fitness Town Service offers experienced maintenance and repairs for this product
Product Dimensions
19.30" (49 cm) x 17.30" (44 cm) x 51.70" (131 cm)
Product Weight
51 lbs (23 kg)
Max Storage
520 lbs (236 kg)

BRAND OVERVIEW
Fitness Town chose HOIST because they design equipment that allows our customers to bring the commercial gym experience home, providing the feel and features you love for smaller spaces. We are an exclusive distributor of HOIST in the Greater Vancouver area and are proud to be Canada's #1 Commercial Distributor of HOIST products in 2018. We are proud to partner with a brand that stands behind its products with a 10-year warranty on almost all their premium strength products and the LeMond series exercise bikes. HOIST makes it a priority to provide distinctive equipment that emphasizes natural body motion to produce maximum results.




Buyer's Guide
Why you should bring Free Weight Equipment home?
A common myth is that free weights are for young people, body builders, or people serious about sculpting their bodies through muscle growth. Though free weights can be used for those purposes, weight training is for everyone and is critical in supporting the body's functional abilities.
Moving weight (pushing, pulling, lifting, etc.) plays a critical role in maintaining our body's functional abilities (bone density, mobility, balance, strength, endurance, etc.) and optimal body composition (fat vs. muscle).
Increasing muscle mass will increase your total daily energy used (calories) which contributes to fat loss. In other words, it's strength and not just cardio that helps you lose fat.
Free weights offer maximum exercise flexibility – there are limitless ways to push and pull a free weight to promote strength and health. However, some knowledge or guidance is required in order to optimize your movements for effectiveness and safety.
Free weights offer resistance training in smaller spaces than strength equipment. A few free weights in the right range is all many will need to meet their training needs. There are even adjustable options for a wider weight range in smaller spaces.
Free weights are generally portable and storable – use them in any room of the house or take them to your favourite outdoor space.
If you are intimidated by Free Weights, check out our Strength Equipment options or resistance training Accessories.

Expert Guidance To Help You Choose
Fitness equipment is highly personal and studies show that the right fit has a big impact on your consistency, enjoyment, and success. The Fitness Town Difference is our commitment to fitting you with equipment that will go the distance. We want you to build an environment for fitness that removes barriers and makes it easier for you to move more, at any age and every stage. Let us help you discover what moves you.