HOIST® HF-4263 Ab/Back Hyper Bench
Eleven adjustable positions to work abs, back, and more. Features self-aligning roller pads, wheels for better portability, and folds flat for storing. Ideal for users of all ages and fitness levels.
Item # HF-4263
$519.99
Shipping Calculated at checkout
Description
Take your fitness to the next level with the Hoist Adjustable Ab/Back Hyper Bench. This super effective bench allows you to perform hyperextensions, ab crunches and sit-ups, weighted or not, in the comfort of your home! The Hoist Ab/Back Hyper Bench is designed with the user in mind. No matter your height, there is a setting to ensure the pad is located at the correct location for you to perform hyperextensions comfortably.
Features
Effective Workout
With the back extension on the Hoist Hyper Bench, you can effectively target your erector spine muscle, which runs along your spine. The muscle extends or straightens, your spine against resistance. Get into the unit face down so that your waist and torso hang off the edge with your heels braced under the foot pads to keep you securely in the unit.
Your gluteus maximus is responsible for extending your hips or lifting your legs back behind you against resistance. The Hoist hyperextensions bench will provide you with an effective glutes workout as well.
Your obliques run on each side of your torso, and one of the movements they perform is sided flexion. By positioning yourself sideways on the hyperextension bench, you can effectively target your obliques.
And, if you want that dreamy six-pack that is so hard to get, the Hoist hyperextension bench is great for decline abs workouts as its decline settings allow for different levels of resistance.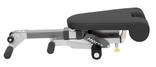 Space-Saving Design
If you have a small space and need something with a compact footprint, the Hoist Adjustable Ab/Back Hyper Bench is perfect for you! When folded, it only weighs 45 pounds making maneuvering it a breeze.
High Portability
The Hoist Ab/Back Hyper Bench features wheels making the bench easier to move around and store.
Product Overview
IDEAL USE
Ideal For
Home and commercial use
Limitations
Weight capacity up to 400 Lbs.
IN YOUR HOME OR OFFICE
Assembled Dimensions
Product Width: 17.00" (43 cm) Product Height: 23.75" (60 cm) Product Length: 40.00" (102 cm)
Footprint
43 x 60 x 102 cm
Space Saving Feature / Space Requirements
Folds flat for storage
Portability
Wheels for increased portability
FEATURES
Available upgrades, add-ons, attachments
N/A
EQUIPMENT OWNERSHIP
Warranty
Lifetime Frame, 5 years moving parts, 1 year paint, cables and upholstery.
Maintenance Requirements
Inspect regularly for wear and tear before using. Wipe it with a damp cloth occasionally
Service & Repairs
Fitness Town Service offers experienced maintenance and repairs for this product
Detailed Specifications
Product Width
17.00" (43 cm)
Product Height
23.75" (60 cm)
Product Length
40.00" (102 cm)
Machine Weight
45 lbs (20 kg)

BRAND OVERVIEW
Fitness Town chose HOIST because they design equipment that allows our customers to bring the commercial gym experience home, providing the feel and features you love for smaller spaces. We are an exclusive distributor of HOIST in the Greater Vancouver area and are proud to be Canada's #1 Commercial Distributor of HOIST products in 2018. We are proud to partner with a brand that stands behind its products with a 10-year warranty on almost all their premium strength products and the LeMond series exercise bikes. HOIST makes it a priority to provide distinctive equipment that emphasizes natural body motion to produce maximum results.




Buyer's Guide
Why you should bring Strength Equipment home?
Strength Equipment brings gym training home, offering weighted push and pull exercises in a broad range of motion
A common myth is that strength equipment is for young people, body builders, or people serious about sculpting their bodies through muscle growth. Though strength training can be used for those purposes, it's primarily designed to support the body's functional abilities
Moving weight (pushing, pulling, lifting, etc.) plays a critical role in maintaining our body's functional abilities (bone density, mobility, balance, strength, endurance, etc.) and optimal body composition (fat vs. muscle)
Increasing muscle mass will increase your total daily energy used (calories) which contributes to fat loss. In other words, it's strength and not just cardio that helps you lose fat.
The Strength Equipment category of fitness equipment does require some square footage, though we carry a broad range of configurations and sizes that will surprise you with their ability to offer a full-body strength routine in a more compact space. It is considered by some to be less intimidating and possibly safer or more controlled than using free-weights
If Strength Equipment isn't going to fit in your space, it's important to look at Free Weights and Accessories that provide push and pull resistance.
Buying a Bench
Fitness Town has curated a range of quality benches that pass various tests from our team of experts. After decades in the fitness industry, we've developed a good understanding of your needs, regardless of age or fitness level. We consider everything like industry standards, diverse physical statures, and training requirements and goals. When you buy a product from Fitness Town, you can feel confident knowing that it lives up to our high standards. All that's left is finding the perfect match for you.
Here are some things to consider when comparing our benches:
What are your training goals? Fitness Town carries benches in several categories including flat weight benches, preacher curl benches, abdominal benches, Olympic benches, and adjustable and folding benches. Narrowing down how you're going to train and what body parts you want to target will help you decide on the perfect bench for your goals. If you want a bench to help you target your arms, check out our preacher curl benches. If you want a versatile bench that you can swap between flat and incline, an adjustable bench is the one for you.
Your environment: Account for the available space when purchasing your bench. If space is limited, consider one of our folding options that you can tuck away in between uses. Otherwise, choose a standalone bench if you have a dedicated space and plan to do some heavy-duty lifting.
Weight limit: Manufacturers post maximum weight limits to keep you safe. It's important that your bench is stable when you exercise and doesn't shift or wobble. Review the weight limit of your equipment to minimize the risk of injury. Be sure to take both your weight and any extra you'll be lifting into account.
Extra accessories: As you grow in your fitness journey, you'll want to add more equipment to your arsenal. Before purchasing, consider the upgrades or accessories that are available with your weight bench. Some options come with leg extension or preacher curl add-ons, easily turning your standalone bench into a full-body workout station!
Your height and width: If you're looking to purchase a weight bench for bench pressing or other movements where you'll be lying down, you'll want to make sure you take your height and width into consideration. It's important that your head and shoulder blades are supported during the lift to maintain proper form and reduce the risk of injury. Look for a standard pad width of 12" and try to avoid going below 10".
Bench height: If you plan on doing bench presses, shoulder presses, or any other form of pressing, you'll want your feet firmly planted on the floor during the exercise. If you're on the shorter side, consider a bench that is 15-17" off the floor. 17-20"+ is better for taller athletes.
Durability: It's important to factor in how many people will use your bench and how often it will get used. For regular use and heavy training, you'll want to choose a bench made of sturdy materials with a heavy weight limit. Fitness Town carries a selection of commercial-grade benches that will live up to heavy abuse and help you chase your fitness goals.

Expert Guidance To Help You Choose
Fitness equipment is highly personal and studies show that the right fit has a big impact on your consistency, enjoyment, and success. The Fitness Town Difference is our commitment to fitting you with equipment that will go the distance. We want you to build an environment for fitness that removes barriers and makes it easier for you to move more, at any age and every stage. Let us help you discover what moves you.