Fitness Town Safety Squat Bar
The ultimate solution for serious lifters looking to take their strength training to the next level. This bar isn't limited to just squats. It's versatile enough to be used for various exercises, including lunges and good mornings.
Item # PSQ01
$269.00
Shipping Calculated at checkout
Description
Upgrade your strength training game with the Fitness Town Olympic Safety Squat Bar. Experience unparalleled comfort, safety, and versatility in your workouts, while achieving exceptional results. Whether you're a seasoned lifter or just starting your fitness journey, this squat bar is an indispensable addition to your arsenal.
Features

Ergonomic Comfort
Prioritize your safety and comfort during intense squatting sessions. Unlike traditional straight bars, it distributes the weight across your upper back and shoulders, reducing the pressure on your lower back and spine. This ergonomic design minimizes the risk of injury and provides unparalleled support.

Versatile Angled Design
What truly sets this squat bar apart is its innovative angled design. With a 45-degree angle, it encourages proper posture and form, ensuring that you maintain the ideal squatting position throughout your lifts. This unique feature not only protects your lower back but also enhances your squatting performance.

Built to Last:
Crafted with durability in mind, the Fitness Town Safety Squat Bar is constructed from high-quality, heavy-duty materials. It can handle heavy loads with ease, making it suitable for seasoned powerlifters, professional athletes, and anyone dedicated to strength training.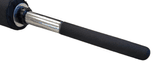 Knurled Handles with rubber sleeves:
The textured knurled handles on this squat bar provide a secure grip, reducing the risk of slipping during your workouts. You can lift with confidence, knowing that your hands won't lose their grip even when pushing your limits. The rubber covers are removable for easy cleaning or replacement.
Product Overview
SPECIFICATIONS
Max Weight Capacity
1500lb
Material & Finishing
Steel Crome Finish

Fitness Town carries a selection of quality, affordable home gym equipment under the house brand name. Sourced from reputable manufacturers around the world, Fitness Town brand products are carefully selected to meet industry standard requirements for safety, quality, and performance. From free weights to recovery tools and accessories, Fitness Town is proud to offer home gym equipment that helps people move more.



Buyer's Guide
Why you should bring Free Weight Equipment home?
A common myth is that free weights are for young people, body builders, or people serious about sculpting their bodies through muscle growth. Though free weights can be used for those purposes, weight training is for everyone and is critical in supporting the body's functional abilities.
Moving weight (pushing, pulling, lifting, etc.) plays a critical role in maintaining our body's functional abilities (bone density, mobility, balance, strength, endurance, etc.) and optimal body composition (fat vs. muscle).
Increasing muscle mass will increase your total daily energy used (calories) which contributes to fat loss. In other words, it's strength and not just cardio that helps you lose fat.
Free weights offer maximum exercise flexibility – there are limitless ways to push and pull a free weight to promote strength and health. However, some knowledge or guidance is required in order to optimize your movements for effectiveness and safety.
Free weights offer resistance training in smaller spaces than strength equipment. A few free weights in the right range is all many will need to meet their training needs. There are even adjustable options for a wider weight range in smaller spaces.
Free weights are generally portable and storable – use them in any room of the house or take them to your favourite outdoor space.
If you are intimidated by Free Weights, check out our Strength Equipment options or resistance training Accessories.

Expert Guidance To Help You Choose
Fitness equipment is highly personal and studies show that the right fit has a big impact on your consistency, enjoyment, and success. The Fitness Town Difference is our commitment to fitting you with equipment that will go the distance. We want you to build an environment for fitness that removes barriers and makes it easier for you to move more, at any age and every stage. Let us help you discover what moves you.