Fitness Town Plate Loaded Lat Pulldown w/ 2" Adaptor
Experience a full-body strength training workout in the comfort of your home with the Fitness Town Plate Loaded Lat Pulldown.
Item # PHG801
$499.00
$599.00
Shipping Calculated at checkout
Description
Customize your workout to your unique height with three adjustable positions. The pulley system facilitates a smooth lat pulldown experience, allowing you to target different muscle groups, from biceps and forearms to shoulders and triceps. Finish your lat workout seamlessly by transitioning from the 48-inch lat bar to the 20-inch seated row bar on the low pulley. The Fitness Town Plate Loaded Lat Pulldown machine utilizes standard weight plates to provide resistance, so you can get additional usage out of plates you already own or purchase additional weight plates to fine-tune the intensity of your lat pulldown workout.
Features

Plate loaded
Utilize standard weight plates and bar collars to customize your resistance level.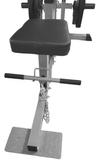 Thick and comfortable seat pad
Firm support during your workout.

Adjustable height
Tailor your workout to your unique body size with three adjustable height positions. The smooth pulley system enhances your lat pull experience, providing a fluid and efficient workout session.

Multi-position foam roller
Provides exceptional comfort and locks you in place for high-level work, ensuring each rep counts.
Detailed Specifications
Dimensions
42.1" W x 47.2" D x 74.8" H (107 x 120 x 190 cm)
Included
Lat Bar and Straight Bar. Weight Plates sold separately.
Cushion dimensions
11.8" L x 9.8" W (30 x 25 cm)
Materials
Solid steel frame, PVC covered foam padding.

Fitness Town carries a selection of quality, affordable home gym equipment under the house brand name. Sourced from reputable manufacturers around the world, Fitness Town brand products are carefully selected to meet industry standard requirements for safety, quality, and performance. From free weights to recovery tools and accessories, Fitness Town is proud to offer home gym equipment that helps people move more.



Buyer's Guide
Why you should bring Strength Equipment home?
Strength Equipment brings gym training home, offering weighted push and pull exercises in a broad range of motion
A common myth is that strength equipment is for young people, body builders, or people serious about sculpting their bodies through muscle growth. Though strength training can be used for those purposes, it's primarily designed to support the body's functional abilities
Moving weight (pushing, pulling, lifting, etc.) plays a critical role in maintaining our body's functional abilities (bone density, mobility, balance, strength, endurance, etc.) and optimal body composition (fat vs. muscle)
Increasing muscle mass will increase your total daily energy used (calories) which contributes to fat loss. In other words, it's strength and not just cardio that helps you lose fat.
The Strength Equipment category of fitness equipment does require some square footage, though we carry a broad range of configurations and sizes that will surprise you with their ability to offer a full-body strength routine in a more compact space. It is considered by some to be less intimidating and possibly safer or more controlled than using free-weights
If Strength Equipment isn't going to fit in your space, it's important to look at Free Weights and Accessories that provide push and pull resistance.

Expert Guidance To Help You Choose
Fitness equipment is highly personal and studies show that the right fit has a big impact on your consistency, enjoyment, and success. The Fitness Town Difference is our commitment to fitting you with equipment that will go the distance. We want you to build an environment for fitness that removes barriers and makes it easier for you to move more, at any age and every stage. Let us help you discover what moves you.