Schiek Ab Strap for Cable Machines
Schiek Ab Strap: 18-inch, plush neoprene padded, durable D-ring and non-slip webbing. Ideal for ab crunches and cable exercises. Made with pride in the USA.
Item # 1400ABS
$39.99
Shipping Calculated at checkout
Description
Enhance your ab crunches and cable other exercises with these Schiek AB Straps. Relish unparalleled comfort during workouts, thanks to its plush neoprene padding. Trust in the strap's durability and resilience, equipped with a heavy duty D ring and non-slip webbing.
Features

Superior Comfort
1/4 inch plush neoprene padding ensures that even the most intense workouts feel comfortable, allowing you to focus solely on strengthening your core.

Sturdy Construction
Equipped with a heavy-duty D-ring and long-lasting non-slip webbing, you can trust the Schiek Ab Strap to withstand the test of time and intensity. Whether you're doing ab crunches or cable pull downs, this strap ensures a sure grip, every time.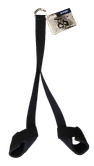 Optimal Length
With an 18-inch length, this strap provides the ideal balance between freedom of movement and security, ensuring optimal range for your workouts.
Feature Overflow
Made in USA
18" long
Black
Product Overview
IDEAL USE
Ideal For
Ab crunches and cable pull downs.
FEATURES
Material and Finishing
Neoprene, webbing

BRAND OVERVIEW
Fitness Town chose Schiek because of their quality product and service, and their dedication to holding themselves to the following standards since their start in 1991. Unique Patented Products, Innovative Features, High Quality Construction, Most Products Made in the USA Customer Service that will speak for itself.

Expert Guidance To Help You Choose
Fitness equipment is highly personal and studies show that the right fit has a big impact on your consistency, enjoyment, and success. The Fitness Town Difference is our commitment to fitting you with equipment that will go the distance. We want you to build an environment for fitness that removes barriers and makes it easier for you to move more, at any age and every stage. Let us help you discover what moves you.