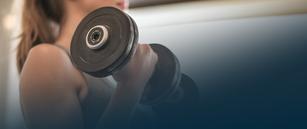 FREE WEIGHTS & RESISTANCE
Barbells, Plates, Collars, Dumbbells, Kettlebells, Sandbags, Heavy Bags, Storage Racks, Ropes, Bands, Medicine & Slam Balls


BRAND SPOTLIGHT
We are proud to be the #1 dealer for many of our top Commercial Brands and we pass the benefits on to you.
Fitness Town chose HOIST because they design equipment that allows our customers to bring the commercial gym experience home, providing the feel and features you love for smaller spaces. We are an exclusive distributor of HOIST in the Greater Vancouver area, and are proud to be Canada's #1 Commercial Distributor of HOIST products in 2018. We are proud to partner with a brand that stands behind its products with a 10-year warranty on almost all of their premium strength products and the LeMond series exercise bikes. HOIST makes it a priority to provide distinctive equipment that emphasizes natural body motion to produce maximum results.
---
Fitness Town chose Freemotion because of their dedication to innovation and our shared belief that life isn't about working out, but working out is what creates a more adventurous life. Freemotion has been a global fitness and technology leader for 40+ years and has made waves by questioning how we workout and redefining it. They are believers in what's next, what's possible, and what's worth every drop of sweat, and we are proud to partner with Freemotion build state-of-the-art commercial fitness facilities.
---
Fitness Town chose Torque because of their relentless desire to help their audience achieve their potential, inspired by their "Don't Quit. Ever." attitude. Torque believes that every person has the desire for greatness inside of them, and that fitness is a journey of discovering your own greatness. Torque's mission and vision is that every fitness facility will be equipped with the most innovative, intuitive, and safest training equipment possible, and we believe that this includes your home gym.
---
Fitness Town is proud to work with Throwdown because of our aligned values around helping all people to move more – people getting motivated, getting better, getting older, getting gold medals, or just getting started. For nearly 20 years, Throwdown has worked to provide pro MMA athletes with the gear and equipment that will stand the test of time. However, they believe that it's not just the pros who are out there training everyday with the heart of a champion, which is why they make gear that is available to anyone who wants to improve and compete. After all, when you have the passion and drive, it's time to THROWDOWN.
---
In order to design state-of-the-art fitness facilities that attract, Fitness Town takes great care in sourcing premium fitness equipment and products. UMAX has designed and built commercial weight products since their start in 2000, and since then they have released their own U.S. design and engineering patents and have twice outgrown their California-based manufacturing facility. They use their own U.S. patents, hybrid overseas and domestic manufacturing to build superior products at the lowest prices. Today, UMAX challenges market dominance as a premium urethane weight manufacturer applying their mission statement:
THE MOST INNOVATIVE TECHNOLOGY
THE LONGEST WARRANTY
THE HIGHEST QUALITY
THE LOWEST PRICES
THE FASTEST LEAD TIME