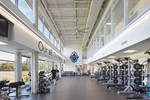 Whitecaps Training Facility at UBC Campus
Introduction
A gym is more than just a place to burn calories or build muscle. For the Vancouver Whitecaps soccer team, the gym is a bit part of where they put in the work required to win games. Their state-of-the-art training facility not only helps train and rehabilitate athletes – it helps attract and recruit top talent, too.
The Vancouver Whitecaps approached Joe McCullum, the Head Strength & Conditioning Coach of UBC Athletics to help them design the perfect fitness facility in the new National Soccer Development Centre on the UBC Campus. This was going to be a three-story, 38,000-square-foot fieldhouse with a two-story gym outfitted with fully mirrored walls and a panoramic view of the mountains. The gym would integrate seamlessly with their therapy area and practice field. For a project of this scope, McCullum knew he wanted to work with none other than Fitness Town to outfit the right fitness facility for these athletes.
Goals
Design a brand-new state-of-the-art fitness facility
Cater to the unique training needs of professional soccer players
Provide equipment for weight training, cardio, rehabilitation, and physical therapy
Approach
Fitness Town's Commercial Team worked with McCullum to design and equip the Whitecaps facility with exactly what they needed. Taking into consideration the space, budget, and desired use, Fitness Town provided a range of fitness equipment including a row of stationary bikes, medicine balls, power sleds, benches, squat racks, dumbbells, treadmills, and cable machines. Knowing this is a gym for soccer players, the equipment selection was strategic to include a variety of strength machines that fit their exercise regimens and go lighter on the cardio (which the players mostly get on the field).
McCullum says he chooses to work with Fitness Town almost exclusively because of:
Fitness Town's ability to be adaptable and resourceful when it comes to supply chain issues
Their commitment to serving the needs of their clients in a quick and reliable way
Their willingness to work within the client's budget while providing the best value
"These guys work as hard as they can for you," says McCullum
Results
The Vancouver Whitecaps training facility launched in the summer of 2017. Fitness Town's resourcefulness, dedication, and strong industry relationships allowed them to complete the new fitness facility to excellent standards and on budget.
"The training facility is essentially the players' office," said Whitecaps FC vice president of soccer operations Greg Anderson. "It's where they come to work every day. So to have a functional place where they have all the different elements they need and a beautiful setting, with beautiful fields, can only help in the development and performance of the players."
"The gym is really the jewel and centrepiece of the whole facility," Anderson said.