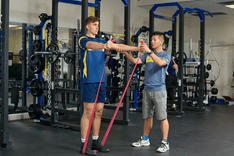 Collingwood High School Weight Room
Introduction
Physical education is a critical component of the high school experience. When you're entering high school and new to working out or lifting weights, it can be daunting and also dangerous. That's why it was so important for Collingwood School in West Vancouver to build a weight room that would encourage and cater to students of all fitness levels and comfort. The weight room will be the place where they develop lasting impressions and habits surrounding exercise and fitness.
Collingwood School approached Joe McCullum, the Head Strength & Conditioning Coach of UBC Athletics to help upgrade their existing fitness centre to new heights. McCullum knew he wanted to work with none other than Fitness Town to outfit the right fitness facility for these students.
Goals
Create a premium fitness facility for students to use during P.E. or sports training
Maximize space for functional movement exercises
Design a welcoming space that encourages students to exercise with confidence
Include multi-purpose or multi-functional equipment
Approach
Fitness Town's Commercial Team worked with McCullum and the school's Athletic Director to design and equip the Collingwood School Fitness Centre with exactly what they needed. The facility would need to be welcoming and functional for students between grade 8-12, as well as support the school's Rugby team in training.
Taking into consideration the space, budget, and desired use, Fitness Town provided a range of fitness equipment including university-standard squat racks, Olympic and bumper plates, multi-function dual-pulley machines for circuit training, 15 spin bikes, treadmills, and elliptical machine, and three racks of dumbbells.
McCullum says he chooses to work with Fitness Town almost exclusively because of:
Fitness Town's ability to be adaptable and resourceful when it comes to supply chain issues
Their commitment to serving the needs of their clients in a quick and reliable way
Their willingness to work within the client's budget while providing the best value
"These guys work as hard as they can for you," says McCullum.
Results
Collingwood School is now equipped with a highly functional weight room where fitness instructors can provide attentive training and support to any student that is exercising. It's a selling point that the school features when speaking with prospective students and parents.
Fitness Town continues to be a reliable partner available for maintenance, support, and upgrades to ensure Collingwood's students have the most elite environment for health and fitness development.