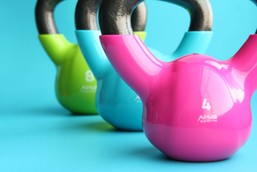 What to Consider When Choosing Kettlebells: A Kettlebells Buyer's Guide
Did you know that around 77% of Canadians like to work out at their house? Regularly exercising is a great way to improve your physical and mental wellbeing. Many people have created gyms in their homes to conveniently get their workout in.
You can purchase a wide range of fitness equipment to equip your home gym, from treadmills to spin bikes to dumbbells. Kettlebells are a great universal tool for both cardio and strength fitness. Strengthen your entire body while working up a sweat.
Figuring out what types of kettlebells to purchase can be overwhelming. Our kettlebell buying guide will go over various features so you can make an informed decision.
What Are the Different Types of Kettlebells?
Kettlebells differ in material, shape, weight, and size. There are two main types of kettlebells:
Professional grade steel
Standard grade cast iron
Kettlebells are typically classified by the material they're made out of. Iron and steel are the two most common materials.
A cast iron kettlebell is made from iron. The bigger the kettlebell, the heavier it'll be. If a cast iron kettlebell is small, it'll weigh less.
Professional grade steel kettlebells work a bit differently than the standard grade ones. The shape and size of a steel kettlebell stay the same no matter how heavy it is.
It's recommended to purchase one set of kettlebells for your home gym. That way, you can do both single and double-handed exercises.
What Weight Should I Buy?
The weight of your kettlebell is an essential factor to consider. When selecting the right weight, you should consider how much experience you have with weightlifting.
If you're new to using kettlebell weights, you should pick ones at a beginner level. For those with more experience in weightlifting, you can start with a heavier kettlebell weight.
Some other factors to consider when selecting the weight of your kettlebells include:
Age
Fitness level
Your reason for wanting to use kettlebells
The types of workouts you want to do
The quality of kettlebell
The best kettlebell weight for beginners also depends on your gender. Active adult males can start with a kettlebell that weighs anywhere from 25 to 35 pounds. An active adult female can begin their kettlebell workouts with one that weighs 13 to 18 pounds.
You can adjust the weight of your kettlebell as you get more comfortable and gain strength. One thing to keep in mind is choosing a weight with which you can easily do five repetitions. Once you can do 20 reps, it's time to upgrade to a heavier weight.
What Other Factors Should I Consider?
There are a few other things to keep in mind when purchasing kettlebells. They include:
Durable coating
Clean finish
Comfortable handle
Flat base
Equip Your Home Gym With the Best Kettlebells
Kettlebells are a great way to boost your heart rate and tone your body. It's essential to find the right kettlebells for your home gym. You don't want to injure yourself on your fitness journey.
Are you ready to take your fitness routine to the next level? Shop our selection of strength and weight training equipment.