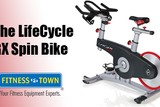 The LifeCycle GX Spin Bike: what makes it so good?
Let's start with a quick history of Life Fitness. Four or so years ago they used to sell the Lemond spin cycles under their banner, then they switched to Keiser spin bikes.  Then 2 years ago, after taking the best elements from the Lemond cycle and the best from the Keiser, they created the Life cycle GX.
From Lemond they took the heavy duty cranks.  These transfer your pedal stroke power into the bike and the specialty heavy duty forged cranks are much more substantial on the Life Cycle compared to the Keiser spin bike.  They also took the elongated tubular structure for the adjustable handlebar and seat mounts.  The smoothed, slightly rounded surface reduces places for sweat to pool and potentially corrode the bike. They also have a narrow Q-factor – it's more narrow than the Keiser spin bike and but not as narrow as the lemond – this gives it a more road bike feel.  Also the double waterbottle holders on the substantial handles are a standout feature compared to the Keiser
From Keiser they took the rear magnetic drive.  This prevents you from sweating all over the flywheel.  Also the rear red metal guard is much more substantial then the guard that the Keiser has.
And of course there is the backstory of Life cycle – it was the original exercise bike.  The Life Fitness company was built off of that product and so now you have that whole history.
I also like the rear stretching points on the Life Cycle encouraging people to stretch after their workout – or before.
Any more questions, feel free to ask!