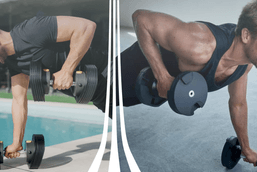 MX55 vs Nüobell: The Battle to Find the Best Adjustable Dumbbell
Dumbbells are a pivotal piece of fitness equipment. They're compact and offer limitless workout possibilities. But when you're building your home gym, every square inch counts. Especially if you have to share your exercise area with the dining room table. So how do you add this multi-functional weightlifting tool to your arsenal while saving space?
Enter: Adjustable Dumbbells.
This revolutionary piece of equipment offers you an entire rack of dumbbells in one compact set. But with so many options on the market, you want to make sure you find the best fit for you. So our experts at Fitness Town have narrowed down the list to our top two recommendations:
The MXSelect MX55 Rapid Change Dumbbells and The Nüobell 220 Adjustable Dumbbells
And in this blog, we'll put these dumbbells head-to-head across five categories: weight range, price, adjustability, storage, and quality. So that by the end, you can feel confident picking the best pair of adjustable dumbbells for your home gym and for your fitness goals.
Comparing the MX55 Rapid Change vs Nüobell 220: Which Set Is Best?
Weight range
Both sets of adjustable dumbbells feature an impressive weight range and eliminate the need to buy 20+ dumbbells individually.
MX55: The MX55s allow you to choose any weight between 10-55 lbs in increments of 5 lbs. This means you effectively get 10 pairs of dumbbells in one. The weight range of the MX55s is great for beginners and functional movements like renegade rows or dumbbell snatches. But it won't suit heavy lifters who want dumbbells over 55 lbs.
Nüobell: The Nüobells feature a wider weight range from 5-80 lbs in increments of 5 lbs. This adjustable dumbbell set condenses 16 pairs of weights into one. The Nüobells keep their natural dumbbell shape at every weight and will suit beginners to advanced athletes. But again, heavy lifters will need additional tools if they're looking for weights over 80lbs
Winner: This one comes down to personal preference. If you only need dumbbells as heavy as 55 lbs, the MX55s are a great choice. But if you want a wider range, you'll want to go for the Nüobells.
Price
We know you're interested in which product is the best bang for your buck. Keep in mind when you're comparing the price between these two adjustable dumbbell sets that a standard rubber dumbbell goes for $2/pound on average.
MX55: Currently, you can get the MXSelect MX55 Dumbell System for $597 (excluding shipping). If you were to buy each set of dumbbells from 10-55 lbs (10 sets total at $2/lb), you would spend around $1300. So you're saving about $700 with the MX55s. Also included in the price is a compact and portable weight stand that safely secures your dumbbells when not in use.
Nüobell: Right now, you can pick up the Nüobell 220 Adjustable Dumbbell Set for $547 (excluding shipping). If you were to buy the 32 individual dumbbells this adjustable set replaces (16 sets at $2/lb), it would cost you over $3,000! This means you're saving around $2,400 by investing in a set of the Nüobells (that's a steal). And like the MX55s, you also get a portable cradle storage system with your purchase, which helps keep your dumbbells safe and secure between sets.
Winner: Because you get more weight for a similar investment, the Nüobells win the price round.
Adjustability & Ease of Use
Now let's get into what you all came here for: how easy and intuitive are the adjustment features?
MX55: The MX55s feature a "Smart Weight Selector" which allows you to change the weight of the dumbbell with the push of a button.
Just decompress the dial until it pops up, choose your weight from 1-10 (reference the weight legend for pounds), and push the dial back in to lock it into place. This ensures a secure lift-off when you remove the dumbbells from the cradle – meaning there are no weight plate wobbles during your set and zero fear of a weight plate falling off the mid-overhead press!
Another unique feature of the MX55 adjustable dumbbell set is the flat edges. This allows you to perform floor exercises like pushups on your weights.
Nüobell: The Nüobell design features one of the most innovative and easy-to-use adjustability mechanisms on the market. With this adjustable dumbbell set, you can change the weight with a flick of the wrist.
Simply twist the handle to the right to increase weight and to the left to decrease until you see the weight you want show up on the dumbbell head dial. From there, just lift the dumbbells out of their cradles, and the weights lock in place – so even if you twist the handle during your set, you don't have to worry about losing a weight plate. This is great for functional training and workouts that need quick weight changes. The Nüobells have a natural dumbbell shape that mimics a roundhead dumbbell. And while this allows for a comfortable and balanced lift, it's more unstable during floor exercise, unlike the MX55s.
One thing to keep in mind, you need to be careful when placing them in their holder; otherwise, they can get stuck.
Winner: You can't go wrong with either. Both sets have simple and effective forms of adjustment that are safe and secure. If we had to pick a winner, we'd give a point to the Nüobells because their handle mechanism and dial features are so quick and clear.
Storage
Even though you're already saving boatloads of space in your home gym with an adjustable dumbbell set, we'll compare if one outranks the other in terms of storability.
MX55: A huge benefit of the MX55 Adjustable Dumbbells is that you have two options for storage. Option one is the standard cradle storage system, and option two is a compact storage rack that holds your weights at an accessible height. Since the storage rack elevates the dumbbells off the ground, it makes changing the weights comfortable and easy.
Nüobell: Like the MX55s, the Nüobells also have two storage options. They come standard with a pro-style cradle storage system, but an elevated storage rack is available as an add-on. Both rack options save you a ton of floor space in your home gym compared to the large dumbbell rack you would need to house 16 pairs of dumbbells.
Winner: With both dumbbells offering two different storage rack options, this round is a tie. Having two storage solutions to choose from is great if you want something more elevated to alleviate back pain or to make your dumbbells more accessible.
Build Quality
Steel and stable – both sets of adjustable dumbbells are highly durable but feature slight differences in construction.
MX55: These babies are built to last. The weight plates are first crafted from steel and then coated in polyamide nylon. This protective nylon coating keeps the weight plates from scratching and rusting and allows quiet dumbbell training. The knurled handles are contoured for a secure slip-free grip. And as a bonus, the handles feature an antimicrobial coating to protect against germs.
Nüobell: The Nüobells are a mix of metal and plastic. The pancake-shaped weight plates feature nearly all-metal construction, minus a hard plastic to hold them together. As it goes with all dumbbells, and especially adjustable dumbbells, we'd highly suggest not dropping them for fear of cracking the plastic. The handle connecting the weight plates is custom-designed from iron with barbell-like textured knurling to prevent slippage during training.
Winner: It's hard to pick a winner between two premium products, but we'll give this one to the MX55s. With the nylon-coated iron plates paired with the antimicrobial handle – these dumbbells are ready to get to work.
Comparison Chart: MXSelect MX55 Rapid Change vs Nüobell 220
Here are the key comparisons we just covered at a glance:
Final Thoughts
At Fitness Town, we only offer the best of the best when it comes to fitness equipment. So you know no matter which set of adjustable dumbbells you choose – the MX55 Rapid Change System or the Nüobell 220s – you're getting a premium product. It comes down to whichever is going to help you reach your fitness goals.
Shop the MX55s and Nüobells, or stop by 1 of our 6 Fitness Town locations if you still can't decide. You can chat with one of our experts and test these dumbbells head-to-head to make your decision.