Schwinn® 170 Upright Bike - Exercise Bike
Magnetic resistance tech for a smooth, comfortable, and noise-free ride. Padded and contoured seat. 29 heart-racing workout programs.
Item # 100513
$699.00
Shipping Calculated at checkout
Description
Challenge your workout limits, feel every gain and adrenaline pump from a personalized workout intensity on the incredible Schwinn 170 upright bike. It boasts terrific features such as magnetic resistance technology, customizable workout intensity, and a silky-smooth ride, making this exercise bike your perfect workout companion. The Schwinn 170 upright bike's easy-to-use and productive structure guarantee the most pleasant indoor workout experience. Make great use of its fully loaded console and USB port to enjoy and charge your devices while you ride.
Features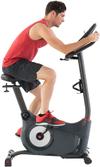 Adjustable & Comfortable Angle
Padded contoured seat with a post for easy seat exchange with any clamp and rail bicycle seat.
The Schwinn 170 Upright Bike offers you convenience and a customizable workout experience. Through its several adjustable angles that accommodate a varying range of individual fits, this upright cardio bike is designed to allow you to personalize your workouts!
Start off and end your workout programs in different positions on the fully adjustable padded and contoured seat. By offering multi-level adjustability that fits in different heights and arm lengths, the Schwinn 170 bike provides ample room for a quality workout session.

29 Alternative Workout Programs
Spice things up as you orbit the greatness of this legendary exercise bike that comes with 29 different amazing professionally hardwired workout programs. These programs include 12 profiles, 9 heart rate control, 4 custom, 2 fitness tests, 1 recovery test, 1 quick start program.
The Schwinn 170 upright bike leaves you feeling energized and knowing you are on the right track after every workout. Its highly versatile cardio program feature eliminates dull moments and boredom in your cardio sessions, giving you an exciting and more engaging workout vibe, even with no one else around.

Telemetric Heart Rate Sensors
Ergonomic grip contact heart rate sensors.
Explore the beauty of built-in sensitive heart rate sensors that help you track your heart rate, exercise time, distance covered, heart health, etc. Its ergonomically designed handlebars embellish this Schwinn cardio bike with a delightfully squishy feel for your ease and wellness.
As you enjoy the feeling typical of riding through rolling hills on your Schwinn 170 upright bike, this thoughtfully designed machine keeps your health in check by bringing you a real-time metric of your heart condition.
Fully-loaded streamlined console with DualTrack blue backlit
Charging USB port
MP3 input
Media shelf
Downright the most thoughtfully crafted and definitive workout companion, this high-calibre cardio machine comes with a console fully-loaded with music tracks. It's a feature that keeps you engaged as you enjoy an interesting and simplistic workout experience. This bike shows you the time, speed, distance (km), calories burned, and heart rate in a fast and simple way. You also get to keep phones, tablets, or music players at full battery life while streaming your favourite soundtrack with the charging USB port.
With an intuitive and easy-to-navigate configuration, this Schwinn 170 upright bike offers you all the luxury you need and motivates you to push yourself harder with every push of a button.

Oversized pedals with toe straps for multiple users.
A perfect combo of comfort, innovation, and value, the Schwinn 170 upright bike presents you with stylishly designed oversized pedals that come with toe straps that accommodate different user foot sizes.
Explore a custom-built, sleek, and noiseless workout session without worrying about a foot slip while you're in action.

APP CONNECTIVITY
RideSocial™ App
8 real-world maps in HD
Easy to set up and view on your phone, tablet, or virtual reality headset
Accurate, live tracking data to your mobile device
With in-built compatibility to different workout Apps, the Schwinn 170 upright bike monitors your workout, makes sure you are right on track and provides you personalized fitness training from professional fitness coaches. Its 8 real-world map feature offers you an ultimate virtual reality riding app that enables you to ride the world's most breathtaking trails from the comfort of your living room. You can workout remotely while having fun with friends anywhere in the globe through accurate, live tracking data to your mobile device. These futuristic and innovative features motivate you & remind you of your health goals so you can achieve your desired cardio fitness expeditiously.
Product Overview
IDEAL USE
Ideal For
Ideal for adults looking for an affordable, low-impact, sleek fitness machine for fat burn, aerobic and anaerobic indoor exercise.
Limitations
Not recommended for users above 300 lbs (136kg)
IN YOUR HOME OR OFFICE
Assembled Dimensions
41.3" L x 21.4" W x 55.6" H (105 x 54 x 141 cm)
Space Requirements
Allow a minimum workout area of 41.3'' (L) x 21.4'' (W) x 55.6'' (H) (105 x 54 x 141 cm)
FEATURES: TECHNOLOGY, CONFIGURATION, & CONVENIENCE
Console Features
High-resolution multi-display console enabled with heart rate telemetry and fitness metrics tracking
Resistance Type
Built-In 3 Speed Fan, Magnetic resistance with 25 levels of eddy current resistance
Configuration/ Instructions for Setup
See manual guide.
Mechanical Features
Smooth Motion, Calibration Technology, Anti-slip Foot Pegs, Cushioned Adjustable Seats, Multi-grip Handlebars
Material & Finishing Features
Metal Frames, Padded Leather Seats, Plastic device, and bottle holder
Connectedness
Heart Rate Monitor
EQUIPMENT OWNERSHIP
Installation
Shipping plus in-home assembly available
Warranty
Frame: 10 years, Mechanical: 2 years, Electrical: 1 year, Labor: 90 days
Maintenance Requirements
Preventative maintenance every month includes cleaning with a damp cloth and Inspecting pedals, crank arms, handlebars, seat, and console mast.
Service & Repairs
Fitness Town Service offers experienced maintenance and repairs for this product.

BRAND OVERVIEW
Schwinn was founded in 1895 and has over 125 years of adventures, innovations, and history behind their products. In all that time, quality has always been their "North Star". In everything they make, say, and do, they are authentic, welcoming, honest, and bold. Fitness Town admires Schwinn's belief that all riders are welcome, and their dedication to giving everyone the freedom to ride. Their belief that cycling is for anyone that owns a bike aligns with Fitness Town's dedication to helping all people move more, no matter your age or stage of fitness. Just as they have evolved from classic cycling to fitness equipment, Schwinn has been quick to respond by offering a full lineup of cardio solutions.




Buyer's Guide
Why you should bring Cardio Equipment home?
4-season / 24HR training safely – No limitations or concerns due to weather or time-of-day
 Reduced or controlled impact for injured, recovering, or aging bodies
Steady/safe/controlled terrain for injured, recovering, or aging bodies
Health benefits of cardio exercise equipment include: improved heart/cardiovascular health, lower blood pressure, helps to regulate blood sugar, can reduce asthma symptoms, can reduce chronic pain, can aid in sleep, increases daily caloric burn to reduce fat, can strengthen the immune system, shown to boost your mood, contributes to a reduced risk of falls.
Buying a Bike
Fitness Town has curated a range of quality bikes that pass various tests from our team of experts. After decades in the fitness industry, we've developed a good understanding of your needs, regardless of age or fitness level. We consider everything like industry standards, diverse physical statures, and training requirements and goals. When you buy a product from Fitness Town, you can feel confident knowing that it lives up to our high standards. All that's left is finding the perfect match for you.
Here are some things to consider when comparing our bikes:
What are the different types of bikes? Covering the most important question first. It's important you understand the types of bikes on the market to determine which one is right for you.

Spin (or indoor cycling) bikes will mimic a road bike the closest. These bikes feature a flywheel design with adjustable resistance that is usually controlled with a twist knob. With spin bikes, you have the option to choose magnetic or friction resistance. Magnetic resistance will feel the most natural and give a smooth ride. Friction resistance will be found on less expensive bikes and is increased by creating pressure on the flywheel with a felt pad. This type of resistance will wear out faster than magnetic resistance, but it will definitely get the job done.
Upright bikes also mimic traditional bicycles, but some users find them slightly more comfortable for steady-state cardio. These bikes will have a wider, more padded seat and resistance is generally controlled with buttons rather than a knob.
Recumbent bikes are the most supportive and feature a wide, contoured seat that provides coverage for the lower and middle back. The pedals are placed farther in front of the body, which allows the rider to slightly recline while pedaling. This type of bike is great for physical therapy.
Finally, air bikes (or dual-action bikes). As indicated by its name, these bikes use air resistance to control the intensity. They feature a large fan wheel and wide handles that move back and forth as the user pedals, allowing for upper body engagement. This model offers "unlimited resistance" – the harder you push, the more challenging the workout becomes.

What are your training goals? Someone recovering from knee surgery will most likely pick a different style bike than a CrossFitter. If you are looking for a bike to help you ease into a training routine, recover from an injury, or perform low-intensity, steady-state cardio, then you might want to go with an upright or recumbent bike. If you are looking for a heart-pumping, high-intensity workout that will burn a lot of calories, the air bike or the spin bike would be your go-to.
Your weight and the weight of the bike: Manufacturers post maximum weight limits to keep you safe. It's important that your bike is stable. If the bike wobbles or shifts back and forth during your ride, this not only puts excessive wear and tear on your machine but is also a safety hazard. Check the weight limit on the bike, but also the weight of the bike itself. The heavier the bike is, the sturdier and more stable it'll be during your ride.
Will you ride when the house is asleep? Even though you like to train at 5 AM, your housemate might not appreciate that early morning wake-up call. It's important to note when purchasing a bike that the different types of resistance methods will also produce different levels of noise. If you cohabitate or enjoy watching tv while you ride your bike, you might want to pick a bike that offers a nearly silent ride.
Will it fit your height? If you're tall and need extra leg room, or you're on the shorter side and need to bring the handlebars closer, it's important to consider the bike's adjustability. We recommend one of our bikes with customizable seat and handlebar heights if you want to accommodate individual preferences.
Cool features: Finally, cool features. These are what we'd call "nice-to-haves". The considerations above are important features to narrow down your options. Other factors like a display screen, workout programs, and heart rate connectivity are not essential, but they will help you decide on the perfect bike to fit you and your goals. Just remember, your bike purchase doesn't need to be swayed by a cool connected fitness app or program. Nowadays, you can use these apps with any bike, so focus on finding the one that's the right quality and price for you.

Expert Guidance To Help You Choose
Fitness equipment is highly personal and studies show that the right fit has a big impact on your consistency, enjoyment, and success. The Fitness Town Difference is our commitment to fitting you with equipment that will go the distance. We want you to build an environment for fitness that removes barriers and makes it easier for you to move more, at any age and every stage. Let us help you discover what moves you.
Reviews
Schwinn® 170 Upright Bike - Exercise Bike
For the price point it's good value
Kenneth G.
Overall it does the job. Good value when compared to the cost of other bikes. But only owned it for a month, so will see how long it survives. My only complaint is the handle bars are crooked and slightly off centered to the left . After reading up on this, it sounds like this is a design flaw rather than an isolated incident. Really there's no excuse for this. I wanted to return it for a new unit, but pretty sure any other unit I would get will have the same flaw. Oh well, other than visual appearance I don't notice much on performance.