Octane® Q37XI Elliptical Cross Trainer
Low impact, joint friendly movement to get the circulation flowing for a easy workout. Perfect for all ages and stages.
Item # Q37-XI
$2,727.00
$5,999.00
Shipping Calculated at checkout
Description
Become your virtual personal trainer and improve your overall wellness with the Octane Q37XI Cross Trainer. Octane elliptical machines deliver supremely comfortable, natural movement and flow, both forward and backward, allowing you to reach your fitness goals with ease! With rock-solid, long-lasting performance, Octane Ellipticals are tough enough for health clubs worldwide and give you the same great workouts and results in the comfort of your home. With a low step-up height and quiet operation, the Q37 will soon become your favourite workout machine!
Features

Real Running Motion
Designed based on precise human biomechanics, Octane elliptical machines ease stress on the joints and are a great option for fitness enthusiasts from all levels. The Q37 features close pedal spacing (only 1.8″), so your body is properly aligned from head to toe, thereby minimizing pressure on the lower back.

Console
Premium, highly polished display screen SmartLink, Bluetooth® connectivity, 72 workout programs with SmartLink, multi-color SmartLight feedback center that simultaneously displays essential workout data, 3 placement options for a tablet enabling you to watch, read, surf.
Wireless heart rate with a free Polar® heart rate strap, customized workout boosters.

Upper-Body Ergonomics
The patented, one-of-the-kind Converging Path and MultiGrip handlebars better engage the upper body and fit every fitness enthusiast comfortably.
With the MultiGrip handlebars, you can target different arm, chest and back muscles simply by changing your grip. The MultiGrip handlebars also feature contact heart rate sensors and fingertip controls to easily adjust your speed and resistance. The Converging Path handlebars follow the natural path of the arms when walking or running.

Space-Efficient Design
Significantly shorter than other premium elliptical machines or treadmills, the Q37 fits virtually anywhere in the home. With its low step-up height and rear access, it's simple for everyone to get on and off safely.
Ceiling height clearance is only 8" higher than the tallest user, so it can easily be placed in areas with low ceilings.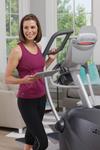 Durability
Octane Fitness designs premium, ultra-durable ellipticals that are built to deliver long-lasting, superior performance. Home elliptical machines are subject to the same rigorous testing and uncompromising standards that Octane is known for in order to produce high-quality equipment that offers reliable operation.
Product Overview
IDEAL USE
Ideal For
Those seeking a low impact workout.
Limitations
Weight limits up to 300 Lbs.
IN YOUR HOME OR OFFICE
Assembled Dimensions
33.5″ x 76″ (85 x 193 cm)
Space Saving Feature / Space Requirements
Space-efficient design. Low ceiling height clearance.
Portability
Wheels for easy portability
FEATURES: TECHNOLOGY, CONFIGURATION, & CONVENIENCE
Console Features
Multi-color SmartLight feedback centre
Configuration/ Instructions for Setup
Mechanical Features
MultiGrip and Converging Path handlebars
Material & Finishing Features
Heavy-duty steel
Connectedness
Bluetooth® connectivity, SmartLink app to interact with your tablet. Polar® wireless heart rate sensors.
Device Holder
3 placement options for a tablet – watch, read, surf
Training Apps
72 workout programs with SmartLink
EQUIPMENT OWNERSHIP
Warranty
Frame: Lifetime, Parts: 5 years, Labor: 1 year
Maintenance Requirements
Use only a soft, slightly damp lint-free cloth to clean the console lens of your elliptical. Do not use bleach on the console as it will damage the surface.
Service & Repairs
Fitness Town Service offers experienced maintenance and repairs for this product
Detailed Specifications
Footprint (WxL)
30″ x 65″ (76 x 165 cm)
Low Step-Up Height
4″ (10.2cm)
Pedal Spacing
1.8″ (4.6cm)
Options
CROSS CiRCUIT attachment points
Max User Weight
300lbs / 136kg
Additional Features
3-Speed Personal Fan
Athletic Performance Programs
30
BRAND OVERVIEW
Fitness Town chose Octane because of our aligned values to help everyone move more at every age and any stage, their quality products, and their personalized customer service. Octane is dedicated to manufacturing exclusively zero-impact cardio equipment. By creating multiple new ways to exercise with an ever-evolving zero-impact training landscape, Octane is breaking barriers to fitness for many people who are greatly impacted by, or unable to do impact-driven exercises.




Buyer's Guide
Why you should bring Cardio Equipment home?
4-season / 24HR training safely – No limitations or concerns due to weather or time-of-day
 Reduced or controlled impact for injured, recovering, or aging bodies
Steady/safe/controlled terrain for injured, recovering, or aging bodies
Health benefits of cardio exercise equipment include: improved heart/cardiovascular health, lower blood pressure, helps to regulate blood sugar, can reduce asthma symptoms, can reduce chronic pain, can aid in sleep, increases daily caloric burn to reduce fat, can strengthen the immune system, shown to boost your mood, contributes to a reduced risk of falls.
Buying an Elliptical
Fitness Town has curated a range of quality ellipticals that pass various tests from our team of experts. After decades in the fitness industry, we've developed a good understanding of your needs, regardless of age or fitness level. We consider everything like industry standards, diverse physical statures, and training requirements and goals. When you buy a product from Fitness Town, you can feel confident knowing that it lives up to our high standards. All that's left is finding the perfect match for you.
Here are some things to consider when comparing our ellipticals:
What are the different elliptical styles? There are three basic designs in elliptical machines: centre-drive, front-drive, and rear-drive. Understanding the difference will help you decide which elliptical will best fit your space, stride, and goals.

Center-drive ellipticals are like treadmills in the sense that the pedals are where the belt would be. They offer a gentle ride and generally have the smallest footprint, although you still need to consider the total length when the pedals are fully extended.
Front-drive ellipticals feature the wheelhouse on the front of the machine. These models tend to be the most affordable because of their basic design. These models can be noisy and vibrate, so that's something to consider.
Rear-drive ellipticals are the longest of the three designs and feature a smaller wheelhouse located behind the pedals.

Your stride length: If you're tall, you'll want to find an elliptical machine that can accommodate your longer stride. For users up to 5'7", a stride length of 16-18 inches will work. For users 5'7" to 6'7", opt for an elliptical with a stride length of 20-21 inches. Alternatively, check out ellipticals that have adjustable stride lengths, that way you can target different muscle groups during your workout.
Will your machine grow with you? Most ellipticals offer adjustable resistance levels. But you want to make sure you purchase a machine that will give you room to grow and get stronger in terms of resistance. When you first hop-on, it should be very easy to stride at the lowest setting and be challenging at about 75 percent resistance. This gives you room to work on your muscular strength and endurance.
What does your space look like? There's no way around it, ellipticals take up space. On average, ellipticals are about 6 feet long by 2.5 feet wide. And keep in mind that the pedals may extend out behind the back of the machine when in use. If you're short on space, go for a more compact elliptical machine or opt for one that has wheels so you can easily wheel it from room to room between use.
What are your training goals? If you plan on using your elliptical for recovery purposes or a few times a week max, you can reach your goals with a value-priced (less expensive) elliptical. If you plan to exercise for an hour or more every day and perform high-intensity interval training exercises on your machine, you will want a higher-end elliptical that can match your effort and go the distance.
Noise level: If you live in an apartment or have housemates that still nap (talking about your little ones here), consider a quiet machine. When you're looking at our models, consider the weight and location of the flywheel. Add an extra-dense mat under the unit to not only cut down on noise but protect your rental flooring from wear and tear as well.
Do you need a little extra motivation? Exercise programs can add a bit of variety and some spice to your cardio routine. Most machines come with a few programs installed or let you create your own manual setting. Check out the different program options on our ellipticals and pick the one that will help you get on the machine and work towards your goals.
Cool features: Finally, cool features. We've saved the best for last. After you've narrowed down your top picks based on your "must-haves", some added features might help you narrow down your pick. Heart rate sensors, Bluetooth connectivity, and device holders are all things to consider when choosing your elliptical from Fitness Town.

Expert Guidance To Help You Choose
Fitness equipment is highly personal and studies show that the right fit has a big impact on your consistency, enjoyment, and success. The Fitness Town Difference is our commitment to fitting you with equipment that will go the distance. We want you to build an environment for fitness that removes barriers and makes it easier for you to move more, at any age and every stage. Let us help you discover what moves you.