Octane® Airdyne X Air Resistance Bike
With a user-defined pace and resistance, the AirdyneX accommodates both beginners and athletes. High-performance fan, latest console technology with tachometer, and customized comfort.
Item # 100662
$1,598.00
$1,999.00
Shipping Calculated at checkout
Description
The Octane Fitness AirdyneX is the commercial-grade bike you need to turn your home into a personal gym. Building on a long heritage of innovation and performance, the Octane Airdyne has delivered superior cardio workouts for decades. And today it's refined for greater challenge and customized intensity for the modern fitness enthusiasts. It's easy to see why this workhorse is superior. The 26-blade performance fan provides smooth motion and a more efficient workout. The customized design makes for a comfortable ride, while its solid construction offers great durability.
Features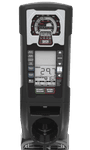 Console Technology
Simple and intuitive to navigate, the console delivers essential stats with a push of a button.
Track performance in heart rate, RPM, distance, watts, and calories.
Tachometer visually signals how hard the user is exercising and provides the average calorie burn per minute. This handy, motivational tool pushes users to give all they've got and contributes to a better, more quality workout.

High-Performance 26-Blade Fan
The performance fan is the heart and the distinctive asset of the Octane AirdyneX bike. Unbeatable in delivering progressive wind resistance and smooth motion, the AirdyneX bike is equipped with a premium, 26-blade performance fan and a weighted inertia ring that ensures that your output maximizes your input and helps deliver safe start-ups and slow-downs. The custom-designed performance fan enables them to generate more watts of power efficiently, which means greater motivation and results.

Efficient Belt Drive
The responsive belt drive harnesses the user's power to make the workout as efficient as possible. Other bikes with chain drives use two-power transfer systems to transfer your energy from one chain to the next, wasting power in the process.
Contributes to a quieter, more pleasant workout experience.

Adjustable Seat
Offers customized comfort
Multiple adjustment options to accommodate different size users. Users can adjust the oversized cushioned seat forward and backward as well as up and down.
Delivers proper knee placement for maximum engagement with each pedal stroke for exceptional effectiveness.

Solid Construction
Important for a long-lasting performance.
Double-coated steel body
Moisture-repellent frame to endure the toughest sweat sessions, year after year.
The frame platform is equipped with structural support and four contact levelers for ultimate stability.

Cushioned Multi-Grip Handlebars
Choose from horizontal and vertical placement options to target different muscles and enhance comfort. This leads to total-body exercise that offers greater caloric burn and superior conditioning
Place your feet on the stationary anti-slip foot pegs to focus your workout on your upper body.
Feature Overflow
Calibration Technology
Versatile Use, multiple positions
Multiple programs, from HIIT Training to Low Impact Cardio
Product Overview
IDEAL USE
Ideal For
Quieter environments. Suitable for both home and commercial use.
Limitations
Max user weight: 350 lbs (160 kg)
IN YOUR HOME OR OFFICE
Assembled Dimensions
55 inches (L) x 26 inches (W) x 53 inches (H) (140 x 66 x 135 cm)
Portability
The two transport wheels at the front base allow the user to easily move it from one location to another, which makes the bike completely portable.
FEATURES: TECHNOLOGY, CONFIGURATION, & CONVENIENCE
LCD tachometer
Display that shows average calorie burn per minute
Calibration technology
Accurate and consistent results from bike to bike
Essential stats
Heart rate, RPM, distance, watts, and calories
Resistance Type
Air resistance system with progressive wind resistance
Mechanical Features
Performance Fan: 26-blades, Multi-grip handlebars, Drive System: Single-stage belt, Weighted inertia ring, Sealed bearings at pivot points, Reinforced steel cranks, Reinforced steel handlebars, Stabilizer feet/levers, Foot pegs, Replaceable pedals, Multi-position seat with pop-pin knobs, Replaceable seat capability, Water bottle holder, Air diverter (optional)
Material & Finishing Features
Moisture-repellent, double-coated steel body construction
Connectedness
Polar® wireless heart rate compatible
Training Apps
9 basic manual programs, interval programs, and target programs
EQUIPMENT OWNERSHIP
Warranty
Full-Commercial. Frame: 10 years, Parts: 3 years, Labor: 6 months
Maintenance Requirements
Weekly maintenance: Remove any dirt, dust, or grime accumulated on the surface. Monthly maintenance: Check crank arms, handlebars, and pedals and ensure all screws and bolts are tight enough. Check the drive belt for any signs of wear.
Service & Repairs
Fitness Town Service offers experienced maintenance and repairs for this product
Detailed Specifications
Assembled Height
42.75″(108.6cm)
Footprint (W x L)
26″ x 55″(66 x 140cm)
Product Weight
113lbs (51Kg)
Shipping Box Dimensions (L x W x H)
56″ x 16″ x 35″
BRAND OVERVIEW
Fitness Town chose Octane because of our aligned values to help everyone move more at every age and any stage, their quality products, and their personalized customer service. Octane is dedicated to manufacturing exclusively zero-impact cardio equipment. By creating multiple new ways to exercise with an ever-evolving zero-impact training landscape, Octane is breaking barriers to fitness for many people who are greatly impacted by, or unable to do impact-driven exercises.




Buyer's Guide
Why you should bring Cardio Equipment home?
4-season / 24HR training safely – No limitations or concerns due to weather or time-of-day
 Reduced or controlled impact for injured, recovering, or aging bodies
Steady/safe/controlled terrain for injured, recovering, or aging bodies
Health benefits of cardio exercise equipment include: improved heart/cardiovascular health, lower blood pressure, helps to regulate blood sugar, can reduce asthma symptoms, can reduce chronic pain, can aid in sleep, increases daily caloric burn to reduce fat, can strengthen the immune system, shown to boost your mood, contributes to a reduced risk of falls.
Buying a Bike
Fitness Town has curated a range of quality bikes that pass various tests from our team of experts. After decades in the fitness industry, we've developed a good understanding of your needs, regardless of age or fitness level. We consider everything like industry standards, diverse physical statures, and training requirements and goals. When you buy a product from Fitness Town, you can feel confident knowing that it lives up to our high standards. All that's left is finding the perfect match for you.
Here are some things to consider when comparing our bikes:
What are the different types of bikes? Covering the most important question first. It's important you understand the types of bikes on the market to determine which one is right for you.

Spin (or indoor cycling) bikes will mimic a road bike the closest. These bikes feature a flywheel design with adjustable resistance that is usually controlled with a twist knob. With spin bikes, you have the option to choose magnetic or friction resistance. Magnetic resistance will feel the most natural and give a smooth ride. Friction resistance will be found on less expensive bikes and is increased by creating pressure on the flywheel with a felt pad. This type of resistance will wear out faster than magnetic resistance, but it will definitely get the job done.
Upright bikes also mimic traditional bicycles, but some users find them slightly more comfortable for steady-state cardio. These bikes will have a wider, more padded seat and resistance is generally controlled with buttons rather than a knob.
Recumbent bikes are the most supportive and feature a wide, contoured seat that provides coverage for the lower and middle back. The pedals are placed farther in front of the body, which allows the rider to slightly recline while pedaling. This type of bike is great for physical therapy.
Finally, air bikes (or dual-action bikes). As indicated by its name, these bikes use air resistance to control the intensity. They feature a large fan wheel and wide handles that move back and forth as the user pedals, allowing for upper body engagement. This model offers "unlimited resistance" – the harder you push, the more challenging the workout becomes.

What are your training goals? Someone recovering from knee surgery will most likely pick a different style bike than a CrossFitter. If you are looking for a bike to help you ease into a training routine, recover from an injury, or perform low-intensity, steady-state cardio, then you might want to go with an upright or recumbent bike. If you are looking for a heart-pumping, high-intensity workout that will burn a lot of calories, the air bike or the spin bike would be your go-to.
Your weight and the weight of the bike: Manufacturers post maximum weight limits to keep you safe. It's important that your bike is stable. If the bike wobbles or shifts back and forth during your ride, this not only puts excessive wear and tear on your machine but is also a safety hazard. Check the weight limit on the bike, but also the weight of the bike itself. The heavier the bike is, the sturdier and more stable it'll be during your ride.
Will you ride when the house is asleep? Even though you like to train at 5 AM, your housemate might not appreciate that early morning wake-up call. It's important to note when purchasing a bike that the different types of resistance methods will also produce different levels of noise. If you cohabitate or enjoy watching tv while you ride your bike, you might want to pick a bike that offers a nearly silent ride.
Will it fit your height? If you're tall and need extra leg room, or you're on the shorter side and need to bring the handlebars closer, it's important to consider the bike's adjustability. We recommend one of our bikes with customizable seat and handlebar heights if you want to accommodate individual preferences.
Cool features: Finally, cool features. These are what we'd call "nice-to-haves". The considerations above are important features to narrow down your options. Other factors like a display screen, workout programs, and heart rate connectivity are not essential, but they will help you decide on the perfect bike to fit you and your goals. Just remember, your bike purchase doesn't need to be swayed by a cool connected fitness app or program. Nowadays, you can use these apps with any bike, so focus on finding the one that's the right quality and price for you.
SHOW US YOURS
Show us your home or office fitness environment. Inspire others to fit opportunities for movement into their space. Follow, like, pin, and tag us. Have your spaces shown here.

Expert Guidance To Help You Choose
Fitness equipment is highly personal and studies show that the right fit has a big impact on your consistency, enjoyment, and success. The Fitness Town Difference is our commitment to fitting you with equipment that will go the distance. We want you to build an environment for fitness that removes barriers and makes it easier for you to move more, at any age and every stage. Let us help you discover what moves you.